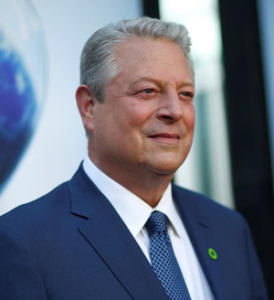 Home Base
Nashville, Tennessee, USA
Expertise
Green Economy, Climate Change
Quote
"As many know, the Chinese expression for "crisis" consists of two characters side by side. The first is the symbol for "danger," the second the symbol for "opportunity."
Total Views: 4,059
Books
The Future: Six Drivers of Global Change
Contact:
For general requests and scheduling, please email: info@carthagegroup.com For press requests, please email: press@carthagegroup.com
Al Gore
Al Gore, born on March 31, 1948, in Washington, D.C., served in both the House and Senate. He lost his bid for the Democratic presidential nomination to Michael Dukakis in 1988, but was President Bill Clinton's successful running mate in 1992 and again in 1996. In his 2000 presidential campaign, Gore won the popular vote, but eventually conceded defeat to Republican George W. Bush.
Environmental Activism
On December 10, 2007, Gore accepted a Nobel Prize for work on global warming. In accepting the prize, he urged the world's biggest carbon emitters, China and the U.S., to "make the boldest moves, or stand accountable before history for their failure to act." Gore shared the prize with the Intergovernmental Panel on Climate Change (IPCC) for sounding the alarm over global warming and spreading awareness on how to counteract it.
"We, the human species, are confronting a planetary emergency – a threat to the survival of our civilization that is gathering ominous and destructive potential even as we gather here," Gore said at the gala ceremony in Oslo. He donated his share of the $1.6 million award that goes with the prize to a new non-profit organization, now known as the Climate Reality Project, devoted to taking action on the climate change problem.
Gore published his latest books, The Future: Six Drivers of Global Change (2013) and Earth in the Balance: Forging a New Common Purpose (2013). He saw years of work come to fruition in 2015 with the launch of the Deep Space Climate Observatory satellite, nicknamed DSCOVR, in 2015. DSCOVR has a special camera that "will monitor specific wavelengths that alert scientists to the presence of certain materials like ozone, aerosols, and volcanic ash," according to a statement on Gore's official website.
In 2016, Gore appeared at a TED conference in Vancouver, Canada. His talk was called "The Case of Optimism on Climate Change." He pointed to the decreasing cost associated with renewable energy and the recent agreement reached at the 2015 United Nations Climate Change Conference as reasons for a more positive outlook for the future.
Gore has been linked to fellow environmentalist and Democratic Party supporter Mary Elizabeth Keadle. He divides his time between homes in Nashville, Tennessee, and San Francisco, California. Gore has four adult children with his first wife Tipper. The couple separated in 2010 after 40 years of marriage.
Quotes
"Here is the truth: The Earth is round; Saddam Hussein did not attack us on 9/11; Elvis is dead; Obama was born in the United States; and the climate crisis is real."

"The planet is in distress and all of the attention is on Paris Hilton."

"In a time of social fragmentation, vulgarity becomes a way of life. To be shocking becomes more important - and often more profitable - than to be civil or creative or truly original."

"As many know, the Chinese expression for "crisis" consists of two characters side by side. The first is the symbol for "danger," the second the symbol for "opportunity.""

"Global warming, along with the cutting and burning of forests and other critical habitats, is causing the loss of living species at a level comparable to the extinction event that wiped out the dinosaurs 65 million years ago. That event was believed to have been caused by a giant asteroid. This time it is not an asteroid colliding with the Earth and wreaking havoc: it is us."

"You can't be value free when it comes to marriage."

"We have to abandon the conceit that isolated personal actions are going to solve this crisis. Our policies have to shift."

"The global environment crisis is, as we say in Tennessee, real as rain, and I cannot stand the thought of leaving my children with a degraded earth and a diminished future."

"Air travel is nature's way of making you look like your passport photo."

"We can believe in the future and work to achieve it and preserve it, or we can whirl blindly on, behaving as if one day there will be no children to inherit our legacy. The choice is ours; the earth is in balance."

"Most people in politics draw energy from backslapping and shaking hands and all that. I draw energy from discussing ideas."

"No matter how hard the loss, defeat might serve as well as victory to shake the soul and let the glory out."

"The rule of reason is the true sovereign in the American system."

"I actually thought and believed that the story would be compelling enough to cause a real sea change in the way Congress reacted to that issue. I thought they would be startled, too. And they weren't."

"The 'well-informed citizenry' is in danger of becoming the 'well-amused audience'."

"The subjugation of news by entertainment seriously harms our democracy: It leads to dysfunctional journalism that fails to inform the people. And when the people are not informed, they cannot hold government accountable when it is incompetent, corrupt, or both."

"Political will is a renewable resource."

"The planet has a fever. If your baby has a fever you go to the doctor. If the doctor says you need to intervene here, you don't say, 'Well, I read a science fiction novel that told me it's not a problem.' If the crib's on fire, you don't speculate that the baby is flame retardant. You take action."

"Leadership means inspiring us to manage through our fears. Demagoguery means exploiting our fears for political gain."

"The inner structure of liberty is is a double helix: one strand - political freedom - spirals upward with the other strand - economic freedom. But the two strands, though intertwined, must remain separate in order for the structure of freedom to maintain its integrity."

"The persistent and sustained reliance on falsehoods as the basis of policy, even in the face of massive and well-understood evidence to the contrary, seems to many Americans to have reached levels that were previously unimaginable."

"Faith in the power of reason—the belief that free citizens can govern themselves wisely and fairly by resorting to logical debate on the basis of the best evidence available, instead of raw power—was and remains the central premise of American democracy. This premise is now under assault."
Read More Quotes >>>