by Mary Jo Dilonardo: U.S. Geological Survey maps track startling warming trend across the U.S…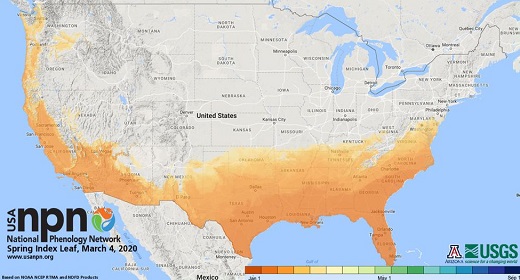 You may have noticed unseasonably warm temperatures pushing flowers and trees to bloom much earlier than usual. For some, it's arriving three weeks earlier, while for a few places in the country, spring is on time or even a little bit behind schedule.
The latest set of maps from the U.S. Geological Survey shows spring leafing occurring three weeks early in some locations in the Southeast. Washington, D.C., and New York City are 24 days early. Philadelphia is 16 days early and Little Rock, Arkansas is nine days early. Spring leaf out has also arrived in parts of the West.
But parts of the country will be getting their spring blooms a little behind schedule this year. Spring leaf out is on time to two days late in San Diego and San Francisco and 10 days early in Portland, Oregon and Seattle. Parts of northern Texas and Oklahoma are on time to one week late.
This map shows how the spring of 2020 compares to what's considered normal for the area, with the redder reds pointing to the areas most out of sync with the traditional calendar. (Photo: USA National Phenology Network)
The maps are produced by the USGS-led USA National Phenology Network and are updated daily. To create them, researchers use climate change indicators called the spring indices. These are models scientists have developed to predict the start of spring based on the first leaf and first bloom of lilac and honeysuckle plants, two temperature-sensitive but otherwise common flowering plants. They applied these plant models to recent temperature data to create maps showing how this year compares to a long-term average (1981-2010).
In the video above, USA-NPN's Associate Director Theresa Crimmins joined Jim Cantore and Stephanie Abrams on The Weather Channel to talk about the early spring leaf out, which was especially pronounced in the Southeast this year and the unexpected downsides.
It's a concept echoed by Dr. Jake Weltzin, a USGS ecologist and executive director of USA-NPN: "While these earlier springs might not seem like a big deal — and who among us doesn't appreciate a balmy day or a break in dreary winter weather — it poses significant challenges for planning and managing important issues that affect our economy and our society," he said in a 2017 statement.
Everyone likes spring, but earlier is not better
Colorful crocuses are one of the first signs of spring. (Photo: Krzysztof Slusarczyk/Shutterstock)
So while we're happy to toss aside the winter wear and see the first flowers bloom, there are lots of negatives to the early onset of warm weather, the USGS points out:
"Changes in the timing of spring can affect human health, bringing early-season disease-carriers such as ticks and mosquitoes, and an earlier, longer and more vigorous pollen season. And while a longer growing season can result in increased yields for some crops, it is risky because of the higher likelihood of plant damage caused by late frosts or summer drought. Even something as seemingly simple and beautiful as flowers blooming earlier can disrupt the critically important link between wildflowers and the arrival of birds, bees, and butterflies that feed on and pollinate the flowers. Such changes may prove beneficial to some plants and animals, including some harmful invasive ones, but may be detrimental to others. Changes in seasons can affect economically and culturally important outdoor recreation activities, including affecting the timing of hunting and fishing seasons."
Source: MMN