(Inside Climate News): General Motors had a splashy event last week to announce a re-dedication to electric vehicles…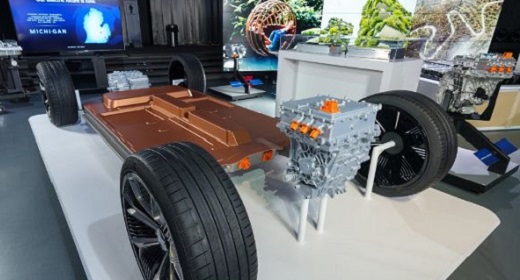 A lot was said, but what got my attention was one number: $100 per kilowatt-hour.
That's the battery cost at which the price of an EV will be at about parity with the cost of a gasoline vehicle, according to analysts. And that's the number GM said it soon will meet and then beat with a new Ultium battery system it is developing through a partnership with LG Chem.
Another important number: GM said its new battery system will be capable of going up to 400 miles on a single charge, which is slightly more than the current industry leader Tesla's range of about 390 miles.
We've been here before, when GM talked about taking a leadership role in EVs and then the results fell short. Highly touted models such as the Volt and Bolt got rave reviews from critics but were not successful in terms of sales. At the same time, Tesla showed how an EV-focused automaker could deliver sales in a big way, and left GM and everyone else fighting for a distant second place in the U.S. market.
But this round feels different, with GM going into a level of detail that suggests the company wants to be an EV player and has a plan to do it.
"It's clear they're serious," said Karl Brauer, executive publisher for Autotrader and Kelley Blue Book. "They've committed seriously to a future where electric vehicles play a much larger role in the total consumer market, and I think they feel like that's a position they need to be in."
He also sees this as a sign that automakers realize that they need an EV strategy, especially if they want to compete in markets such as China and Europe, where governments have rules and subsidies that encourage EV purchases.
He added that one of the main takeaways from the GM event was that company executives said their next generation of EVs would be profitable. This would be a departure from previous models that were expensive to develop and sold for little or no profit, partly because too few were being sold to achieve economies of scale.
GM President Mark Reuss described this as a "reinvention of the company" and said employees "are on the cusp of delivering a profitable EV business that can satisfy millions of customers."
An executive for a major automaker doesn't throw out the number "millions" at a news conference unless he means it. The company sold 2.9 million vehicles in the U.S. last year, while it's top selling EV, the Bolt, sold 16,418 units. The idea of selling more than a million EVs would be a monumental leap.
So will people buy the cars? We'll begin to have an answer late this year when the company releases the next-generation Bolt. And then many other EVs will follow, across GM's brands.
If GM has a selection of affordable, desirable electric vehicles, it could lead the way toward EVs entering the mainstream. I'm excited to see what happens.
It's important to note, however, that low gasoline prices—which we're seeing right now and for the immediate future—are bad for sales of EVs and highly efficient vehicles, based on sales data from previous stretches of low gasoline prices. We'll see what the prices are when the new Bolt arrives.