by Steve LeVine: Analysts predict a Battery Day big reveal that will make Teslas as affordable as gasoline vehicles…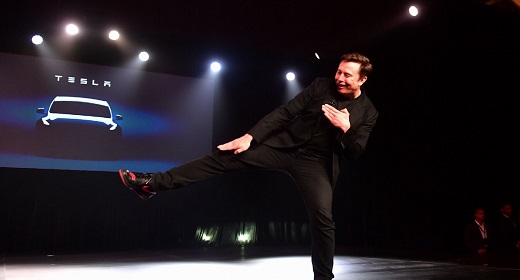 Tesla has pushed ahead in a key race among the world's electric carmakers — getting expensive cobalt out of their batteries, and reducing the cost of the vehicles. Now, Tesla watchers expect the company to announce a new benchmark for its batteries that, if successful, would take its models to a long-sought Holy Grail — side-by-side cost parity with gasoline vehicles.
The anticipation among Tesla's feverish fans is around a big unveil next month, where they expect CEO Elon Musk to announce that he either has or will soon achieve the battery equivalent of the two-hour marathon — the $100 kWh lithium-ion battery. Battery researchers have sought the goal since the new age of electric cars began a little over a decade ago.
Tesla did not respond to an email seeking comment, but for months Musk has been building expectation around Battery Day, a second annual event where he and his lieutenants geek out on the innards that drive his vehicles. In January, Musk told analysts that what he had to say "will blow your mind. It blows my mind."
For more than a decade, Tesla and a small group of other automakers have struggled in a largely unseen battle — to drive down the cost of their batteries, by far the single most costly component in an electric car.
Already, Tesla shares are on a bull run. They have almost doubled in price over the last month, rising 13.6% two days ago and another 9% yesterday. Analysts attribute the surge to unexpectedly large sales by Tesla last quarter despite Covid-19 and the global economic downturn. Last quarter, Tesla became the first company anywhere to sell 1 million electric vehicles, and last year, it accounted for 78% of all EVs sold in the U.S. and 18% globally.
But analysts expect Musk's Battery Day announcement to be more fuel for the high-flying stock. "It's a linchpin event to showcase the next generation battery technology especially after what GM highlighted a few weeks ago in Detroit," said Dan Ives, an analyst with Wedbush. "The EV battery battle is just getting started and Musk likely will further up Tesla's game."
With gasoline selling for an average of $1.85 a gallon in the U.S., the financial argument for buying an electric vehicle isn't very compelling. Even if gasoline were twice that price, current electric vehicles simply cost too much compared with conventional models. For now, electrics sell into a niche market of people with green sensibilities or who value the styling and cache of owning a Tesla. But if your objective is to be a mass market electric automaker, you need to bring your price tag down to rough parity with gasoline-driven models.
For more than a decade, Tesla and a small group of other automakers have struggled in a largely unseen battle — to drive down the cost of their batteries. Recently, the race has narrowed to the effort to eliminate cobalt, the most expensive metal in the lithium-ion battery.
So valuable is the electric car battery that the secrets inside its walls are held close — barely anyone will openly reveal things like from whom they buy their batteries, what precise lithium-ion formulation they are using, and what they cost to make, all facts that, if known, could tip advantage to their competitors. Analysts are forced to get around the secrecy by analyzing what's available on the Chinese market and, in the case of Munro & Associates, an auto consultancy, buying and tearing down Teslas.
But last month, GM attracted much attention with a surprising announcement — it had reduced the cobalt to just 10% of the cathode, down from 20% to 33% in competing batteries. Just six months ago, researchers considered such a reduction unlikely — whenever they moved to so little cobalt, the battery failed. Making the breakthrough more unexpected is that it came from GM, one of the legacy players that long ago surrendered any pretense of driving style or innovation. The secret sauce in its battery is called NMCA 811 — a cathode with eight parts nickel, around one part each of cobalt and manganese, and a touch of aluminum. The battery will go into the electric Hummer, which GM plans to start selling next year.
Venkat Viswanathan, a battery expert at Carnegie Mellon, thinks the Tesla chief will announce a goal below $100 kWh at the cell level.
Another important player is VW, betting its future on dominating the electric car market in an attempt to transcend "Dieselgate," the 2015 scandal that almost killed the company when executives installed pollution-control devices that hid their true emissions. Its electric vehicles, to go on sale late next year or in 2022, will also feature a battery with just 10% cobalt, what is called NMC 811. In China, much more lightly regulated than any major market in the world, numerous carmakers are already using NMC 811, making it a testing ground for the most advanced batteries.
But, unnoticed by almost anyone, it turns out that Tesla has already exceeded the 10% cobalt barrier in its Model 3 sedan. According to James Frith, a battery analyst with Bloomberg New Energy Finance, the Model 3 uses "NCA 90," a battery using nickel, aluminum, and just 5% cobalt. By halving cobalt, Tesla's batteries are already at a cost of about $131 kWh, Frith said — far below anyone else. The GM Bolt battery, for instance, costs roughly $250 kWh, according to Mark Ellis, an analyst with Munro & Associates.
It's hard to fathom any other automaker — or really any company at all, including a battery maker — generating as much anticipation as is currently built up around Tesla Battery Day. Tesla watchers, whether Musk skeptics or fans, have been talking about it for months. The appeal includes his trademark theatrics and long-shot promises, and a sharp rise in the company's share price to follow.
No one outside of Tesla can be certain what Musk is going to announce. But Venkat Viswanathan, a battery expert at Carnegie Mellon, thinks the Tesla chief will announce a goal below $100 kWh at the cell level. Ellis, the Munro analyst, is also betting on $100 kWh. "That's the only thing he could say that would blow your mind because that takes the battery pack cost down to the internal combustion engine," Ellis said.
But Brian Johnson, a Tesla skeptic at Barclays, suggests in notes to clients that that is small bore. Instead, Musk may go true moonshot — he may make $50 kWh his goal. Johnson wrote that that could be a jumping-off point for Musk to raise more money from the market. Frith, the BNEF analyst, isn't so sure. The $50 kWh battery is possible "maybe as a 2030 target," he said, "[but] any sooner than that and it would certainly be nuts."