by Rob Larson: This is a time of renewal, rebirth, and stretching to the sky…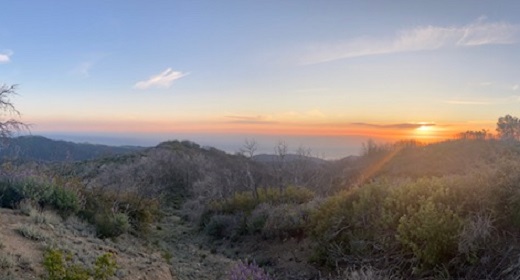 That which was dead and gone is coming back to life. Wildflowers, trees, plants,
birds, lizards and animals are sharing their gifts with us. Even the fresh
spring water rising from deep within the mountain is telling an ancient
story and singing songs about the miracles of life and death, purifying
our mind, body, and spirit.
I am experiencing this time of rejuvenation first hand while stewarding
a sacred Oak forest in the mountains of Big Sur, Ca. During this time of
the East (spring, vision, creativity, rebirth, death, and elderhood) as
referred to in the teachings on the Four Directions/ Medicine Wheel,
gives me a perfect opportunity to breathe new life into the gardens,
trails, and trails on the land.
There is evidence that the original habitants (The Esselen) were caring
for these lands with great love and understanding. There are many
boulders with deep mortar holes that were used to grind acorns from
the oaks into flour. I sit and observe these holes and envision the
original peoples grinding acorns in deep connection with the land. The
rhythm of the oaks marked the passage of the year, defining the
rhythms of Esselen life. They nurtured and cared for these trees as they
would their own child. Many of the oaks show how they have been cared
for and I give thanks for those who have come before me and to these
ancient trees, which I speak to often.
I often reach down and pick up a handful of dirt and rub it
between my fingers to feel the different textures, temperatures, and
moisture content within the different pockets of earth. The geological
diversity that can be found in one handful of dirt activates my senses
and imagination of how this rugged and majestic land was created. This
practice has become a ritual or ceremony for me, creating a sacred bond
between myself and the earth.
This relationship between a person and a piece of land takes
patience, gratitude, and humility, it's a process of making mistakes and
learning from them. I was observing a patch of freshly sprouted wild
grasses that was growing beside the trail, which just a few days prior
was bare earth. I contemplated the miracle the wild grass was
performing right in front of my eyes. I began to see that I only perceived
the grass's outward appearance and growth. What I didn't see was the
roots deep down underground, facing the mud and the darkness before
sprouting and reaching for the sky.
To me this was a great teaching, one where I must keep
witnessing my shadow in order to really know my true nature. The
amazing part about Nature is it teaches us continuously. When the sun
comes up in the east, it has to go down in the west.
When it goes downin the west, it rises again in the east, and so is the journey of life. In order to see the light we need to go through darkness.
Many people are familiar with the beautiful and majestic coastal
areas of Big Sur and rightfully so. What they don't often realize is to find
the heart and bloodlines of Big Sur we must go landward up into the
Santa Lucia range to experience the diverse landscapes that make these
stunningly rugged mountains.
May we all find connection to wild places that contain many deep
messages and teachings, and ultimately lead us to find our own true self.
Rob Larson is the owner of Bristlecone Trail building LLC, a conscious trail building company based out of Boulder, CO who's focus in on sustainable trails, built with intention.   In addition, Rob is also a wilderness guide, who is passionate about leading others on solo wilderness retreats in nature. He currently lives in the mountains of Big, Sur, CA with his wife Megan, stewarding the land.
Facebook: Bristlecone Trail building LLC