by Abby Moore: While the COVID-19 pandemic hasn't gone away, people have been working to slow the spread and flatten the curve…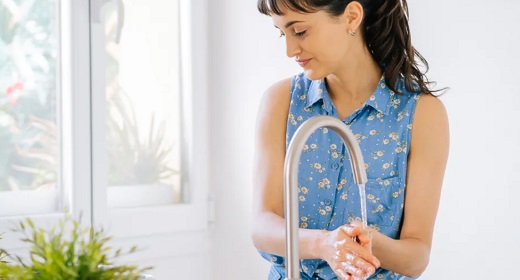 Without an effective treatment or vaccine, however, countries or states with lower case counts could potentially experience a rise or a "second wave" in the coming months. So, how can people prepare their immune systems?
Like everything else related to COVID-19, the details about a second wave are unpredictable and uncertain. Experts, including emergency medicine and holistic integrative medicine doctor Eudene Harry, M.D., and internal medicine doctor Charles Elder, M.D., MPH, FACP, provide possible reasons it might hit during the fall and winter months. Plus, how to prepare if the second wave occurs in conjunction with flu season.
Why the second wave could possibly hit during flu season.
During fall and winter months, people will naturally spend more time indoors. "From information gathered so far, there is a concern that being inside in enclosed spaces could potentially increase risk of transmission," Harry says.
Additionally, seasonal transitions change the body's physiology, making it more vulnerable. The change in weather patterns, potential new routines (back-to-school or back-to-office environments), and other factors can put stress on the body and weaken the immune system, Elder explains.
"During such transitions…we may be more likely to experience a cold, an allergy attack, or a flare of some other chronic, recurrent health challenge," he says.
The increase in flu and other respiratory illnesses during these seasons often increases hospital admissions. "Add COVID-19 to the mix, and we might just find ourselves in the middle of a really challenging fall," Harry says.
1.

 Eat a nutrient-dense diet.
With Halloween and Thanksgiving, fall can be a time for food that's lacking in nutrients, Harry says. Thankfully, it's also a season rich in immune-supporting foods. "Pumpkins, winter squashes, seeds, nuts, spices, and lean proteins. These foods are good sources of zinc, vitamin C, and vitamin A and protein, all needed to support the immune system," she explains.
2.

 Eat the biggest meal of the day during lunch.
The digestive system is at its strongest in the middle of the day, Elder says, so he recommends eating the biggest meal of the day during lunch.
"When the sun goes down, usually the actions of digestion are turned off, and the actions of repair and restoration are turned on," functional medicine doctor Amy Shah, M.D., previously told mbg. "If you eat late at night, you may get slower digestion, inappropriate acid production, and more insulin resistance." This discomfort may also interrupt sleep, which is valuable for a healthy immune system.
3.

 Aim for high-quality sleep.
Prioritizing sleep for seven to eight hours each night has been shown to support a healthy immune system, Harry says. While everyone will have a different schedule, Elder suggests going to sleep by 10 p.m. and waking up by 6 a.m. to optimize immune functioning.
Exercise can help support the immune system, Harry says. It can also help manage stress, when people don't put too much pressure on themselves to perform.
"A brisk walk counts as exercise and is good for just about anyone," Elder says. "Provided you maintain 6 feet of distance, it is perfectly safe and appropriate to get out for a walk or jog. In fact, it's very important to do so, especially during a stressful pandemic."
5.

 Practice stress management.
The pandemic has heightened stress for people experiencing health-related issues, fear, social isolation, and economic hardships, Elder acknowledges. "Be open to the possibility that you may need help to navigate this stressful period since stress and trauma can depress the immune system," says Harry.
"Be aware of your stress levels, and be deliberate about incorporating stress management strategies," Harry says. Activities like moderate exercise, journaling, meditation, and spending time in nature may help.
6.

 Manage other underlying health conditions.
People who have underlying health conditions, like diabetes and high blood pressure, may be at a higher risk of illness from COVID-19 and other respiratory illnesses, Harry says. She advises talking to your doctor about necessary precautions in these cases.
"This fall, more than ever, it is important that we practice good hygiene, like frequent hand-washing; avoid touching our faces; and stay at home when we are sick," Harry says. Social distancing and wearing masks may be the new normal to help us navigate the season, too, she adds.
While a second wave might seem scary, Elder is optimistic, as long as people take the right precautions. "Although so much remains unknown about COVID-19, we do now have some experience under our belts."