by Peter Diamandis: The era of the internal combustion engine (ICE) car is ending. We may have reached "peak ICE…"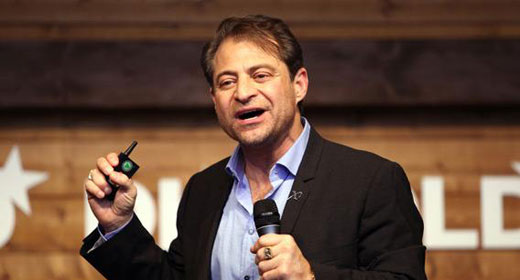 As Elon Musk predicted during Tesla's recent "Battery Day" presentation, in the long-term there won't be an ICE industry.
From here on out, it's all about electric vehicles and autonomous ride-sharing, and the implications for society and the automotive industry are HUGE.
Need evidence? Oil demand from passenger vehicles is predicted to have already peaked, according to Bloomberg New Energy Finance, and demand from overall road transport is expected to peak in 2031.
Electric vehicles (EVs) currently displace the need for 1 million barrels of oil each day. And by 2040, EVs are projected to disrupt demand of over 17 million barrels of oil per day — a figure steadily on the rise as EV costs plummet.
The future of energy and transportation are key areas of focus during my Abundance 360 Mastermind Summit. In today's blog, I'm going to discuss how EVs are set to win the transit race by sheer economic advantage, becoming the foundation for autonomous ride-sharing fleets of the future.
As that happens, it will soon become un-economical and societally unacceptable for you to hold on to that old gas-guzzling car.
Let's dive in…
Electric Vehicles' Competitive Advantage
This year, EVs are expected to surpass 2.8% market share globally. While this might seem negligible, growth is accelerating at an unprecedented rate. EVs are projected to make up 10% of new car sales in 2025, and over 25% by 2030.
As energy expert Ramez Naam explains, "Their growth rate is phenomenal. It took 20 years to sell the first million electric cars. It took 18 months to sell the next million. It took 4 months to sell the fifth million. That is the pace of this change. This is growing twice as fast as solar."
Stumping forecasters again and again, this surge is driven by pure economic advantage. While personal vehicles currently cost $0.53 per mile, autonomous electric vehicles are expected to vastly undercut this threshold at only $0.04 per mile.
And even though EVs have historically been more expensive than ICE-powered cars, EVs are far cheaper to operate and maintain. The yearly cost to operate an EV in the U.S. stands at about $485, lower than half the $1,117 cost to operate a gas-powered vehicle.
During Elon's Battery Day presentation, he laid out Tesla's plan to drive EV costs even lower by revolutionizing the battery industry and redesigning the fundamentals of the battery cell itself. The company's new "tabless" battery represents a range of technical breakthroughs that result in a 5x increase in energy, a 6x increase in power, and a 16% increase in range.
These achievements in battery technology along with Tesla's advancements in the battery production process could halve the cost of producing every kilowatt-hour.
With increased economies of scale, we could see a fully-autonomous $25,000 Tesla model within three years.
Continuing declines in battery and production costs will ultimately make an EV purchase so obvious that you won't need to calculate the long-term payoff.
Going electric will be a foregone conclusion.
Increased Investment in EVs
Beyond plunging costs, investment is also booming, and auto manufacturers in addition to Tesla are locked in a worldwide EV race.
Volkswagen is set to spend $66 billion on EVs over the next five years. Nissan is charging ahead with a vision to integrate its EVs into a broader consumer ecosystem through the company's Intelligent Mobility strategy. And GM has pledged to go all-electric in the near future as it strives to release 20 new electric models by 2023.
This trend is not only affecting passenger transportation. EVs are also disrupting large-scale shipping operations.
For example, in January UPS invested in EV platform Arrival and plans to purchase 10,000 vehicles from the company, 70% of which will be used in the US. UPS plans to acquire at least 2,000 EVs per year by 2022, adding to its current fleet of about 100,000 vehicles globally.
The company was already working towards electric alternatives in 2017, when it ordered 125 Tesla electric semi-trucks. The Tesla Semi — which even today is 20% cheaper on a per mile basis than gasoline-powered trucks — is just one of many vanguards showcasing the extraordinary scale of electric takeover, from compact cars to large-scale transit.
Over the coming decade, market forces will catalyze consumer adoption of EVs, likely in the form of autonomous fleets, at an astounding rate.
Electric Autonomous Fleets
While personal EVs continue to proliferate, the aggregate mileage of EVs will rise exponentially faster as autonomous electric ride-sharing fleets gradually become commonplace.
McKinsey predicts that one in ten cars sold could be a shared vehicle by 2030. Numerous leading car-share operators already employ EVs, such as Daimler's Car2Go and BMW's DriveNow programs. Meanwhile, most autonomous vehicle developers have also included electric vehicle models in various testing phases.
As found by a University of Texas study, if autonomous taxis stood at a cost of $0.75 per mile, over 39% of miles would be covered by these services. And at half that price ($0.375 per mile), autonomous taxis would cover 75% of miles, based on pure economic calculi.
Just as is the case with autonomous vehicles, "the way that most people will first encounter an electric vehicle [won't be a result of] buying one for themselves. These vehicles are [going to be] rapidly deployed mostly as electric taxis," explains Ramez Naam.
And big players are fast jumping on the bandwagon. For one, last year Apple hired Tesla's VP of Engineering, Michael Schwekutsch, who now leads the industry in electric powertrain development. A bold move, this likely indicates Apple's intentions to wholly integrate EVs into the tech giant's somewhat secret autonomous vehicle fleet.
Over the last two years, Apple's cars have driven over 80,000 miles in autonomous mode, while drivers took back control of the vehicle only every 1.1 miles driven on average. Increasingly competitive, this driver intervention rate now stands nearly neck and neck with Mercedes-Benz's human intervention rate of 1.5 miles, and Toyota's somewhat higher reported average of 2.5 miles.
Yet another competitor, GM Cruise covered over 831,000 miles in the U.S. last year with its cutting-edge fleet of third-generation all-electric Chevrolet Bolt vehicles. The company currently operates Cruise Anywhere, an employee-only ride-hailing service in San Francisco, and has even partnered with DoorDash to leverage its vehicles for food delivery in the future.
Just this week, GM released the first edition of the Hummer EV, which sold out within the first 10 minutes of taking $100 deposits. The batteries in these vehicles use 70% less cobalt (an expensive material found in EV batteries) than GM's prior EV generation of EVs. These vehicles are set to be on the roads next fall.
And one of the earliest players, Alphabet subsidiary Waymo rises far above its competitors in terms of miles driven and low human intervention rates. Waymo's 600 vehicles on the road have driven over 20 million miles in 25 cities, not to mention Waymo's additional 15 billion simulated miles. And given current rates, Waymo's vehicles require manual intervention only once every 12,200 miles, surpassing the competition.
At the beginning of 2020, the Waymo One service was transporting between 1,000 to 2,000 riders per week, and roughly 5 to 10 percent of these rides were fully driverless through the early rider program.
Last year, Waymo announced a strategic partnership with Jaguar Land Rover to release the I-Pace, a fully electric autonomous SUV. The vehicle's Lidar system can see 360-degree views up to 1,000 feet away. The I-Pace fleet is currently being tested and will eventually join the Waymo One fleet.
Final Thoughts
As electric vehicles improve in performance and witness a drop in overall operating costs, forward-thinking individuals, companies, and investors are rapidly transitioning to all-electric transport.
Battery technologies underpinning tomorrow's EVs are witnessing explosions in efficiency, decimating prices and minimizing the environmental costs of contemporary transit.
If Tesla alone can achieve its goal of producing 3 terawatt-hours of energy every year, it will completely transform the energy and transportation industries.
And as 5G and next-generation cellular networks catalyze the growth of driverless EV fleets, partnerships between EV manufacturers, autonomous driving companies, and ride-sharing services will grow increasingly vital.
Plummeting prices and increased convenience will soon tip the favor towards electric car-as-a-service options, and private ownership of internal combustion engine cars will become a thing of the past.