by Melanie Aman: Young Marilyn Monroe hardly looks like the sex symbol and bombshell blonde that we remember her as…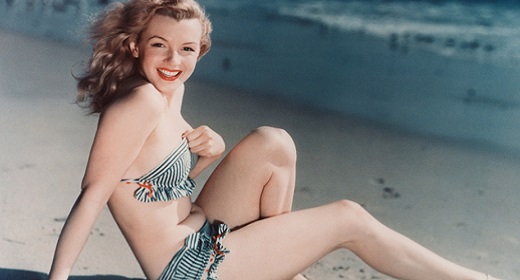 Before she became fodder for gossip columns, Monroe was simply known as Norma Jeane Mortenson. In fact, her story is truly one of rags to riches.
Monroe was born June 1, 1926 to Gladys Pearl Baker. It's unclear who Monroe's father was, but he was not present during her childhood. Monroe's mother placed her daughter with a foster family while she worked before moving into a home in Hollywood with Marilyn once Gladys felt she was financially stable. However, Gladys suffered a mental breakdown and was institutionalized, and Monroe rarely saw her. Gladys' friend then stepped in to care for Monroe, unfortunately, the friend's husband sexually abused her, causing Monroe to develop a stutter. Later, Monroe was able to marry and escape having to return to an orphanage.
Her luck changed in the mid '40s when she started landing some modeling work. As a result of her newfound fame, she was able to transition into films — and, well, the rest is history. Though she often played conflicting roles — the dumb blonde and the vixen — it's nice to know that she was really just a regular girl from the neighborhood.
Keep scrolling to learn more about young Marilyn Monroe and her life and childhood.
Marilyn Monroe Young 10

Getty Images

The camera has already captured the charm of young Marilyn Monroe. The six-month-old poses in a darling white dress in this photo circa 1927.

Marilyn Monroe Young 11

Getty Images

A cherubic two-year-old Monroe models an adorable matching floral print smock and bonnet.

Marilyn Monroe Young 4

Getty Images

Little Norma Jeane Mortenson sits on the step bar of a Model A Ford.

Marilyn Monroe Young 7

Getty Images

Monroe didn't have the easiest childhood — her mom suffered from mental illness and her father was absent — but she found a minute to smile with her young friend for a photo. In this shot, she's roughly four years old.

Marilyn Monroe Young 8

Getty Images

As a kid, Monroe's hair was closer in hue to the bleach blonde locks that were her trademark. However, her natural hair color is closer to red.

Marilyn Monroe Young 12

Getty Images

Monroe was born and raised in southern California, so it was easy for the tot to spend a fun-filled day at the beach.

Marilyn Monroe Young 1

Getty Images

On June 19, 1942, Monroe married her neighbor, 21-year-old James "Jim" Dougherty, to avoid being sent back to an orphanage. She was just 16 years old at the time. The pair divorced in September 1946.

Marilyn Monroe Young 6

Getty Images

Rumor has it that Monroe detested being blonde, but that's actually not true. In 1946, Monroe was sent to Frank & Joseph's Beauty Salon to have her hair tinted for a modeling job. The woman responsible for lightening her hair, Sylvia Barnhart, said Monroe liked the lighter color because it complemented her eyes.

Marilyn Monroe Young 3

Getty Images

Monroe is still sporting her fiery red hair in this early modeling shot.

Marilyn Monroe Young 5

Getty Images

In this photo, Monroe's bouncing and bountiful curls are on full display. However, she began straightening it as well as lightening it because it made her more employable.

Marilyn Monroe Young 9

Getty Images

In June 1949 when this photo was taken, Monroe was on her way to present house keys to the winner of a Photoplay magazine contest.
Marilyn Monroe Young 2