by Bishop Devi Grace: This is the time of year where Mother Nature draws her evening cape around us as our night's grow longer in the Northern hemispheres, 
and traditions from all over the world gather to honor Autumn's festivals, cultural celebrations, and native heritage. Publications, news articles, movies, music and presentations all around our Earth feature the many different origins and practices of these special occasions that people from different nations and races have called Samhain, Dia de los Muertos, All Hallows Eve, All Saints Day, or Allhallowtide. (see: http://www.understandingtheology.org/2020/10/hallowtide-facing-death/)  In fact, the most traveled day of the year falls on 11/1 due to the fact that families are traveling – across every continent – to go visit their loved ones who have come before them. We've even seen the sucessful release of spiritual films such as the beautiful animation of Coco (Oct 2014) and the touching mythos of The Book of Life (Nov 2017) that portray the vivid realms of the afterlife. For these similar faith based lineages all clearly recognize the other side of the veil as a universal source of inspiration. Thankfully this has allowed countless countries to all develop a wide arry of rituals dedicated to keeping an active intimacy very alive between dimensions of consciousness.
Perhaps you've come across the striking combination of La Madre De La Muerte's bright floral boquets and the feminine marriage of her colorful vibrancy into the bones, skulls or other symbols of death's presence. The combination may feel like a paradox, yet when beholding an ethnic paintings of Nuestra Señora de la Santa Muerte, one can definitely perceive the creative juxtaposition to both honor and acknowledge those that have already departed. Particularly with the Mexican descendants of the Aztec and Toltec Nations, the same level of celebratory food, costumes, altars, flowers and bright regalia are lavinshly designed at the end of October and 1st of November that we would witness other religions dedicate to a family's Wedding banquet. In other words, our ancient Druids, Celtic mystics, Indigenous tribes, African sages, Latin Americans, and endless other populations are all tapping into a shamanic continuity of consciousness that's just on the other side of these membranes between worlds. Even Disney created the Festival of the Ancestors for the 2019 Star Wars (Episode IX) – Rise of Skywalker movie in order to highlight a Jedi mythology that actually echoes what numerous First Nation's believe about their own great-grandmothers and great-grandfather's councils in the stellar realms.
So independent film fans might ask, why would so many progressive cinematic memes utilize the wonderful special effects of fantasy and visionary sci-fi fiction to capture the mysteries of what lies beyond this mortal plane? The Wisdom Traditions would say because this level of expanded framework is necessary to spark our capacity to imagine beyond the "known," and enter into new realities of collective possibility that are being transmitted to us from our numerous loved one who reside in Spirit. Rupert Sheldrake refers to this resonance between frequency bandwidths as morphogenetic fields of energy and light intelligence, and this awareness is necessary for humanity to understand as a part of our evolution. Epigenetic scientist, Dr. Bruce Lipton, reaffirms this clarity when he advocates that "the most valid and truthful science on planet Earth is Quantum Physics."
Therefore, what if the authentic roots of what is referred to as Halloween here in the U.S. could potentially liberate our species from it's old programming or fear around the concept of death or transition itself? If you were educated about a far more valuable "party" to attend – between the land of the living and the quote land of the infinite – would you explore what's possible from a source of divine benevolence in your own Family Tree? Like T'Challa in Marvel Comics' screen play adaptation of the Black Panther, would you choose to visit the stunning landscapes of your Ancestral Plane (the Djalia) and seek guidance from one's genealogy in the hereafter? If you are inclined to answer YES, then I applaud your sense of adventure into your bloodline's mysterious unknown.
America also got a strong theatrical call to this kind of supernatural support when families flocked to see the blockbuster hits of the Polynesian rites of passage in Moana (Christmas, 2016) and the magical Norse folklore of Frozen 2 (Thanksgiving, 2019.) These stories have rekindled our respect for the deep commitment in other civilizations to uphold the remarkable ways of the Ancient Ones – particularly through the vibration of numerology. When numbers speak in patterns we can come to remember a longstanding framework or template of our original Twin Mirrors – that being the principles of our Great Goddess and God at the heart of everything. Our PachaMaMa and PachaTata planetary archetypes reside side by side, just like twin pillars for the combined tantra yoga of our 1st Supernal Mother and her divine consort – the 1st Supernal Father. These original Beloveds were also known as the joint 11.11 or dual waterfalls simultaneously cascading down as Heaven on Earth. They were considered our two sovereign Divine Parents in the heavenly realms… pouring their combined blessings down upon us incarnated here in the corporeal plane of existence.
The oneness of the Feminine Sacred reflected itself back to the oneness of the Masculine Sacred, and these complimentary primal energies of Creation were always coupled in total harmony and alchemical perfection – where the ONES stayed inside of their prime connection to Source Origins as a parallel team, 11:11. And once modern times established the Gregorian calendar, this symbology set itself up very quickly as the Fall alignment now known as November 11th or 11/11 (only nine days after All Souls Day.) This has even allowed our digital world of numbers at eleven past eleven (both am & pm) to sync up with our Autumnal initiations as medicine men and women rally to bring back our cumulative inheritance – that which flows through our maternal/paternal DNA. Researchers like Professor Vlado Ilic from the Order of Love say that more than 8.5 billion direct ancestors, fathers and mothers, received life and gave it forward in the last 1,000 yrs of our direct ancestry – alone. Wow! (see: http://www.awaken.com/2018/08/family-constellations-or-order-of-love-with-vlado-ilic)
Thus, let us recognize this double circuit of ELEVENS with their combined legacy coursing through our body's veins, nadis, meridians, chi lines, or energy pathways, so that this Sacred Marriage of paired 11s may return to fulfill it's original legacy of interconnected wholeness. In many of the ancient temples the "11" of this world or physical reality was just as important as the "11" of the other worlds or non-physical reality, and numerous international stewards continue to uphold this fabric of life as one inter-woven grid of UNION. One such Earth Guardian organization that genuinely merges the above and the below in their worldwide mission is the 11.11 UNIFY, Mother Event, initiative happening this week – founded by Kandice Korves with Kause Kreations. She has courageously taken the name of her daughter, Anistara Solara (who miscarried back to her heavenly relatives in December of 2019) simply because our current planetary situation has a lot to heal before sensitive beings can truly incarnate their real soul's purpose. Her husband Andrew fully supports this adoption of their unborn child's name to carry on now with her mother, Anistara Ma Ka. Furthermore, Kandice experienced an instantaneous kundalini awakening back in Summer of 2006, and still co-creates with her daughter on the other side of the veil in authentically birthing this sacred vision for embodying a future of integrated truth, justice, harmony, merged male/female balance, and transformational Leadership for the JOYerny of Humanity's Greatest Awakening. Their alliance launches the 11th Annual Unification Celebration this Wednesday (11.11.2020) alongside many other gifted and innovative platforms such as the Purple Tree Council's Divine Union Foundation, and we open our doors in 1 days time! Welcome to all fellow travelers on this integral path of multi-cultural love and multi-ethnic prayer in action~ Written by: Bishop Devi Grace, with the Divine Union Foundation and the 1st Annual Purple Tree Council – www.DivineUnionFoundation.org (see on-line invitation below.)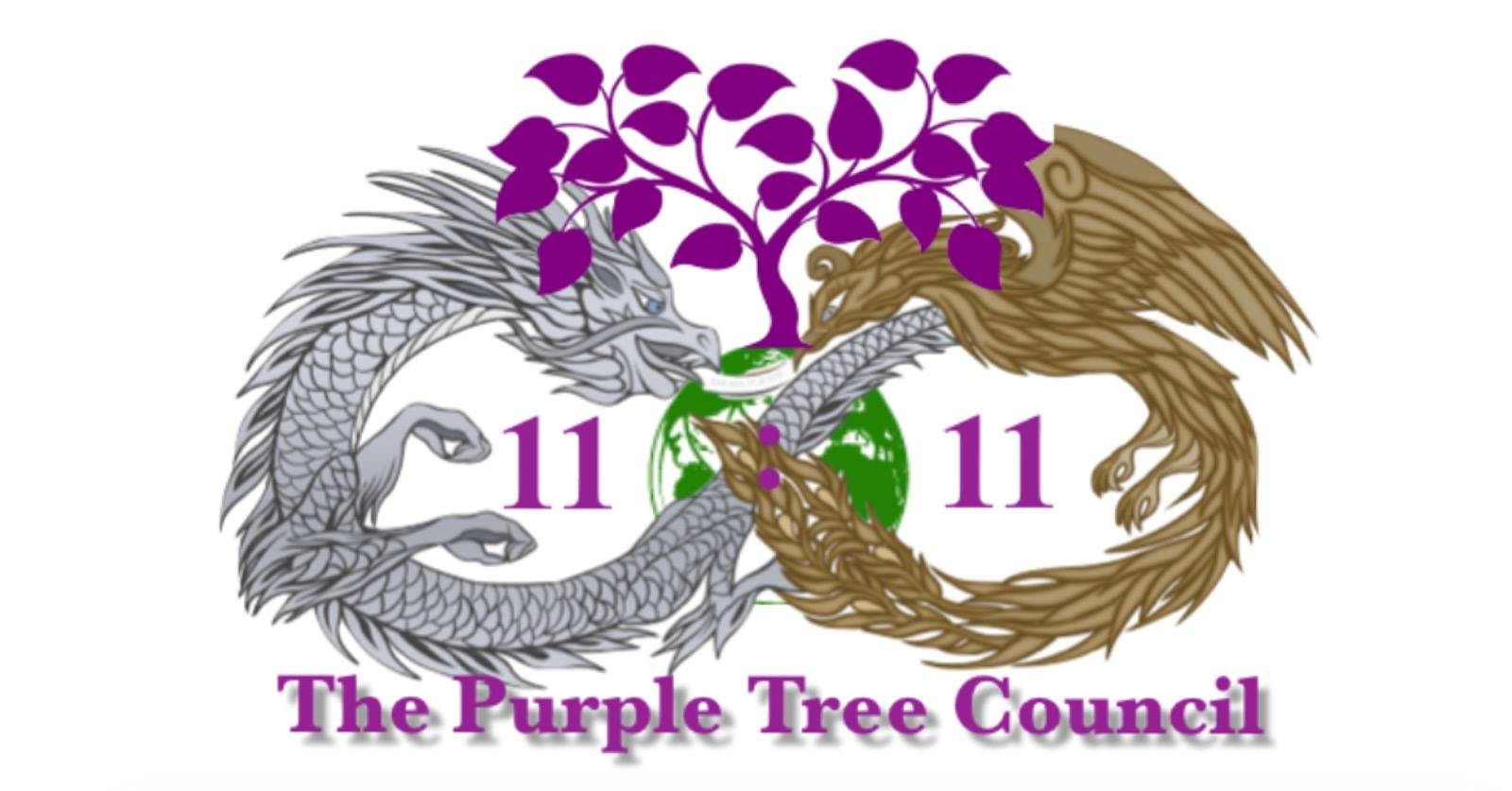 The 1st annual 11:11 Purple Tree Council: Restoring DIVINE UNION between Women & Men.
 

The Purple Tree Council is a Calling and a Vision to gather for integrated, harmonious feminine/masculine relationships within and among all beings. With full freedom of expression we hope to create a container of transformation as we relate to our divine union of gender and identity. We are offering an interactive experience and Sacred Union Rites of Passage to celebrate, observe and honor the auspicious 2020, 1111 Portal on 11/11/20

 

at:https://www.facebook.com/events/3748647978492463
The 11th annual Unification Celebration, now named,
 

11.11 Unify,

 

is a Virtual Gathering, with the intention to co-create our Future Earth Vision together!

 

NOW is the time, to allow the old to burn away and to forge our new collective vision!

 

It begins with the

 

11-11 Unify Virtual "Mother Event" on Wednesday, November 11th with more information listed at:

 

https://1111unify.com/
Source: AWAKEN