by Mona Dajani: Using renewable electricity to convert water to hydrogen fuel is one answer for the energy storage needed for solar and wind power to reach their full potential…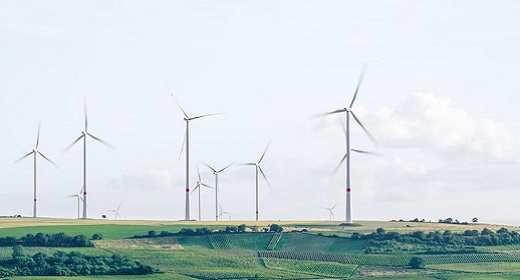 As prices and technology hurdles fall, supermajors are entering the sector
Joe Biden has promised that the first day he is President, he will rejoin America to the Paris climate agreement. More than that, he can use the power of the presidency to drive the adoption of clean technologies, such as the hydrogen fuel projects that are now advancing worldwide.
Because the giant blades spinning in the wind and the fields of solar panels that are now part of our geography could be doing a lot more for us. When the electricity they generate doesn't match moment-by-moment demand, it could power electrolyzers that split plain water into oxygen and "green" hydrogen – a fuel you can store for next week, and next season.
From my position structuring, negotiating, and financing deals for global energy companies and their investors and lenders, I hear a great deal about hydrogen these days. Hurdles of price, technology, infrastructure, and policy are falling one by one, as corporations, oil majors and startups steadily move into the space. Our client demand has ticked up substantially in this space, so Pillsbury responded and formally launched our hydrogen practice group, which I lead with Sheila Harvey.
Now one of the main challenges is simply to make enough of the green kind: the world is still far short of the quantities needed to meet potential demand, and some will be filled by "blue" hydrogen extracted from natural gas or coal. That balance should quickly change, as the cost of making the environmental version is projected to fall 64% by 2040 or even sooner (similar to how the cost of wind, solar, and lithium-ion batteries has fallen before).
Business opportunities are emerging in power-to-gas technology, to make more hydrogen fuel; infrastructure to move it to market; and fuel-cell vehicles, retrofitted power plants and factories that can use it in place of fossil fuels.
It's worth it. Because as renewable generation has grown, we've been selling far too much of this clean power at deeply discounted prices (sometimes even negative) – or throwing it away altogether, by curtailing wind and solar production.
Instead, we could use it to make green hydrogen that further replaces natural gas to back up the grid – and use fuel cells, instead of so much gasoline and lithium, to move merchandise, public transit customers, military troops, even passenger cars. All this would help meet carbon reduction goals faster.
Infrastructure the next roadblock to fall
Automakers have a long history of considering hydrogen-oxygen fuel cells to generate electricity to run a vehicle. Today Toyota is working on a next-generation Mirai sedan, as well as trucking applications. And BMW is borrowing Toyota's technology for an X5 SUV due in 2022.
Mercedes-Benz has shelved its fuel-cell passenger car project, but parent company Daimler AG on Sept. 16 unveiled a hydrogen-fueled 40-ton tractor-trailer. This truck has a 300-kilowatt (kW) fuel cell and two electric motors. It uses liquid hydrogen tanks to save on space and weight. A supplemental 400-kW battery kicks in for peak loads.
"Fuel cell trucks will be the preferred option for heavier loads and longer distances," said Daimler Trucks CEO Martin Daum, who's in a joint venture with Volvo to develop the technology. Next Daimler plans to work with the European Union government on a fueling network, and differential tolls for green trucks versus diesel.
The story is similar at General Motors – trucks before cars. GM is also investigating military applications.
Volkswagen has so far doubled down on all-electric vehicles. Hyundai, on the other hand, has become the leader in selling fuel-cell cars. But Hyundai has run into one of the central challenges of the hydrogen revolution: even in California – which Gov. Gavin Newsom on Sept. 23 announced will phase out the sale of gasoline-powered cars by 2035 – there are still fewer than 50 places so far where you can fuel a car with hydrogen.
Hydrogen infrastructure is full of promising business opportunities beyond transport:
Shipping faces new limits on the dirtiest of fossil fuels, high-sulfur bunker fuel. Hydrogen could replace it.
Manufacturing, especially in energy-intensive industries like steel and glass, is considering "factories of the future" that could create, store and use hydrogen for heat, electricity, and industrial processes.
Electric power, which this year will be 39% fueled by natural gas in the U.S., can relatively easily mix in green hydrogen as it becomes more widely available.
For example, Mitsubishi Hitachi Power Systems and Magnum Development are using wind and solar power to run green hydrogen electrolyzers at their new Advanced Clean Energy Storage project in Utah. It's considered the world's largest renewable energy storage project, at 1,000 megawatts (MW) capacity (which also includes compressed air, large-scale flow batteries, and solid oxide fuel cells). In its first year, it will power 150,000 households.
Initially, they'll use hydrogen to replace 30% of the natural gas used to generate more electricity for use later. But Mitsubishi just announced new technology that will help their plants and others switch from natural gas to 100% green hydrogen, saying it "accelerates the path toward 100% carbon-free power generation."
Microgrids are another source of demand. These off-grid solutions have already been growing in popularity among big industrial users of electricity. California's recent brownouts and blackouts have only highlighted the downside of overreliance on the grid.
In July, Microsoft successfully kept a row of servers at one of its data centers online for 48 hours on hydrogen power alone. As part of its plan to go carbon-neutral by 2030, the computer giant is considering replacing its diesel backup generators with hydrogen storage.
Making — and moving — enough for all these new uses
The European Commission announced its EU-wide Hydrogen Strategy in June. Some countries have moved ahead on their own, such as Germany, which has funded its own National Hydrogen Strategy with $8.2 billion for R&D.
The United Kingdom is eyeing a "global hydrogen economy" said to be worth $2.5 trillion a year by mid-century, with the potential to create 30 million jobs.
Fossil giants like Shell and renewable energy producers with extra power on their hands like NextEra are entering the sector. But although 50 new green hydrogen projects were announced in the past year, the Institute for Energy Economics and Financial Analysis reported in August, it's not yet enough to keep up with global demand. They predicted a "drought," with 8.7 million tons of demand chasing 3 million tons of supply in 2030, and blamed a lack of capital and government-led action, stalling start-ups.
In the U.S., state and local governments may need to lead. The federal Department of Energy has so far stayed out of promoting hydrogen from renewables, instead suggesting we continue to get it from fossil fuels. Several incentive programs are expiring, and must be renewed for the sector to survive and thrive.
An incentive may come from the race with China, which currently leads in lower-cost electrolyzers, producing them for larger scale and a fraction of the cost of Europe's. Kobad Bhavnagri of BloombergNEF predicted, "Competition in hydrogen technology between Europe and China will be crucial to kickstart a global hydrogen economy because it will drive down the cost of the technology, which will play a key role in cutting emissions in many sectors."
For green hydrogen to compete and scale, says Dominion Energy's Andrew Hegewald, prices need to fall to the $600-$900/kW range this decade.
Good news from Wood MacKenzie: Over the past 10 months, the global green hydrogen project pipeline has swelled from 3.5 gigawatts to more than 15 gigawatts. Analyst Ben Gallagher predicted green hydrogen production costs will beat fossil-based hydrogen by 2040, or even 2030, in countries with aggressive policies to promote it such as Germany.
He proclaimed the 2020s "the hydrogen decade."
Source: Renewable Energy World