by Donna Quesada: Nothing, Except Everything— I've spoken about the power of presence many times…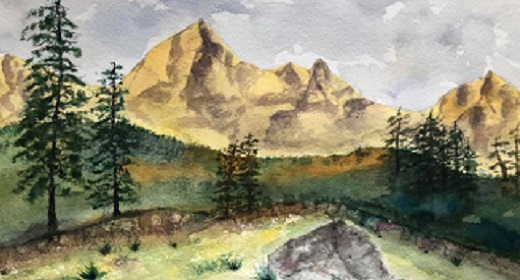 And those much greater than me have spoken about it plenty… Eckhart Tolle, Ram Dass, Pema Chodron, just to mention a few. I love Dr. Jon Kabat-Zinn's explanation of the wonders of presence, as expressed during my interview with him last year:
So, you say, "what's so special about where I already am?" Nothing, except everything. Do your eyes work? What's so special about that? Are you breathing? What's so special about that? Can you think and feel? What's so special about that? Only everything. So, we take everything for granted, until we lose it. Until our eyes don't work. Or we can't catch our breath. Or, it feels like life is falling apart. Or, the body is falling apart. ~Jon Kabat-Zinn
Except… Is that all there is? And the Peggy Lee song plays in my head, while musing that it's just… not… quite… the whole story.
Change Your Frequency—
One of my teachers, Gurudhan Khalsa, always said, "If you want to change the way you feel, change your frequency." Sounds a bit abstruse, but not if you accept the ancient model of the way subtle subtle energies move in the body. It is essentially the same model that Chinese, Tibetan, and Indian Ayurvedic medicine has been built upon, and which the practice of Yoga has been drawing from for thousands of years, while correlating this process with the quality of human enlightenment.
Essentially, changing your frequency has a physiological component. And in the language of Yoga, it corresponds to the seven revolving wheels of energy, called chakras, which correspond in turn, to organs and nerve centers in the body. Each of the seven chakras affect the way we feel, emotionally and spiritually.
You might say, they are an extension of our consciousness, itself. Our mind is not localized in the head… but rather, runs through our entire body. Thus, the mission of a Yogi, or one who practices Yoga, is to care for the health of these energy centers, which are situated along the spine, from its base, up to the crown of the head.
These energy vortexes are connected by way of an invisible highway, by which life force, or prana, travels in both directions. As this healing life force moves along the meridians, it influences everything we do and everything we perceive. In turn, it influences the way we feel.
Our physiology affects our psychology as our psychology affects our physiology. It goes both ways. Put very simply… one thought can affect your subtle energies, just as your subtle energies can affect what you think. And this is what my teacher meant when he said that what we are here to do is change our frequency. It's why we go to Yoga, basically.
Put even more simply, by way of a metaphor… one thought sends out a wave of motion within the body that affects the way you feel, and by extension, affects who and what you "attract" to your world, just as one pluck of any guitar string will send out waves of vibrating sound, which will affect the other strings on that guitar, as well as anyone around who hears that sound… and by extension, will affect the whole world in myriad, unknown and uncountable ways, by the actions of those who heard the sound!
So, Now… Back to Presence (All Agree On One Thing)—
All wisdom schools seem to to agree on one thing: We're anxious because we're too preoccupied with ourselves. Eastern schools would take this even further by questioning the very notion of the self. To this end, some schools emphasize selfless service, while others emphasize prayer or meditation… all of which make us feel better by dislodging us from our self oriented concerns. By focusing on someone else's happiness instead of our own, by letting go of our worries though the act of surrendering them to a higher power, and by training ourselves to continually stop identifying with our thoughts, these methods all work and all bring relief to our everyday anxieties. Essentially, they help us to come out of our heads and into this present moment.
And… Back to Energy Movement—
But, what if we couch the idea of anxiety in the language of chakras? We could say something like, all that self-interested, ego trouble is low chakra stuff.
Everyday worries, like getting credit, being recognized, being right, proving our point, having enough resources… friends… money… likes… anything… getting validated, being approved of… have an energetic equivalent, much like moods have a brain state equivalent.
Nothing Can Touch You When You're Flying—
And so, the idea is that you clear the chakras and the energetic pathways, much as you'd clear a tunnel for the metro to move through it. And when the energy is able to move unobstructed, you feel better. And when you feel better, you do better, you say better, you look better, you think better. In short, you're flying, and nothing can touch you. Not sickness, not poverty… nothing.
But wait, there's more! When the energy has risen, and your higher chakras have opened, you can touch the angelic realm. This is where I've been able to ask for the deepest comfort from my angel guides during extremely challenging times. It is nothing less than the channeling of spirit. And it's a profound comfort that can not be described.
Being a music lover as well, I now think of Jimi Hendrix' words:
Angel came down from heaven yesterday
She stayed with me just long enough to rescue me
Presence Then, Is the First Gate—
It is certainly not that the practice of mindfulness or coming into presence is of lesser value than channeling. It is a healing place to be and a fine forever home. And if you should have the interest in traveling into deeper cosmic realms, it is a necessary dwelling place. It takes a tremendous amount of practice to be here, now. Since, at any given moment, the mind wants to swing. It wants diversion and distraction and endless entertainment. It wants satisfaction of habitual, but needless desires. Corralling the mind is a full time, tireless task.
And it's not that everyday prayer is of any lesser value, either. It's deeply healing to the heart, mind and spirit… the deep connection through prayer enables our self-important worries and sufferings to simply melt away.
What I'm saying is that, although presence is necessary, it's not sufficient for "transfer flights."
Like Reaching the Summit on Everest—
If the sherpa or mountaineering guide got you to Base Camp and then said "okay… we made it! Let's go back down, now!" You'd protest that you really wanted to make the summit. You brought your flag to plant there and everything. You know there's more. But base camp is the necessary pass through point. You have to acclimate yourself at base camp. It's the portal to higher realms, for those that want to go and can manage the trek.