by (Starbuck's Story) Today, Starbucks announced it will open its first Signing Store in Japan on June 27, expanding career opportunities for 19 new and existing Deaf and hard of hearing Starbucks partners (employees)…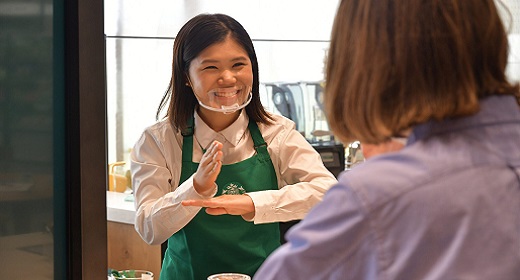 Located in Kunitachi City, Tokyo, an area with a long history as part of the Deaf and hard of hearing community, the store leverages technology and art to create an immersive experience in sign language and Deaf culture, and becomes the fifth Signing Store for Starbucks globally.
"Starbucks has been hiring Deaf and hard of hearing partners (employees) since we entered Japan in 1996, and these partners have made incredible impacts in their communities," said Takafumi Minaguchi, ceo, Starbucks Coffee Japan. "Inspired by their passion, we created this store as a place of belonging, where our partners and customers can stay true to who they are and be inspired. This store truly represents infinite possibilities for all."
Across Japan, Deaf, hard of hearing, and hearing partners studying Japanese Sign Language (JSL) have been creating more ways for their customers to connect with the Deaf community through sign language, including signing classes at their local stores, as well as coffee education seminars presented in sign language. Since 2018, select Starbucks stores in Japan have hosted "Signing Activity" pilot sessions led by Deaf or hard of hearing partners to prepare for the opening of a full-fledged Signing Store.
"The opening of Japan's first Signing Store is an important moment that represents the incredible passion of our Deaf and hard of hearing partners across Japan," said Ryotaro Sato, shift supervisor. "We want to showcase how the talent of the Deaf and hard of hearing community can spark connections, inspire new possibilities, and help our partners grow their careers with Starbucks. We're looking forward to sharing new experiences with our customers and demonstrating the diversity of communication that they can experience at the Signing Store."
Showcasing Deaf culture through art and technology
With 208 square meters (approximately 2,240 square feet) of space, the store interior was designed with accessibility and human engagement at the heart. Customers have several options when ordering in the store, including contactless speech-to-text voice recognition through a tablet at the register, pointing to items on the menu, or writing on a notepad.
Digital signage lets customers track the progress of their order through the number printed on their receipt. When orders are ready, a sign language animation invites customers to pick up their purchases. The digital signage also shows frequently signed phrases of greeting for all customers to enjoy and immerse themselves in the world of sign language.