by Amy McKeever: These are the COVID-19 vaccine prospects that have made it to phase three trials and beyond…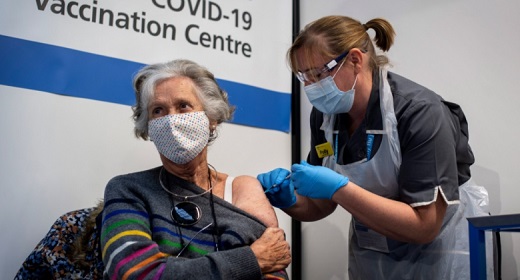 More than 150 coronavirus vaccines are in development across the world—and hopes are high to bring one to market in record time to ease the global crisis. Several efforts are underway to help make that possible, including the U.S. government's Operation Warp Speed initiative, which has pledged $10 billion and aims to develop and deliver 300 million doses of a safe, effective coronavirus vaccine by January 2021. The World Health Organization is also coordinating global efforts to develop a vaccine, with an eye toward delivering two billion doses by the end of 2021.
It can typically take 10 to 15 years to bring a vaccine to market; the fastest-ever—the vaccine for mumps—required four years in the 1960s. Vaccines go through a three-stage clinical trial process before they are sent to regulatory agencies for approval—which can be a lengthy process itself.
Given the urgent need, some vaccine developers are compressing the clinical process for SARS-CoV-2 by running trial phases simultaneously. Anthony Fauci, director of the National Institute of Allergy and Infectious Diseases, has stated that independent Data and Safety Monitoring Boards can end trials early if their interim results are overwhelmingly positive or negative. Meanwhile, in response to the Trump Administration's attempts to pressure the U.S. Food and Drug Administration to quickly approve a vaccine, several states—including California, New York, and West Virginia—have announced plans to independently review the data for any candidate the FDA approves.
On December 11, the FDA granted its first emergency use authorization for a COVID-19 vaccine—which allows the use of an unapproved medical product in a life-threatening situation—to the Pfizer-BioNTech candidate. Yet CDC director Robert Redfield, vaccine developers, and the FDA have said it's unlikely a vaccine will be widely available until the middle of 2021.
Vaccine prospects
To do so, some vaccines use the whole coronavirus, but in a killed or weakened state. Others use only part of the virus—whether a protein or a fragment. Some transfer the coronavirus proteins into a different virus that is unlikely to cause disease or even incapable of it. Finally, some vaccines under development rely on deploying pieces of the coronavirus's genetic material, so our cells can temporarily make the coronavirus proteins needed to stimulate our immune systems. (Find out more about vaccines and how they work.)
Though it's too soon to say which candidates will ultimately be successful, here's a look at the prospects that have reached phase three and beyond—including a quick primer on how they work and where they stand.
Who: One of the world's largest pharmaceutical companies, based in New York, in collaboration with German biotech company BioNTech.
What: This vaccine candidate relies on injecting snippets of a virus's genetic material, in this case messenger RNA (mRNA), into human cells. It spurs the production of viral proteins that mimic the coronavirus, training the immune system to recognize its presence. This vaccine requires two doses taken 21 days apart.
Status: On December 11, the FDA granted emergency approval to Pfizer's COVID-19 vaccine, a day after an advisory panel voted 17 to 4 that the benefits of the candidate outweigh the risks for anyone over the age of 16. An initial shipment of about 2.9 million doses will be shipped across the U.S. over the next week. The decision came the morning after the New England Journal of Medicine published the results of Pfizer's phase three study, showing the vaccine was safe and 95-percent effective in protecting against COVID-19 in people 16 and older. The FDA has also published an analysis saying that the Pfizer vaccine is safe and offers strong protection against COVID-19 within 10 days of the first dose, regardless of the recipient's race, weight, or age. The CDC recommended on December 3 that health-care personnel and long-term care residents receive the first doses, but the ultimate rollout will depend on state decision-making.
Pfizer expects to be able to produce up to 50 million vaccine doses in 2020 and 1.3 billion doses by the end of 2021. However, questions have been raised over the vaccine's storage, which requires ultra-cold freezers set at minus 70 degrees Celsius (minus 94 degrees Fahrenheit). The initial 6.4 million doses of Pfizer's vaccine are expected to leave warehouses within 24 hours of the FDA's announcement. Pfizer has signed a nearly $2 billion contract with the U.S. government to provide 100 million doses for free, though the New York Times reports that only half its supply will go to the U.S. this year. The company has also launched a vaccine delivery pilot program with four U.S. states—Rhode Island, Texas, New Mexico, and Tennessee—to prepare for deployment of the vaccine in the United States.
The FDA's announcement comes days after the United Kingdom began to roll out Pfizer's vaccine to people over the age of 16. The U.K. was the first Western country to approve any COVID-19 vaccine candidate—and the drug also became the first mRNA vaccine in history allowed for human use. On December 9, however, U.K. regulators warned people with a history of serious allergic reactions to wait to get Pfizer's COVID-19 vaccine. They are investigating two adverse reactions that occurred as the country began its mass inoculation campaign. Authorities did not specify what those reactions were but noted that the investigation is a precautionary measure.
The British government said it would prioritize vaccinations for the most vulnerable populations, including nursing home residents, health-care workers, older adults, and those with underlying health conditions. For now, Pfizer and BioNTech have agreed to provide 40 million doses of the vaccine to the U.K. It will be delivered in stages throughout 2020 and 2021.
Canadian health officials have also granted emergency approval to Pfizer's COVID-19 vaccine. The country expects to make several hundred thousand doses available by the end of this year.
On November 18, Pfizer and BioNTech announced the conclusion of their phase three trials. The companies stated that they've met their primary goals: The analysis found the candidate to be 95 percent effective in preventing mild cases of COVID-19—and 94 percent effective in adults over 65 years old—with no serious safety concerns. The trials launched in July, enrolling a diverse population in areas with significant SARS-CoV-2 transmission. Pfizer has expanded the trial to include 44,000 people across multiple countries. Preliminary results of phase one/two data showed the vaccine produces antibodies and T-cell responses specific to the SARS-CoV-2 protein.
Who: The U.K. university, in collaboration with the biopharmaceutical company AstraZeneca.
Who: A Chinese biopharmaceutical company.
What: CanSino has also developed a viral vector vaccine, using a weakened version of the adenovirus as a vehicle for introducing the SARS-CoV-2 spike protein to the body. Preliminary results from phase two trials, published in The Lancet, have shown that the vaccine produces "significant immune responses in the majority of recipients after a single immunisation." There were no serious adverse reactions documented.
Status: Though the company was still technically in phase two of its trial, on June 25, CanSino became the first company to receive limited approval to use its vaccine in people. The Chinese government has approved the vaccine for military use only, for a period of one year. On August 15, Russian biopharmaceutical company Petrovax announced it had launched the first phase three clinical trial of Ad5-nCoV.
Who: A Russian biotechnology institute.
What: This candidate is a peptide vaccine, meaning it uses small fragments of viral antigens called peptides to produce an immune response.
Status: On October 14, Russia granted regulatory approval to EpiVacCorona even though the vaccine candidate has not published any results and has not entered phase three of its clinical trials. It is the second vaccine candidate that Russia has approved for use despite a lack of published evidence about its safety and efficacy.