by M. M O'Keefe: I'm not alone in this belief…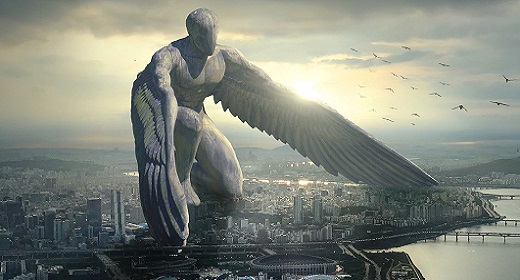 Dad was a quirky and sometimes humorous man of faith with a few head-scratching beliefs. For example, he knew from life experience that bad things often happen to good people like himself. But things could always be worse, thanks to Dad's personal celestial being — his guardian angel.
The idea that someone powerful you can't see is assigned to look after you played a comforting role for Dad, just as it has comforted spiritual seekers of many and no faiths throughout history, continuing today.
More than half of all Americans believe they have been helped by a guardian angel, according to a national survey by Baylor University reported by TIME. In the UK, 1 out of 3 believes they have a guardian angel, while 1 in 10 say they have had contact with one, according to a study cited by The Telegraph.
This raises fascinating questions. They can only be addressed with subjective, experiential answers.
I have looked into the matter as a former journalist specializing in religion and a current seeker of comfort, truth and stories about averting or overcoming disasters.
What follows is a personal and historical Q&A that may help you answer the question for yourself:
Do I have a guardian angel?
What were you taught?
Here is my story. Dad wanted to be a Catholic priest as many young men did in the 1950s. He got kicked out of the seminary for unknown reasons I am grateful for because if it were not for that I wouldn't be writing this.
With a wry smile, Dad liked to tell me: "You can call me, Father!"
Behind that quip was an earnest belief, that a guardian angel prevented him from making a big mistake of becoming a priest. He had a destiny as a married man with children and taught me to trust I would similarly be guided.
What is the history of guardian angels?
Historically, guardian angels have captured the imagination of people for centuries, persisting today. As the name implies, a "Guardian Angel" is supposed to observe and guard you like a Secret Service agent, averting or at least mitigating disaster.
The website Learn Religions explains the history this way:
Guardian angels watch over people during their entire lives on Earth, many different religious traditions say. Ancient Greek philosophy claimed that guardian spirits were assigned to each person for life, and so does Zoroastrianism. Belief in guardian angels who God charges with lifetime care of humans is also a vital part of Judaism, Christianity, and Islam.
What do guardian angels look like?

The image that comes to mind for most people is from the movie "It's a Wonderful Life?" George Bailey (Jimmy Stewart) had a bumbling, loveable guardian angel named Clarence who brought George back from the brink of disaster, earning Clarence his wings.
Most religions teach that your guardian angel is invisible and anonymous.
But type "see your guardian angel" in Google and you will find quasi-spiritual sources who say they will make an introduction, including a self-proclaimed connector to angels named "Padre" who says he can help you discover your angel's name if you fill out an online form.
Can you communicate with your guardian angel?
I am not asserting the rightness or wrongness of any of these answers but merely giving you a taste of what's out there so you can decide for yourself.
Here's the prayer I was taught to say as a kid before I went to bed every night.
Angel of God,
my Guardian dear,
to whom His love
commits me here,
ever this day
be at my side,
to light and guard,
to rule and guide.
Amen.
I wasn't sure I had a guardian angel, but I didn't see any harm in exploring and asserting the possibility. I got in the habit of whispering the above prayer every night under the covers. What did I have to lose?
Are there reports of experiences with guardian angels?
These are easy to find. Just ask around, do another Google search or read on for my story, the day after asking my guardian angel for protection.
KPHLACK!
That is the sickening sound of a Ford Mustang traveling 50 mph hitting my right leg in the middle of a pedestrian crosswalk when I was 13 years old.
I launched me like a circus acrobat shot out of a cannon. I saw a flash of white. I felt as if I were on a slow-motion magic carpet ride. I landed on the sidewalk, my right arm and leg slamming into the concrete. My head found a softer landing pad in a thawing snowbank that cushioned the impact like a pillow.
I could have died.
Did my guardian angel help me?
Two undeniable facts in my subjectively unverifiable story:
An ambulance sped me to the emergency room at St. Michael's Hospital. I recovered.
A hearse did not slowly transport me to the cemetery behind St. Mary's Church, where most of my O'Keefe ancestors rest in peace.
Dad thought my guardian angel guided my airborne path that day like an invisible hand.
Who was I to argue?