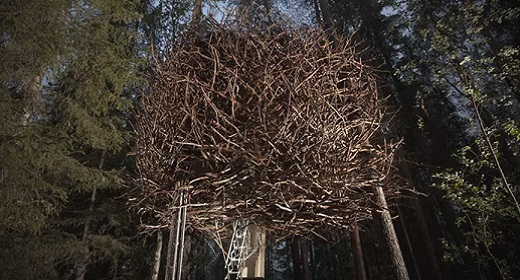 Full breakfast included? Check.
Secluded location yet convenient to sightseeing opportunities and cultural attractions? Check.
Stellar views? Check.
Located in a pine tree? Check.
Does this in any way resemble your list of requirements when it comes to booking the ideal getaway? If so, there are more than a couple of treehouse lodgings and full-on treetop resorts out there to indulge in your wildest, "Swiss Family Robinson" fantasies (OK, so maybe the self-sufficient SFR didn't have daily maid service or access to spa treatments, but you get the point).
Appealing to solace- and adventure-seekers alike, treehouse hideaways can range from rustic (bunk beds and shared facilities) to luxurious (flat-screen TVs and infinity pools) and can be found on almost every woodsy corner of the globe from the Ozarks to Oregon to the Amazon River. We've rounded up eight notable treehouse lodgings that we ourselves wouldn't mind hunkering down in — or up in, rather — for an extended spell. So pack a good pair of shoes, a pair of binoculars and your acrophobia meds and join us for a tour, won't you?
Out 'n' About Treesort, Takilma, Oregon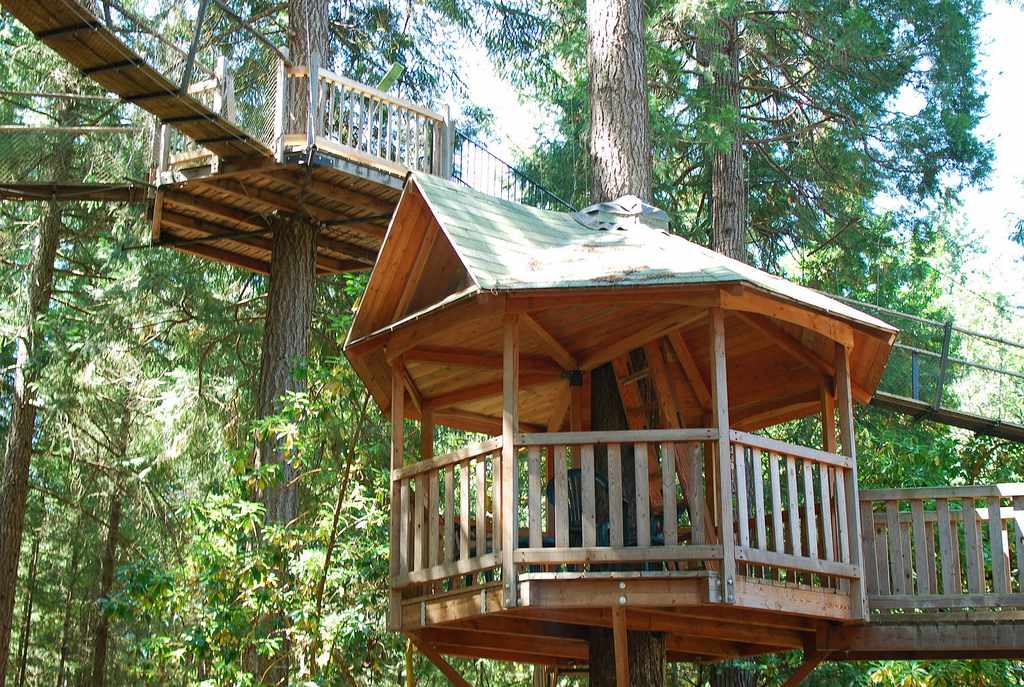 While the relentless use of woodsy portmanteaus displayed on the website of southern Oregon's Out 'n' About Treehouse Treesort may prove to be a bit much for even the most seasoned of arboreal escapists ("activitrees," facilitrees," "amenitrees" and on and on), we suppose it's only appropriate: the folksy, 36-acre Ewokian fantasyland on the edge of the Siskiyou National Forest is the location of treehouse guru/builder Michael Garnier's Treehouse Institute of Takilma, an institution described as the only place in the world that offers avocational instruction in basic engineering, design and construction methods for building treehouses" (you can also enroll in seminars in tie-dying, horseback riding, forest ecology, map reading and composting if so inclined).
Whether or not you decide to partake in any of the courses and activities offered by the Institute, you'll find a wide range of elevated overnight accommodations at the Treesort including the Pleasantree, the Treezeebo, the Calvatree, and the Majestree. Suffer from acrophobia or require a full, noncommunal bathroom? There are also a few just as rustic but closer-to-the-ground lodging options that you needn't cross a terrifying swinging suspension bridge, scale a ladder or climb multiple flights of stairs to access. Despite the whimsical vibe that prevails at the Treesort — the full breakfast includes an unlimited supply of "Fantasy Flakes" — the real world requires that guests sign an assumption of risk agreement and leave their pets at home. And did we mention that there are multiple zip line courses just steps — or swings, rather — away from the main compound?
Treehotel, Harads, Sweden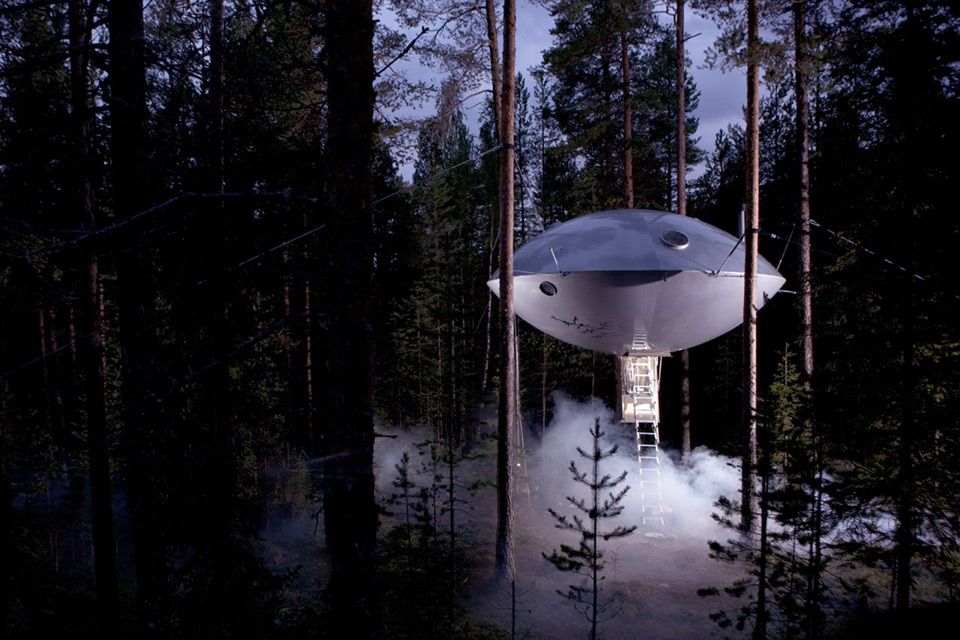 Tucked away in a remote stretch of boreal forest in the northern reaches of Sweden along the Lule River — guests who'd prefer not to make the 11-hour-plus drive from Stockholm can opt to arrive via helicopter or rent a car or snowmobile from the Luleå airport — the Treehotel is about as enchanted — and design-y — as sylvan shelters get. Comprising seven elevated structures perched anywhere from 13 to 20 feet above the forest floor, Britta and Kent Lindvall's eco-conscious escape received a massive amount of international press when completed in 2010. You needn't look any further than the Mirrorcube, a boxy, pine-tree-bound pied-à-terre with an exterior completely clad in reflective glass to understand why.
In addition to the Mirrorcube, other contemporary quarters include the Bird's Nest (yes, it really looks like one), the UFO (ditto), the Cabin (it's "like a capsule, a foreign body in the trees"), and the Blue Cone, a more feasible option for acrophobics that's accessible by a long ramp in lieu of a retractable staircase or bridge. The latest, the 7th Room, is the largest yet. Made out of charred cedar with an outdoor deck made of netting, this nifty room actually wraps around the trunk of a tree.
Designed by a host of top Scandinavian architects and constructed using low-impact materials, each of the existing "treerooms" (several more are in the works) include LED lighting, water-efficient sinks, combustion toilets and slick custom furniture. And because this is Sweden that we're talking about, guests can kick back and relax in the Tree Sauna after a long day of hiking, biking, fishing, sledding, snowshoeing or horseback riding. Sign. Us. Up.
Ariau Amazon Towers Hotel, Manaus, Brazil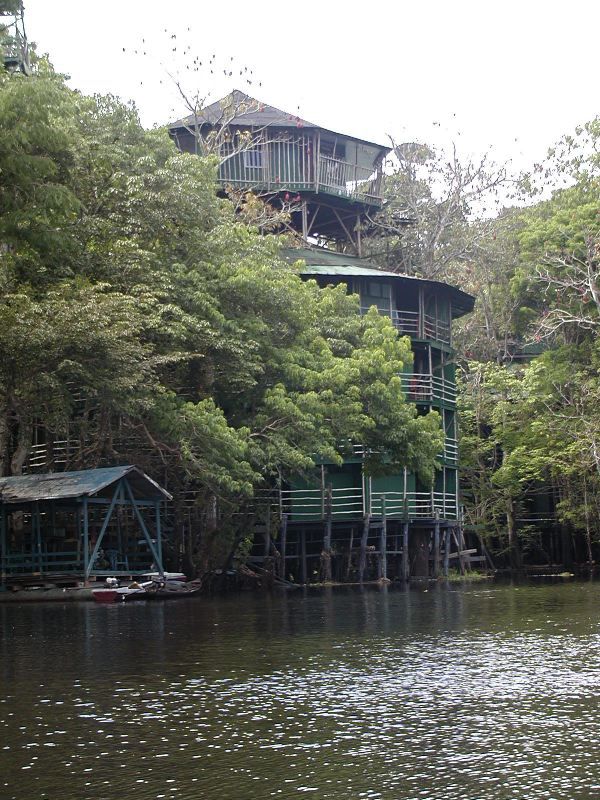 Inspired by the rain forest conservation efforts of Jacques Cousteau, Brazil's Ariau Amazon Towers Hotel remains the dazzling grande dame of treetop resorts. Situated outside the city of Manaus on the banks of the Rio Negro, a major tributary of the mighty Amazon, this stunning, bucket list-worthy escape is essentially a complex of stilted wooden buildings that are lifted high into jungle canopy and connected by over five miles of dizzying catwalks. While most of the 268 rooms are spread throughout the property's eight towers, a smattering of "Tarzan Suites" and private treehouses are also up for grabs. This includes the Tarzan House, which includes a sky-high honeymoon suite built 72 feet (gulp) above the rain forest floor in a living mahogany tree that's decidedly not for the faint of heart.
Despite the uber-exotic trappings — instead of rowdy spring breakers, you share the resort with monkeys, macaws, parrots, sloths (!) and a host of other colorful critters — a stay at the Ariau Amazon Towers Hotel isn't exactly roughing it as standard rooms include air conditioning, private bathrooms and mini-bars. Still, this isn't the Ritz — or a Carnival cruise — so instead of zoning out in front of a flat-screen TV, spending the entire day being pampered at a spa or lazing about at the pool for hours on end (yes, there is one), guests are encouraged to embark on a wide array of eco-tourism adventures including piranha fishing, canoeing, helicopter rides, dolphin swims, and treks deep into the rain forest on jungle survival tours.
Tree Houses Hotel, Santa Clara, Costa Rica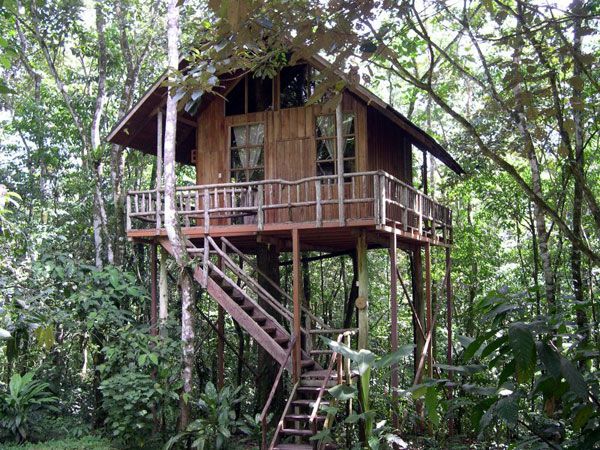 Boasting seven stilted abodes named after a few of the local residents (Sloth, Toucan, Frog, Monkey, etc.), Costa Rica's Tree Houses Hotel is less of a full-on jungle resort and more of an intimate bed and breakfast that just happens to be surrounded by a 70-acre wildlife refuge. Sure, the available lodgings (they start at a mighty reasonable $99 a night) may technically not be true treehouses but, hey, any structure that's elevated high into the jungle canopy and includes running hot water, AC, a full bathroom and a nearby parking spot is A-OK with us.
Although guests can feel free to go ahead and embrace their inner sloth by spending an entire idle day unwinding on an oversized private deck with a pair of binoculars and a good book, the Tree Houses Hotel also serves as an ideal embarkation point for a myriad of eco-tourism expeditions in the area including volcano hikes, safari floats, canoeing, zip lining and birding. Given that guests may be (understandably) sore after a day spent navigating an inflatable kayak down the Arenal River, a licensed masseuse is available for hire to knead away any aches and pains.
The Grand Treehouse Resort, Eureka Springs, Arkansas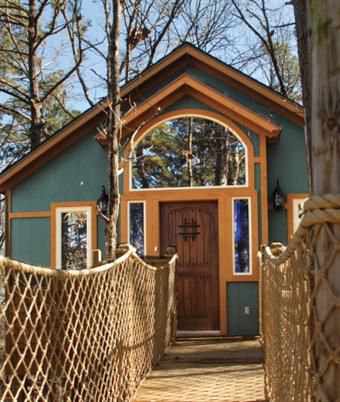 While many treetop hotels are located in decidedly far-flung locales such as the Swedish Lapland or the Amazon rain forest, domestic travelers needn't look any further than the Ozarks to get their "Swiss Family Robinson" on. Situated in a densely wooded area right outside of the artsy, LGBT-friendly Victorian resort village of Eureka Springs, the owners of The Grand Treehouse Resort offer up several different arboreal lodgings including the Cedar Manor, the Sanctuary and the Big Pine to choose from. We're pretty much smitten with all of 'em. And for those seeking woodsy solitude but who don't take too well to stairs, bridges or inclines of any sort, there's also the perfectly charming Gate House.
Boasting Wi-Fi, luxury bed linens, flat-screen TVs and Jacuzzi tubs, guests may be tempted to hunker down completely in their stilted or non-stilted cabins (for some reason, we don't think that the Fritz, Ernest and the rest of the shipwrecked SFR clan had the pleasure of drying off with Egyptian cotton towels) for a spell. But for those craving a full-on taste of the Ozarks and its myriad charms, there's no dearth of outdoor, cultural and, umm, biblical, attractions in the immediate area worth exploring.
Tranquil Resort at the Kuppamudi Coffee Estate, Wayanad, India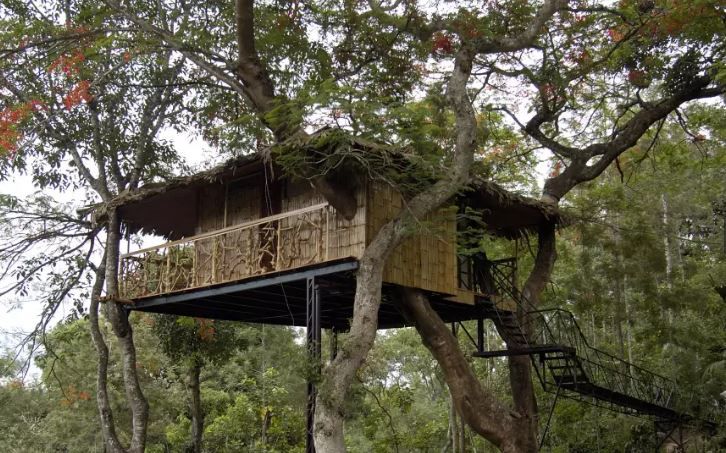 Dubbed as a "Plantation Hideaway," Tranquil Resort is located on a 400-acre private estate complete with a working coffee and spices plantation near the southwest coast of India in the unbelievably lush, sparsely populated district of Wayanad in the state of Kerala. For those unfamiliar with Kerala, it's, well, paradise. Offering full luxury resort amenities and services with an intimate, B&B-ish; twist (travelers are treated as extended family and share communal meals with the property owners and staff), a majority of Tranquil guests sleep in one of several private rooms located in a renovated annex attached to the main home that was originally built to accommodate friends and family of the plantation owner.
While perfectly lovely, those rooms don't hold a candle to Tranquil's two elevated sleeping options: The Tree House and the Tree Villa, the latter being a sprawling (1,080 square feet!) sanctuary with double verandas that towers 35 feet above the estate. Heck, one of the two bathrooms even has panoramic views. When guests do eventually decide to descend to ground level from their insect-proofed tree retreats, they can indulge in an in-house Ayurvedic spa treatment, unwind in the killer-looking swimming pool or enjoy a leisurely extended constitutional around the estate. Additionally, Tranquil-ites may opt to embark on a day trip to a range of nearby attractions including the Edakkal Caves, Pookote Lake and the elephant-filled Muthanga Wildlife Sanctuary — all experiences worth writing home about or, at the very least, sharing around the dinner table with Victor, Ajay, Anjini, Nisha and the rest of the Tranquil Resort family.
Cedar Creek Treehouse, Ashford, Washington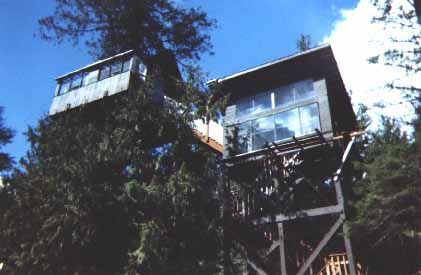 Perched high — and we mean high as you must conquer five flights of stairs — above the forest floor 10 miles from the Nisqually River entrance to Mount Rainer National Park, Cedar Creek Treehouse is every extreme tree house-lover's dream come true. Situated 50 feet up in a Western Red Cedar, this bilevel solar-powered retreat is completely off the grid (it's heated by propane in the winter and the "loo with a view" is sans shower) and features a tree trunk growing right through the middle of the floor. Can't get much more authentic than that, eh?
Back down on the ground, guests at Cedar Creek can partake in a range of outdoor adventures (fishing, hiking, biking, foraging, you name it) or unwind at the property's creekside picnic area which includes a campfire pit and charcoal grill (did someone say s'mores?). For the able-bodied and non-faint-of-heart, a visit to the Cedar Creek Treehouse isn't complete without a guided tour of owner/builder Bill Compher's Treehouse Observatory, a structure located 100 feet up a fir tree that's accessible by ascending the Stairway to Heaven, an 82-foot spiral staircase, and then crossing a colorful, 43-foot-long suspension bridge dubbed the Rainbow Bridge. As you can imagine, the views on a clear day are beyond breathtaking.
Tsala Treetop Lodge, Plettenberg Bay, South Africa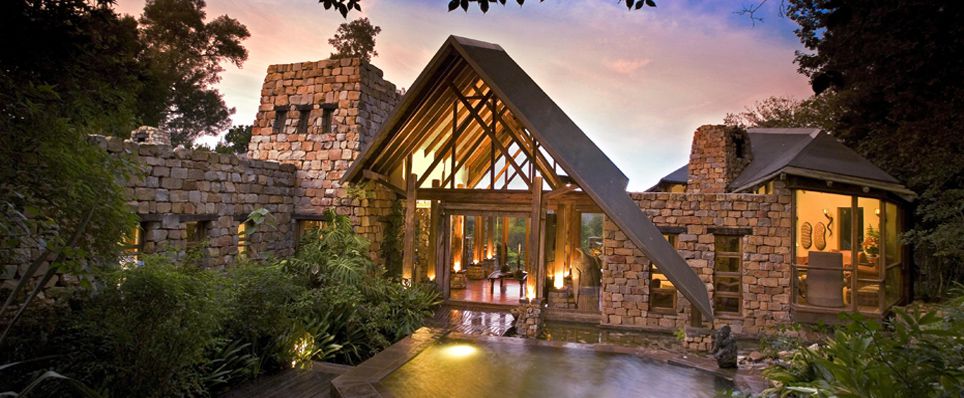 Although we've never actually visited the stunning glass, stone, and wood retreats that make up Tsala Treetop Lodge, if we had we'd imagine that you'd have to drag us away kicking and screaming for one reason and one reason only: private, sky-high infinity pools set amidst the lush canopy of an indigenous forest. OK, so maybe there are numerous reasons why we'd be reluctant to end a stay at this secluded South African luxury property other than the infinity pools found in each of the 10 well-appointed treetop suites or six two-bedroom villas that are linked by a network of elevated wooden walkways, but they're certainly a biggie. The others? We're pretty keen on forest picnics, birding opportunities galore and excursions to nearby elephant and primate sanctuaries and Birds of Eden, the largest free-flight aviary in the world.
Whatever the case, such arboreal opulence doesn't come cheaply: Rates for a treetop suite at Tsala — "friend" in an indigenous language — start at $220 per person during the off-season, while rates for a single supplement during the peak season are as high as $500. That said, it's probably best to bring along a tsala … or three.