by Karl Kaufman: Tony Robbins has warned business owners and investors over the years that they must prepare for economic "winters." Hard, fallow seasons are inevitable as the business cycle naturally booms and busts…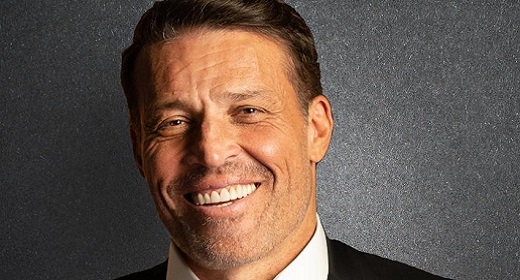 As Mike Tyson once said, though, "Everyone has a plan until they get punched in the mouth." How can you plan for a once-in-a-lifetime pandemic that throws everything into chaos?
Preparing for winter suddenly turned into just trying to survive for many businesses. Those approaching retirement age saw their careers or life savings disappear.
Robbins's business was affected, as the tens of thousands of people who attend his live events each year were unable to convene in person. Instead of sitting idly, waiting for people to be able to congregate once again, he had to find a way to innovate.
In this exclusive interview, Robbins and I discuss managing finances and emotions during harsh economic conditions, being a disruptor amid so much disruption, and how to survive — and even thrive — when winter comes.
This interview has been edited for content and clarity.
Karl Kaufman: What would be the first few financial moves you'd make during winter?
Tony Robbins: In the middle of the COVID-19 pandemic, economic "winters" are on everyone's mind. But winters are some of the best wealth-building opportunities. Major market pullbacks can present the opportunity of a lifetime because everything is on sale!
Economic winters are challenging, but they're followed by spring. During wintertime, here are two financial moves I'd suggest you start with:
Find opportunities. Sir John Templeton once said, "The best opportunities come in times of maximum pessimism." Ask yourself: Which industries have seen the steepest decline, and which are poised for geometric growth?
Look for asymmetric risk-reward. Take the least amount of risk possible for the highest level of reward. Protect your downside while maximizing the upside. We have been programmed to think that the only way to grow wealth involves taking huge risks. We've been told that to win big, we have to risk losing it all. But some of the most successful people are the most cautious. The top investors follow a different script and take asymmetric risks that are largely based on diversified investments.
Kaufman: You recently contributed some chapters to Peter Mallouk's book on financial freedom, The Path. In the book, you refer to the need to "discipline fear and manage emotions." What are the best ways to do that, as it relates to investing?
Robbins: We all have an emotional connection to money. Shame. Guilt. Power. Freedom.
We have trained our brains to react to financial circumstances with those emotions. We make these choices unconsciously, and therefore we often select emotions that do not productively serve us.
Emotions around investing are natural. There's a lot at stake, and I'm not just talking about dollars.
What stops people from creating the life of their dreams is one word: FEAR. To overcome fear, you need to have courage. Courage does not mean that you're not afraid. It means that you're afraid, and you do it anyway.
Most people don't give enough value to this, but if you're going to succeed at the highest level financially, you've got to face those fears. There's risk involved, but there is also massive reward.
Kaufman: How have the economics of running your events changed since the pandemic forced them to be virtual?
Robbins: Well, for one, my access to helping people change their lives has been ripped wide open. Without the cost of flights, hotel, food, we're able to reach so many more people that maybe wouldn't have had the opportunity to attend a live event in person. All of these barriers, like travel and time away from family, have been removed. Additionally, we no longer have high overhead for the enormous arenas to host our events. They're taking place from the comfort of people's living rooms.
Kaufman: How have you managed to turn what could have been a significant disadvantage to your business model into an advantage, and how can other businesses follow your example?
Robbins: COVID-19 knocked everyone to their knees, including me. When I got word back in March that I had to cancel our Unleash the Power Within event in San Jose, I was in shock.
In 40 years, I've never canceled an event. I could be in terrible physical condition and still would get up on stage and deliver because that's what I'm here to do – to serve, no matter what. Eventually, I came to terms with this new reality. Instead of just accepting it, though, I decided to innovate.
I said, if they don't let people come to us, we'll go to them in their homes.
My team built a huge studio here in Florida, with 16 ft ceilings and a monstrous 360-degree screen so I could see and interact with thousands of people at any given time. We developed it so I could call on any person and have them show up big on the screen, just like if I selected someone from the audience at a live event. With this new model, we're reaching more people than ever before.
Just think, if I had let COVID-19 be the end of my events, I'd be sitting here twiddling my thumbs. We turned what could have been a complete show-stopper for our business into a new way to deliver.
I always say, "Do what you've always done, and you'll get what you've always gotten." As a business, it's always important to innovate, to find a way to serve your clients better than anyone else. In these times, if you don't, your business will no longer exist. It happens faster than you think.
---
This past year has wrought devastating personal and professional loss to so many. I asked Robbins for some encouraging words for those who lost their business or job during the pandemic.
"Crises have a way of changing us," he said. "They can destroy you, or they can change you for the better. Some people go their whole lives without a wakeup call or cause for re-evaluation.
"Failure is part of life," he continued. "If you want to know what all successful people have in common, it's failure. If you're not failing, you're not trying. You're not putting yourself out there.
"Maybe you're ready to launch your own business or a different business, one that truly has your heart and soul behind it, and this is just the leap of faith you needed.
"Maybe this is just the thing to draw out your own comeback story. One where you didn't back down. You drew strength. You got creative, and you became adaptable.
"Plateaus and setbacks are natural and sometimes needed," he concluded. "It's how you respond that sets you apart from the rest."
This winter will surely be a long and arduous season. Just as winter follows the fall, so too will the promise of spring arrive. Innovative vaccines, developed faster than ever, are being administered throughout the world. With each shot in the arm comes the hope that all of us can help craft a comeback story together.