by Kari Doherty: Yoga is all about getting your body and mind in balance…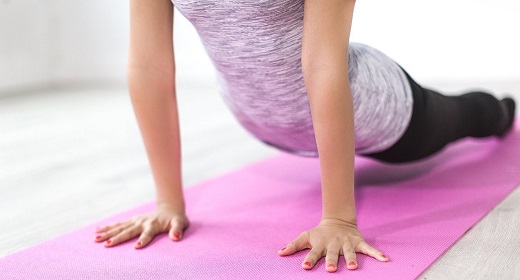 So it only makes sense that part of that balance would be how you feel on the inside – meaning what you put into your body for nourishment. Unfortunately, most of us have such busy lives that we don't take the time to really put thought into how our food factors into our overall wellness routine.
If, like so many of us, you want to improve the connection between your yoga practice and what you put into your body, there are some easy ways to do so. One of the best ways is to pay attention to how your body feels before and after you do yoga. Do you feel hungry, lacking energy, or too full to really stretch?
Maybe you need to eat a snack before or after you attend a yoga session. Or maybe you need to eat a little more or a little less in order to get the most out of your yoga routine. Like yoga itself, it's all about balance. Not sure where to start? Take a look at our recommendations for snacks that will help you have the motivation and energy you need before and after your yoga session.
Best Snacks for Before Yoga
First, let's look at the best snacks for before a yoga session. Remember, you don't want to eat a lot before doing any kind of exercise. However, sometimes, the right snack can up your energy and help you feel more motivated to press on. Here are our favorite before yoga snacks:
Green Smoothie: Green smoothies are a great way to get energy quickly and without the fullness of eating a full meal. They are packed with nutrients and can be made with just a few ingredients.
Avocado Toast: If your yoga session is a bit longer or you have to skip dinner before class, avocado toast is a great snack option. The good fats in avocado are packed with energy, and the carbs from the toast will keep you full longer.
Bananas and Nut Butter: Bananas are one of the simplest energy-rich foods you can snack on. Pair a banana with a tablespoon (or two) of nut butter, and you have a delicious and sustainable snack that will almost certainly last through your yoga session.
Best Snacks for After Yoga
Now, let's take a look at some of our favorite snacks for after a yoga session. If you are like us, you feel energized and hungry after a long session, especially if you were sweating. So these snacks are a little more filling than the pre-workout snacks discussed above.
Egg Whites and Sprouted Toast: After a workout, you don't want to overload your body with heavy foods. That's why egg whites and sprouted toast are a great option for a post-yoga snack. The egg whites are low in fat and high in protein, so you can eat a lot without any guilt. The sprouted toast gives you some carbs and nutrients your body needs while recovering.
Oatmeal with Almond Milk: If you want a warm snack after a yoga session, oatmeal with almond milk is a great option. Oatmeal is loaded with good-for-you nutrients and non-dairy milk will add creaminess and flavor without the fat. Add some of your favorite fruits to really customize this treat.
Veggies and Hummus: Fresh veggies dipped in hummus is a great light snack for after yoga and before dinner. Tomatoes, broccoli, and cucumber are three of our favorites. Add a little olive oil or some fresh herbs to the hummus for a little punch of flavor.
The old saying "you are what you eat" has some validity. The healthier we eat, the healthier our bodies and minds tend to be. By choosing healthy and appropriate snacks, you can become more mindful of your eating and incorporate your foods into your yoga practice in a way that only adds to your experience.
BIO
Kari Doherty is a yoga teacher at YogaRIOT in Portland, Oregon. She is a Baptiste Certified Teacher who focuses on helping women move, flow, and practice yoga in an accepting and loving environment. YogaRIOT offers in-person and virtual classes on their website at https://yogariot.com/.