by Brook Thompson: "I keep a jar of unopened canned Klamath salmon in my refrigerator. I'm afraid it might be my last…"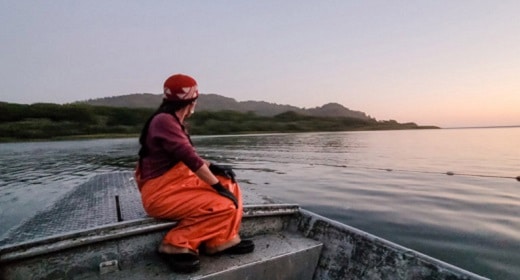 For those who live on the Klamath River, its health reflects the people, positioning us on the precipice of life or death. The Klamath is magical and meandering, a river surrounded by towering redwoods and mountains. But the controversy over its water has lasted for decades, and the big questions—whether to remove four dams, who gets the water during drought years—often put farmers and Natives at odds. Meanwhile, blue-green algae blooms make the river unsafe for swimming and spread deadly diseases among fish. To outsiders, the tribes' desire to have water for salmon survival and ceremonies might seem almost frivolous, a mere "want" compared to the "practical needs" of agriculture. Most media coverage fails to express the implications of dam removal for Indigenous people.
I grew up on the Klamath in Northern California, a member of the Yurok Tribe, canning fish with my father and grandfather, pulling in salmon and basking in the thought of doing what my ancestors did, thousands of years before me. But those days faded as the dams and drought took their toll. I was seven during the 2002 fish kill, a day forever ingrained in my mind—the eye-watering, nose-puckering stench of thousands of dead rotting salmon in the sun along the rocky shoreline of my homeland. It was the largest West Coast salmon kill in history: Over 30,000 salmon died from diseases that spread in warm waters. I learned what it felt like to lose those close to me.