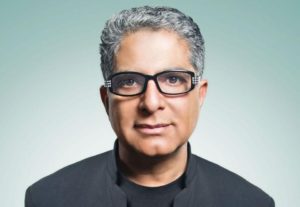 Home Base
Carlsbad, California USA
Foundation of Teaching
Self-Realization, Presence, Alternative Healing, Quantum Healing, Leadership
Example of Teaching
"The possibility of stepping into a higher plane is quite real for everyone. It requires no force or effort or sacrifice. It involves little more than changing our ideas about what is normal."
Total Views: 18,456
Books
Contact
2013 Costa Del Mar Rd. Carlsbad, California 92009 888.424.6772
learn@chopra.com
Deepak Chopra, M.D.
Deepak Chopra, MD, is one of the best known and widely respected leaders in the field of mind/body medicine in the world today. Integrating the ancient Indian science of Ayurveda with traditional Western medicine and recent discoveries in the field of quantum physics, he forged a holistic approach to healing that has had enormous popular appeal as well as widespread professional acceptance.
Deepak is the author of more than 65 books, including numerous New York Times bestsellers. His medical training is in internal medicine and endocrinology, and he is a Fellow of the American College of Physicians, a member of the American Association of Clinical Endocrinologists, and an adjunct professor of Executive Programs at the Kellogg School of Management at Northwestern University. He is also a Distinguished Executive Scholar at Columbia Business School, Columbia University, and a Senior Scientist at the Gallup organization.
In 1995, he established The Chopra Center for Well Being in California, and is among the founding directors of the Alliance for the New Humanity. Chopra is the recipient of the Einstein Award through Albert Einstein College of Medicine in collaboration with the American Journal of Psychotherapy.
Time magazine hailed Chopra one of the top one hundred heroes and icons of the twentieth century, and credits him as "the poet-prophet of alternative medicine."
"Deepak Chopra has successfully blended ancient Vedanta Philosophy with his unique perspective on modern medicine to provide a vast audience with solutions that meet many needs for our modern age. He is among the influential scholars, authors, and thinkers like Arthur Schopenhauer, Carl Jung, and Aldous Huxley who have found truth in the Perennial Philosophy and developed ways to help people apply that truth to their daily lives." 
~Huston Smith
Quotes
"The less you open your heart to others, the more your heart suffers."
"If you create any open space within yourself, love will fill it."
"Discover your own discontent, and be grateful, for without divine discontent there would be no creative force."
"Uncertainty is the fertile ground of pure creativity and freedom."
"The possibility of stepping into a higher plane is quite real for everyone. It requires no force or effort or sacrifice. It involves little more than changing our ideas about what is normal."
"What does not contain love must contain an illusion."
"Love doesn't need reason. It speaks from the irrational wisdom of the heart."
"Love is the beginning of the journey, its end, and the journey itself."
Read more quotes >>>