by David Klein: Though it typically acts as a healthy counterweight to a standard meat and potato dinner, broccoli doesn't have to be an afterthought. It's quite a versatile veggie and can be the foundation, nay, hero of many delicious entrees, sides, and snacks…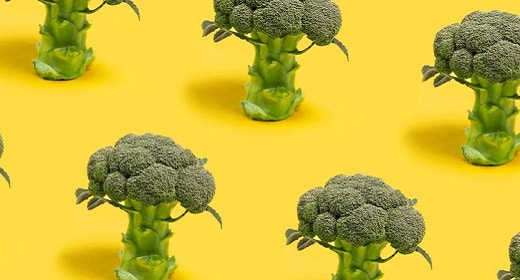 A head of broccoli keeps for roughly 3-5 days in the refrigerator, loosely wrapped in plastic. (You won't lose many nutrients going the frozen route, but be aware that there is a significant loss of snap and crispness.)
For simple broccoli preparation ideas, consider:
Raw broccoli is a great keto/paleo-friendly snack and is especially tasty paired with a crudité dip. If you peel the outside of the stalks, you can eat those too.
Steam it. All it takes is around 5 minutes depending on how firm you like it. Definitely consider including some lemon juice or minced garlic to give it a boost of flavor.
Roasting is another minimalist option. Give the florets a toss with a little bit of olive oil, season with salt and pepper, and throw it on a baking sheet at 450°F. Check in 15-20 minutes later. A flip halfway through won't hurt.
If you want to take your broccoli to even greener pastures, these recipes are a head above the rest:
The presence of cheddar and sour cream in this rich soup might make you forget that a healthy dose of broccoli is the dominant ingredient. It's a perennial favorite but especially satisfying in those colder months. Get our Broccoli and Cheddar Soup recipe.
In our humble opinion, they're not fully loaded potato skins if you don't have some broccoli on 'em. And you definitely want plenty of ranch dressing on hand to get your dip on. Get our Potato Skins with Broccoli and Cheddar recipe.
Is any Chinese takeout order complete without beef and broccoli? It's that one menu item pretty much everyone seems to agree on. But here's a controversial thought: Perhaps it should be renamed Broccoli with Beef. Get our Beef with Broccoli "Takeout" Noodles recipe.
Tomato tends to be the go-to produce invite to the pasta party, but broccoli deserves a call now and then. It's a welcome addition to this creamy creation, adding a bit of crunch and much-needed fiber, not to mention a vibrant green pop of color. Get our Creamy Pasta with Chicken Sausage and Broccoli recipe.
While the bright, citrus dressing in this recipe will add some razzle dazzle to any number of salads, it's excellent over a mix of broccoli, scallions, dried cranberries, bacon, sunflower seeds, and shaved parm. Whether it's served as a side or a main, dig in. Get our Broccoli Salad recipe.
Cabbage has cornered the slaw market for too long, and now broccoli wants a piece of the action. If you're working with a whole head of broccoli, just chop everything but the thick stalks into small pieces and incorporate with the shredded cabbage. Get our Broccoli Slaw recipe.
Bagna cauda is a fantastic anchovy-spiked dip originating from the northwestern part of Italy but this take keeps things whole. Roasted broccoli is the perfect foil for those deliciously unctuous, umami flavors. Get our Broccoli Bagna Cauda recipe.