by Jenny Zhang and Jessica Stewart: The stunning Nasir al-Mulk Mosque hides a gorgeous secret between the walls of its fairly traditional exterior—stepping inside is like walking into a kaleidoscope of colors…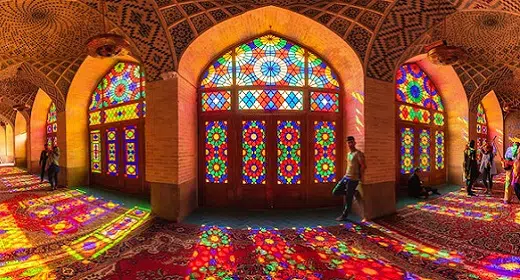 Every day, the rays of the early morning sun shine through its colorful stained-glass windows, transforming the halls into a dazzling wonderland of rich hues, patterns, and light that play on the floor of the mosque.
The usage of beautiful rose-colored tiles in the interior design earned the mosque the nickname Pink Mosque in popular culture. Though it's located close to other incredible mosques like Shah Cheragh, Nasir al-Mulk stands apart due to its use of stained glass, which is not commonly part of mosque architecture. Located in Shiraz, Iran, this mosque was built from 1876 to 1888 by the order of one of the Qajar Dynasty lords. The beautiful structure was designed by Muhammad Hasan-e-Memar and Muhammad Reza Kashi Paz-e-Shirazi.
It's not just the interior that makes a lasting impression. In addition to the glorious display of light and color through the stained glass, the mosque features other striking elements of design and architecture, including intricate geometric tile designs, painted arches and niches, and spectacular domes. The exterior is equally impressive with an open courtyard that features a long, rectangular reflecting pool. The stunning tile work in pink, blue, and yellow hues helps create an uplifting and opulent atmosphere for worship.
Given all this, it's no wonder that the majestic atmosphere makes the Pink Mosque one of the most visited sites in Iran. Those looking to take a peek themselves will want to visit in the morning, when the sun's rays are particularly impactful—just be aware of the large crowds you'll face.
Nasir al-Mulk Mosque is known for its dazzling stained glass windows.
Located in Shiraz, it's one of Iran's most famous mosques.
Its exceptional architecture also extends to the exterior thanks to incredible tile work.
Popularly called the Pink Mosque, visitors come from around the world to take in the kaleidoscope of colors.