While researching traditional culinary traditions for the Blue Zones American Kitchen…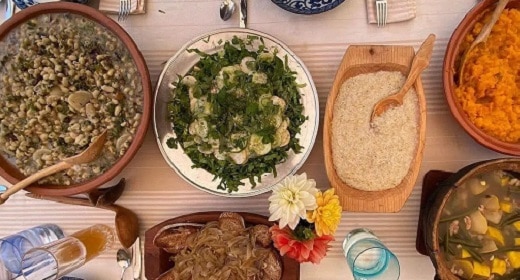 Blue Zones Founder Dan Buettner met Carol Wynne, whose Wampanoag ancestors first hosted the Pilgrims in the 17 century, and Paula Marcoux, culinary anthropologist and food historian. In the TODAY Show segment below, Dan is joined by NBC's Cynthia McFadden to answer an intriguing question: Could the first Thanksgiving hold some secrets to living a longer, healthier life?
"All we really need to know about eating as a healthy nation was here when the pilgrims arrived 401 years ago," says Dan Buettner. "If we were still eating like the Wampanoag, 90 percent of the chronic disease cross that we're bearing in this country would go away."
When looking at the first Thanksgiving table, there is no evidence that turkey, pumpkin pie, or stuffing graced the scene. Instead, you'd see beans, corn, squash—a mainly whole food, plant-slant meal. These are the same foods you'd see at centenarians' tables across the world whether it is with the Wampanoag people of New England or the Sardinians in Italy.
Dan Buettner says, "I'll never tell you what to eat. You can eat what you want to eat. But I will tell you what you can eat to live to 100."