by Hayley Zablotsky: When I arrived at the Princess Academy, I was led into a dimly lit tearoom. I was 17, which meant that I had no idea what to expect from my first real job interview…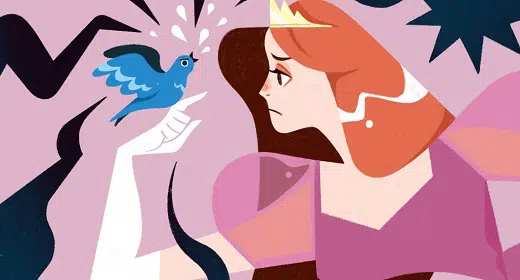 The tearoom was elegant and cozy, adorned with soft cushions and teardrop crystals. Tangy-sweet hot cider in a gold-edged teacup sat on the table in front of my chair.
The owner of the shop — the queen of the castle — breezed into the room. Queen Amanda. She was wearing what I can only describe as princess daywear — a lace-up embroidered vest over a loose white blouse and a pink-striped skirt. I don't know what I was expecting, but it had never occurred to me that there was such a thing as casual princess clothes.
Amanda sat down, poured herself a teacup of cider, and beamed at me. Mostly the interview consisted of Amanda gushing about my pretty hair and how it was fate that I'd applied when I did. They needed me.
And in a way, I needed them. I was at a point in life where I was beginning to realize the dubious nature of happily ever afters. My parents were in the midst of a gruesome divorce, which affected me so deeply I didn't even tell my best friends about it. I didn't want to talk about it. I didn't want to acknowledge its realness. I felt strongly that the drama and heartache were not what I'd signed up for when I was born — and not what my parents had signed up for when they'd gotten married 25 years earlier.
I needed this princess job as an escape from my reality of slamming doors. And more importantly, I needed it as a reminder that happy endings were still alive and well somewhere.
Of course, I didn't tell Amanda any of this in the interview. I was cordial and professional and got hired on the spot as a professional birthday-party princess. This basically meant that I had to dress up in a beautiful gown, exude loveliness and general cheer, and do virtually nothing.
"Think you can handle that, princess?" Amanda asked me.
"Certainly," I said, taking a sip from my teacup with my pink-glossed lips. I was born for this.
The Princess Academy was heaven for little girls. Inside, there was a papier-mâché castle large enough to hold an entire collection of a hundred miniature princess dresses. Excited children jumped about in the castle, stopping only to squeal their way into fluffy gowns. There was, of course, the tearoom, with 15 different flower-patterned teapots, and a salon room with pink velvet chaise longues, mini salon chairs, and giant mirrors with swirling frames. The best part of the whole scene was the smell — a constant breath of hot apple cider, hairspray and warm sweet candles.
The Princess Academy hosted birthday parties and special events. There were royal parades, visits from Santa and the Easter Bunny, and princess shows featuring sing-alongs, twirling, and an extravagant amount of bubbles. Walk-ins were always welcome, except during the events mentioned above.
There was no association with Disney, due to copyright issues, so instead we insisted that every girl could be her own princess (an admirable but watery attempt at pacifying little girls who just really wanted to be Cinderella).
Amanda founded and reigned over the Princess Academy. Animated and unstable, she had vibrant creative vision, blonde hair extensions, and zero organizational skills. She was lovely.
She said she had always wanted to help girls feel empowered. We are all princesses, you know. And after falling in and out of relationships in which she was treated nothing like a princess, Amanda thought that she might be able to prevent other girls from falling into the same trap, if only she could make them realize their royal worth.
Lesson No. 1 was that no princess should dare leave her dressing room without her 40-layer petticoat. As it turned out, my 40-layer petticoat was rather heavy, rustling and nestling around my legs and ankles with every step I took. Next came the dress, raspberry pink and studded with rhinestones. Snug through the bodice, it sneezed out around my legs into swells of silk and sequins. I loved to walk in that thing, swooshing along and getting caught in doorways.
There was hair to consider, of course — a long, tumbling, loosely curled auburn wig — and an assortment of graceful accessories: a sparkling silver tiara with rhinestones, a heavy crystal necklace, white gloves and three-inch princess heels.
During that period of my life, it would not be at all uncommon for me to find wayward sparkles sticking to the inside of my bra or perched threateningly on an eyelash. I didn't mind finding them when I got home. They reminded me of my pretty and kind alternate reality.
I also quickly learned the importance of the Princess Language. A princess must speak eloquently and politely, using words and phrases like "certainly, oh my goodness" and "how lovely." Everything must be presented with a patient, positive spin and a sweet smile — which of course can be challenging when faced with a dozen 5-year-olds.
"Why, princess — did you lose your royal manners? Dear me, wherever have they gone?"
"Oh, my goodness, darling. I think we'd all rather not have our hair pulled out today."
I was sometimes sent teetering up and down the uneven sidewalks of Main Street — a touristy, crafty, candy shop sort of street in my small Northern California town — as a breathing, bejeweled advertisement for the Princess Academy.
The world stared. And I waved. I waved and waved and waved. I waved to little girls and little boys. I waved to shop owners and mail carriers. I waved to the middle school skater dudes and the grannies. One time I waved at somebody in the back seat of a police car on the way to the county jail.
Sometimes I think the adults got more excited about seeing a real live princess than the kids did. Middle-aged women having lunch flocked to me for photos, squealing, "Oh my god, Linda, remember when I had a waistline like that?" Grandparents forced their mortified college-aged grandsons to fake-propose to me for photos. One time, a man running for local office asked me to endorse him.
Sometimes people asked me questions about my castle and my dress and my animal friends. And I was ready — ready with my beautiful bullshit answers about towers with climbing ivy and a gallant steed named Starlight.
And then sometimes cheeky old ladies would ask me, "Where's your prince, honey?" or "Still waiting on the prince, huh?"
And it always made me pause. Everyone always assumed there was a prince. Everyone always assumed I was waiting for him. Because what else would I be doing? It wasn't like I'd need time to go into politics or engineering or even just the hardware store to buy some nails to hang a cow painting for my mom.
I tried not to hold it against these cheeky old ladies when they asked about my prince. It wasn't their fault they asked these questions. A princess waiting for a prince is standard operating procedure, and they were just trying to make conversation and be polite. Every fairy-tale ever written reiterates the necessity of a prince.
Unfortunately, this fairy-tale job didn't come with a prince for me, which was honestly a bit of a letdown. Raised on princess stories and later educated by trashy romance novels, I was very clear on the way things were supposed to go. But where was my slightly disheveled, utterly charming boyfriend? Nowhere in sight — either in reality or in my princess life.
Sometimes I told the little girls at the Princess Academy that I had a prince, even though all I had in real life was a crush from Spanish class who asked another girl to prom.
One little girl was particularly skeptical of my made-up fairy-tale romance.
"His name is Prince Colin," I told her.
She narrowed her eyes and rubbed the permanent smudgy sticky green marks on her face.
"But what's his horse's name?" she asked. As if that could stump me.
"Midnight. Midnight is black like the night."
She watched me for a minute, adjusting her wedgie and deciding how harshly she should judge this information.
"Well," she said, "I have a boyfriend."
"Oh my goodness, tell me about him."
"He's my boyfriend."
"And what is he like?"
"He loves me."
"That's what he's like?"
"Yes."
I'd never known a guy like that, and it made me feel sort of sad and innocent, which is apparently just how the princess is supposed to feel at the beginning of her story.
I don't know if I'd really been expecting a prince to come along with the job, but the lack of one even in my fairy-tale world certainly opened my eyes to the disappointing fact that princes are not inevitable. I guess I'd already suspected this. My friends didn't have princes. My older sister didn't have a prince. And now my mom didn't either — or maybe she never had.
At the tea table during birthday cake time, Amanda liked to facilitate good, civilized princess discussions.
"Do you all like school?" she asked the little girls.
The girls all piped up at once, which allowed Amanda to pause for a great Learning Moment about interrupting and how princesses do not do such a rude thing. After receiving a gentle lecture, the girls went around the table and said what their favorite subjects were in school.
At the Princess Academy, we encouraged academic success. We liked to throw around the phrase "smart princess" as if it were a novel thing. Or maybe we were trying to make it not a novel thing.
"Girls are better than boys in school," one of the little girls always said. Children insist on having a definite winner. Girl versus boy, prince versus dragon, good versus evil.
I was just beginning to realize that this particular mentality is truly a thing of fantasy. Winners and losers in the real world often aren't well-defined or necessarily deserving. I had started paying closer attention to the world around me as my childhood rapidly drained away. I could no longer pretend that I didn't see the constant and unnecessary violence on the evening news and the homeless people carrying stuffed garbage bags around downtown. At the same time, I saw my parents fighting over who should keep the Lexus and the flat-screen TVs. These things made me deeply aware of the random and cruel distribution of privilege and pain, and I struggled to reconcile the possibility that I had a lot of both.
I didn't like this reality check I was having outside the safe walls of the Princess Academy, but it was becoming undeniable. And though it was nice to see that some people still believed in clear-cut winners and losers (i.e., 5-year-olds), their words rang false even in the castle.
"Boys are so annoying," all of the girls agreed.
And I just sighed and watched them scarf down their birthday treats. Everyone had the potential to be annoying — including these little monsters in fancy dresses at the tea table.
I knew that a real princess would never get annoyed, so maybe I wasn't cut out for it after all. Maybe I was becoming too real of a person to be a real princess.
The Princess Academy was an emotional environment. Thank goodness for the lotion-infused tissues. And thank goodness for me. I was the designated therapist any time Amanda had a breakdown — not because I knew how or wanted to be a therapist, but because no one else stepped up. I was a little proud of that. I would sit down with Amanda on a pink velvet chaise longue, brush her hair extensions to the side, and rub her back while she hiccupped and sniffled.
"I'm just PMS-ing," she'd say.
But we all knew that wasn't true. The dark reasons Amanda opened the Princess Academy would never leave her. Princess dresses and hot cider didn't erase the bad things. They couldn't. The bad things persisted even in a literal fairy-tale world.
And after Amanda's first breakdown, I started seeing it everywhere — reality.
The Princess Academy's beloved white rabbit Sparky had a mysterious accident in the backyard that ripped off his testicles. After buckets of blood and piles of vet bills, Sparky returned to us a subdued eunuch.
Before we opened the castle doors at Christmas, Santa Claus told us that he'd been feeling especially old and unwell lately. He instructed us to whisk the children away if he had a heart attack in the middle of the event. And he meant it. He really thought there was a possibility that he might die that day. His concern for the children — his insistence about preserving the magic — should have been reassuring and heartwarming. But it wasn't. It was stone-cold depressing.
Me wearing the princess white gloves at a Christmas event at a skating rink, 2013.
The princess dressing room was full of weight worries and wrinkle worries. What if the dress didn't zip this time? Next time? The princesses never partook when birthday cake was served. Instead, we all fretted and ate salads with light dressing after hours. And then there was the yellow gown with the impossibly tiny corset waist. Amanda's effortlessly thin daughter was one of the few who could fit into it. That yellow gown was the holy grail of the dressing room, and I think we all secretly wished we could wear it.
And then there was my own pain. Still there. Looking back at me in the shiny bejeweled mirrors. My parents were still selling the only home I'd ever known, still fighting over who would keep the contents of it, and still forcing me to literally pack up my childhood into cardboard boxes. I was still too proud to cry about it and too ashamed to talk about it. And I still wasn't talking to my dad at all.
So I didn't question Amanda's breakdowns. I'd lean close, the auburn strands of my wig blending with Amanda's blonde strands, and we'd breathe together. In a way, I was grieving with her — grieving the inescapable realization that sometimes there really is no escape.
There was deep pain even here in the castle, and sometimes no amount of glitter can cover that up.
The Princess Academy had a Royal Declaration: "I am amazing. I was created for great things. I am beautiful on the inside, and that is what makes me beautiful on the outside."
The girls were expected to recite this declaration once they were properly adorned with sparkly dresses and makeup. It felt ironic that they only professed this after the beautification process, but it was lovely and never failed to make the parents teary.
Sometimes I worried about what kind of role model I was for the girls. I was a beautiful accessory, a gracious flower. In real life, I was having increasingly ungracious thoughts. I had ambitions and opinions. I had a full-ride scholarship to college. I had skills. I had a wildly creative brain. But the little girls didn't see this in me, and I worried that they didn't see it in themselves. Or didn't want it for themselves. At least not as much as they wanted a tiara. Or a prince.
I wanted them to realize what is real — everything. The curtseys, the sparkles, the princes (still hoping), the joy — yes. But also the dark edges. The floors are still cold under the plush pink rugs.
A little part of me felt betrayed by the illusion of it all, but that part of me also finally felt brave enough to function in the less-welcoming world of adulthood.
I had known from the start that being a professional princess wouldn't last — that it could only last through the end of my senior year — and that might have been part of the magic of it. I knew I'd have to move on, grow up, stop waiting, stop waving from street corners. My white gloves would be torn off someday, my exposed fingers would bleed, and I would become a whole person.
And that was OK. That was good. As much as I wanted to be this princess character, I also wanted other things. And being a princess only made me want them more.
I wanted to leave home. I wanted to learn to curse in Spanish. I wanted to find God — or not — and know what I stood for. I wanted sex. I wanted to say something new, and maybe it wouldn't be polite. I wanted to see the Northern Lights. I wanted to eat an entire pizza by myself.
A little part of me will never stop wanting to be a princess, never stop wanting to be a sheltered girl in a flowery castle, but the rest of me desperately wants to be anything — everything — else.