by Jane Goodall: On the 31st December, we lost Betty White, perhaps one of the most respected and most beloved actresses of Hollywood…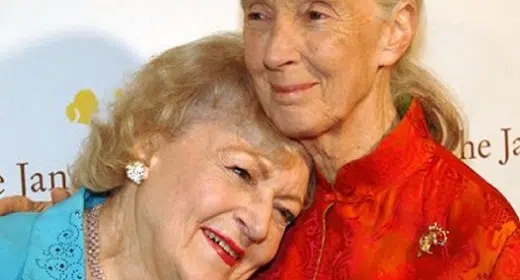 Indeed she was named the Mayor of Hollywood. She died just 2 weeks from celebrating her 100th birthday and I find myself writing this tribute as a memorial to her life, rather than part of a planned video tribute for her birthday. While many people knew her as an iconic actress, I knew her for her love of animals, a love that was genuine and meaningful. She was a patron of LA zoo where I met her several times and I like to think she regarded me as a friend. Betty supported many animal charities, including Guide Dogs for the Blind.  When a vision impaired friend had to get a new guide dog, his aging companion grieved and became depressed at being supplanted – so Betty gave him a loving home for the last 5 years of his life. She also adopted a puppy who did not quite graduate as a guide dog.  That's the kind of person Betty was – brilliant actress and working to improve the lives of so many animals throughout her life. I have fond memories of a time when Betty and I, together with Wendy Malik and Ed Begley, took part in media events to help raise awareness about the inappropriate use of chimpanzees and other animals by the entertainment industry – which so frequently included cruel training practices.
Betty received well deserved tributes and awards from many charities – including the Jane Goodall Institute's Lifetime Achievement Award in the Animal Welfare category. I feel so sad that I was not able to visit with her for the past two years because of the pandemic and now I never can – at least, not in this life! Betty, you will be mourned and missed by so many, but the memory of your sparkling personality, your humour, and your passion will live on in our minds. I hope that by now you are united with your loved ones, human and animal, in that place where we go after we leave this world.