by Wendy Biddlecombe Agsar: Enso Village, a new project by the San Francisco Zen Center, wants to explore the process of growing old…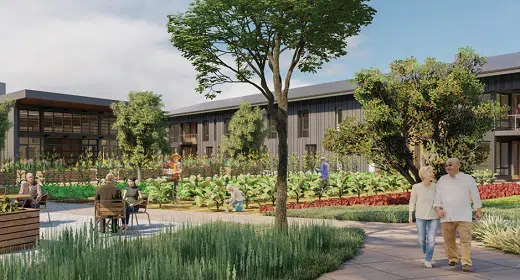 About 15 years ago, the San Francisco Zen Center (SFZC) made an ambitious commitment: to give lifetime room and board to longtime teachers once they turned 70. It was the center's version of a retirement plan, but securing affordable housing for dozens of people in one of the country's least affordable zip codes would be no easy task.
Zesho Susan O'Connell, who was then SFZC's president and today serves as Enso Village's spiritual director, assembled a committee to look into making this promise a reality. "I had this flash of an idea: there must be a senior living developer out there who would appreciate being able to offer the world a community that was Zen-inspired, in which some of our retired teachers would live," O'Connell said, adding that the project would also open up their way of living to the greater community.
SFZC eventually found a partner in Kendal, a network of senior living communities founded on Quaker principles. With ties to several universities, Kendal promotes lifelong learning. (O'Connell says the Zen concept of not-knowing pairs well with the Quaker idea of "continuous revelation.") Enso Village, the result of the partnership, will offer 220 independent living apartments, 30 assisted-care units, and 24 memory-care units. Of the 220 apartments, 20 are set aside for Zen Center teachers. At press time, organizers had just received approval from the city council of Healdsburg, California, where the center will be located, for a development agreement. The project is expected to cost $170 million when completed in 2023. The 32-acre site will also include low-income housing and a hotel (fittingly, with 108 rooms, a propitious number in Buddhism).
---
Enso Village will not be a monastic setting. Meditation and dharma talks are optional, O'Connell said, and the community will offer swimming and bocce in addition to housekeeping and meals. One dining area will feature vegetarian meals inspired by the award-winning Greens Restaurant, which SFZC started in 1979. Located in Sonoma County, Enso Village will be surrounded by wineries, and O'Connell said that "actively engaging" with the precepts might be one aspect of life at Enso Village.
About community members' approach to the aging process itself, O'Connell asks, "How do we sit with that? How do we meet each other in that?" She noted that SFZC's longtime hospice work in supporting people as they approach death will inform Enso Village's approach to aging.
Though Enso Village is years away from completion, O'Connell said there has been substantial interest from hopeful residents. Final costs are not yet set and will vary depending on amount of care needed; O'Connell said the "entrance fee" is "significant" and is on par with the cost of buying a home in California. The real estate website Zillow estimates the median California home price at $550,800, and the average price for assisted living communities in San Francisco is $5,500 per month, according to Seniorly, a company that compares senior housing options.
Several recent studies have found that the practice of mindfulness can have a positive impact on both cognitive abilities and emotional well-being in aging adults. And with more interest in mindfulness across the country, coupled with the increasing number of Americans over 65, O'Connell hopes that Enso Village is a model that can be built upon to meet these needs.
"This thing we're doing isn't just for the baby boomers who know about meditation. This is something that could be of interest to several more generations of aging people. If we do it right and can show how this way of practicing with aging is beneficial, it could become the norm," O'Connell said.