There is a stereotypical image of gospel music that modern culture continues to paint…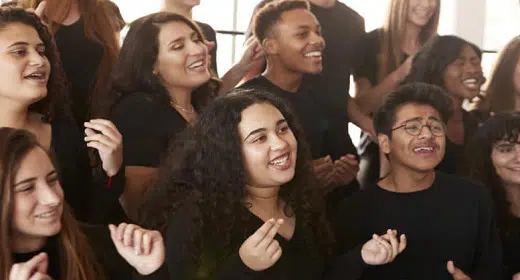 We are conditioned to think of the exuberant, positive services of African American churches. There is joy in the song, energy in the performance and a lot of audience participation from the congregation. It is seen as a wonderful alternative to the solemn approach of other churches – a chance to praise God with great feeling.
However, there is far more to this style of music than some passionate call-and-response and a like-minded choir. African American gospel has been with us for decades and evolved greatly during the 20th century. There are different styles and influences that we can see across contemporary music. It may be confined to church halls in popular culture but it is actually far more diverse and wide-reaching. Also, while we may hear positivity and joy in the songs, the origin of this music and the deeper meaning is more significant.
Gospel music plays a bigger role in the evolution of black music than we might imagine
When historians talk about the history of black music in America, they often follow a very similar timeline of styles and influences. There is the idea that modern music and popular culture was heavily influenced by the rise of rock 'n roll. These songs of the mid-twentieth century would not have come about without the influence of black rhythm and blues artists. The further back we go along this thread, the deeper we get into blues and ragtime music of the South. While this is an important musical timeline, it is not the only route in African American musical history.
Modern-day black artists from R&B and urban scenes can often trace their influences back to the soul singers and R&B artists of the mid-century. Some go deeper into the music of their churches and communities. This all leads back to a deep-rooted connection to gospel music.
The influence of the African American spiritual on gospel music
Gospel music as we know it began in the 1930s but the roots can be seen much earlier in the southern states. African American communities in the late 19th century would come together in their churches to give praise and sing poignant spirituals and hymns. The power of the message and rhythm of the music would often come out through the hand-clapping and foot-stomping still seen in churches to this day. Before that, those spirituals were an important part of slave culture. Groups of slaves would sing together as they worked on plantations, often choosing old songs connected to their faith. For some, this was little more than a way to feel closer to God during hardship. For others, the communal songs and harmonies would create bonds between workers. There was also the use of song as a means of covert communication.
The evolution of gospel music following emancipation and new northern United States communities
African American composers continued using biblical themes and stories of black history in the time of emancipation and beyond. The development of gospel music was an evolution of this style as African American communities moved into cities and more urban societies at the beginning of the 20th century. This was a continuation of their connection between music and faith. The gospel songs carried on into the new churches of these northern cities.