by Alex Beggs: Cookbooks by renowned writers like Judith Jones and Susan Orlean show that great food isn't just for humans…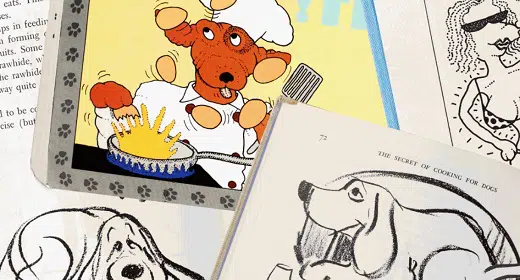 The year was 1960-something, and aspiring writer Martin A. Gardner was shooting the shit with his friend, illustrator Clare Barnes Jr. "The big, hot book then was The Joy of Cooking," Gardner told me from his home in Hastings-on-Hudson. "And Clare said to me, laughing, 'How about The Joy of Cooking for dogs?'" (Cue light bulb.) After a dig in the library, Gardner confirmed that the idea had never been executed before, and so they got to work. Neither man owned a dog, but that didn't matter. They sourced recipes from friends and input from veterinarians, and Doubleday published The Secret of Cooking for Dogs and The Secret of Cooking for Cats in 1964 and 1965, respectively.
Cookbooks for dogs have a short—or long—history, depending on how you look at it: 58 years, or 300 dog years. There aren't a lot of them, because cooking for a dog is rarely necessary, except for in a few medical instances, and most dogs will gobble up cold ravioli as quickly and happily as blended liver. But these cookbooks reveal a beautiful aspect of the human condition: the lengths we'll go to show our pets love and devotion, how much they bring out our sense of humor and our capacity for affection—as well as the anxieties around caretaking that push us to do more, more, more for our furry friends.
"This was not a cookbook for dogs," Gardner clarified. "It was a cookbook for people who were cooking for dogs. Dogs can't read very well."
Gardner's book got so much press that he was invited to be a guest on the television show To Tell the Truth and starred in a dog food commercial. Both books were reviewed in the New Yorker by hallowed food writer M. F. K. Fisher, who called them "sensible and pleasant" and wondered if it really was recommended to give a pregnant dog a nip of brandy in milk.
"This was not a cookbook for dogs," Gardner clarified. "It was a cookbook for people who were cooking for dogs. Dogs can't read very well."
The writing and illustrations are charming and often very funny: "Meat will keep him tip-top without giving him a flip-flop shape!" The recipes are basic—blend up some sautéed liver, cream cheese, and hard-boiled eggs—and there's a 1964-appropriate amount of cottage cheese.
I'd venture to say the "Canine Casanova" chapter about what to feed a dog that's mating ("The amorous male needs lots of meat") hasn't been addressed in print since, nor the recipe for "entrail delight." Other truths hold steady: Dogs love meat loaf and cheese, and all Irish setters should be named McGillicuddy.
The book "actually made a profit," recalls Gardner, 87, who went on to write about other topics, not wanting to be pigeonholed in writing only about cats and dogs. (He's currently working on a book about the history of tattooing in America.)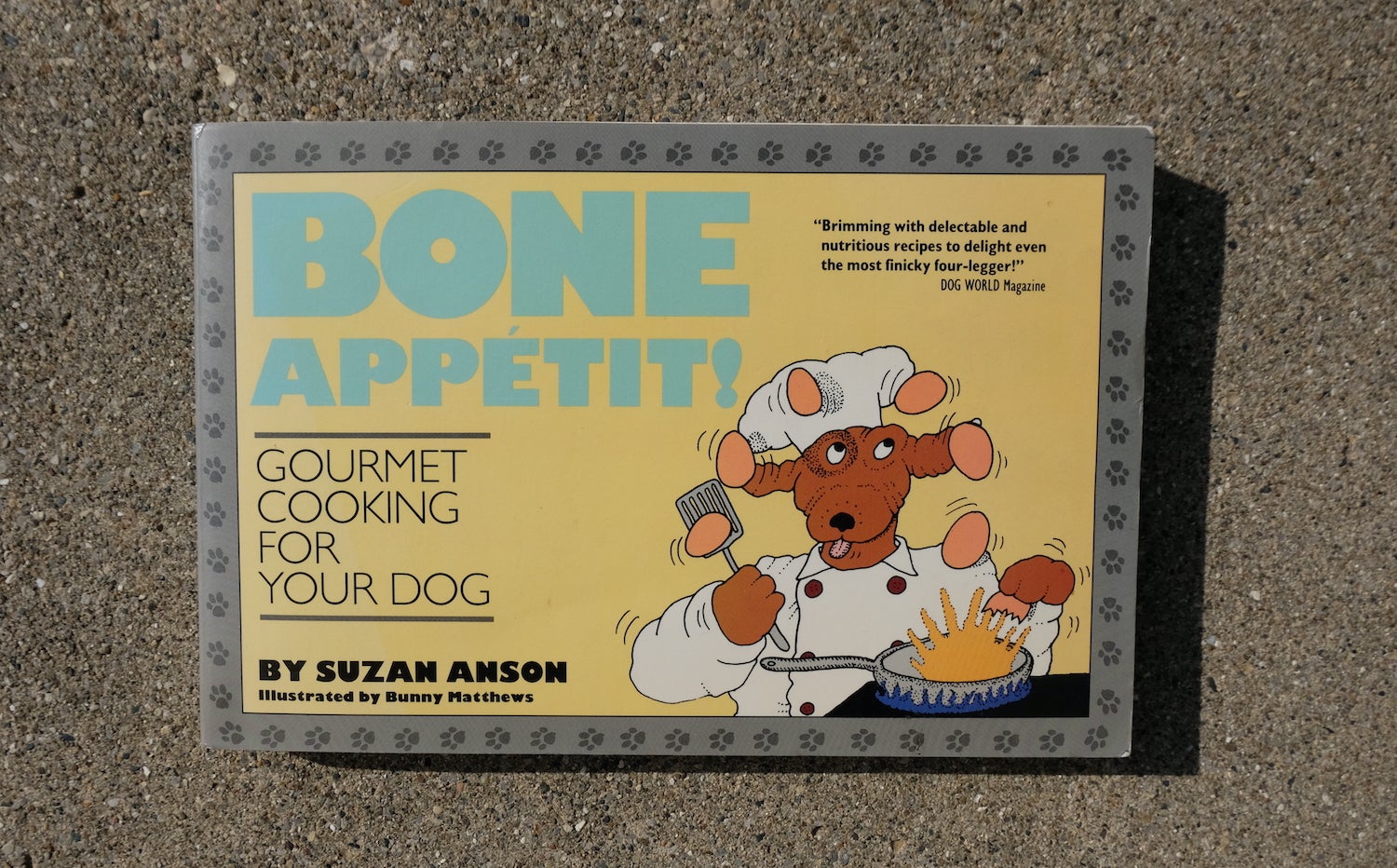 Given the book's quick success, it may surprise you that the following few decades only gave way to three cookbooks for dogs called Bone Appétit. The first was written by Suzan Anson in 1989 and was very well reviewed by Dog World magazine (the next two came in 1998 and 2019). Anson started cooking for her Whippet, Emily, when the poor thing started to refuse her kibble. Her ribs were beginning the show, so Anson made her some chop suey (again, it was the '80s). Emily stuck her long snout in that dish and went to town.
Like The Secret of Cooking for Dogs, Bone Appétit was a novelty book that was genuinely trying to give dog cooking advice amid all the mutt-iculous puns. Unlike Gardner, Anson is an avid dog lover and owner.
Other truths hold steady: Dogs love meat loaf and cheese, and all Irish setters should be named McGillicuddy.
"I had a Standard Poodle for 15 years, and he was a fiend for pastries," she said. "Being French, of course, he couldn't help himself. I would share croissants with him. What can I say? He was just the best boy."
Her book has a gag gift appearance to it, with goofy illustrations. In the used copy I bought online, someone had, ahem, dog-eared the recipe for "Golden Skin Elixir," a chicken stock broth meant to help dogs perk up their shiny coats—Sheltie self-care. Accompanying it is an illustration of a sunglasses-clad long-snouted dog in a bikini with ample cleavage that will haunt me forever. But you can tell Anson did her homework, peppering the recipes with sidebars on pet nutrition reviewed by several credited vets, though if she revised it for today, she told me, she'd probably cut down on the carbs.
Anson, a therapist in Portland, Oregon, sees how cooking for one's dog is often about more than the dog's actual health. "Cooking for a pet, for a lot of people, is really reparative and restorative," she said. "It's breaking bread. In positive psychology, one of the things that actually makes for really good change in your brain and does a lot to prevent depression is being able to do something for another person, some act of altruism. And that extends to pets."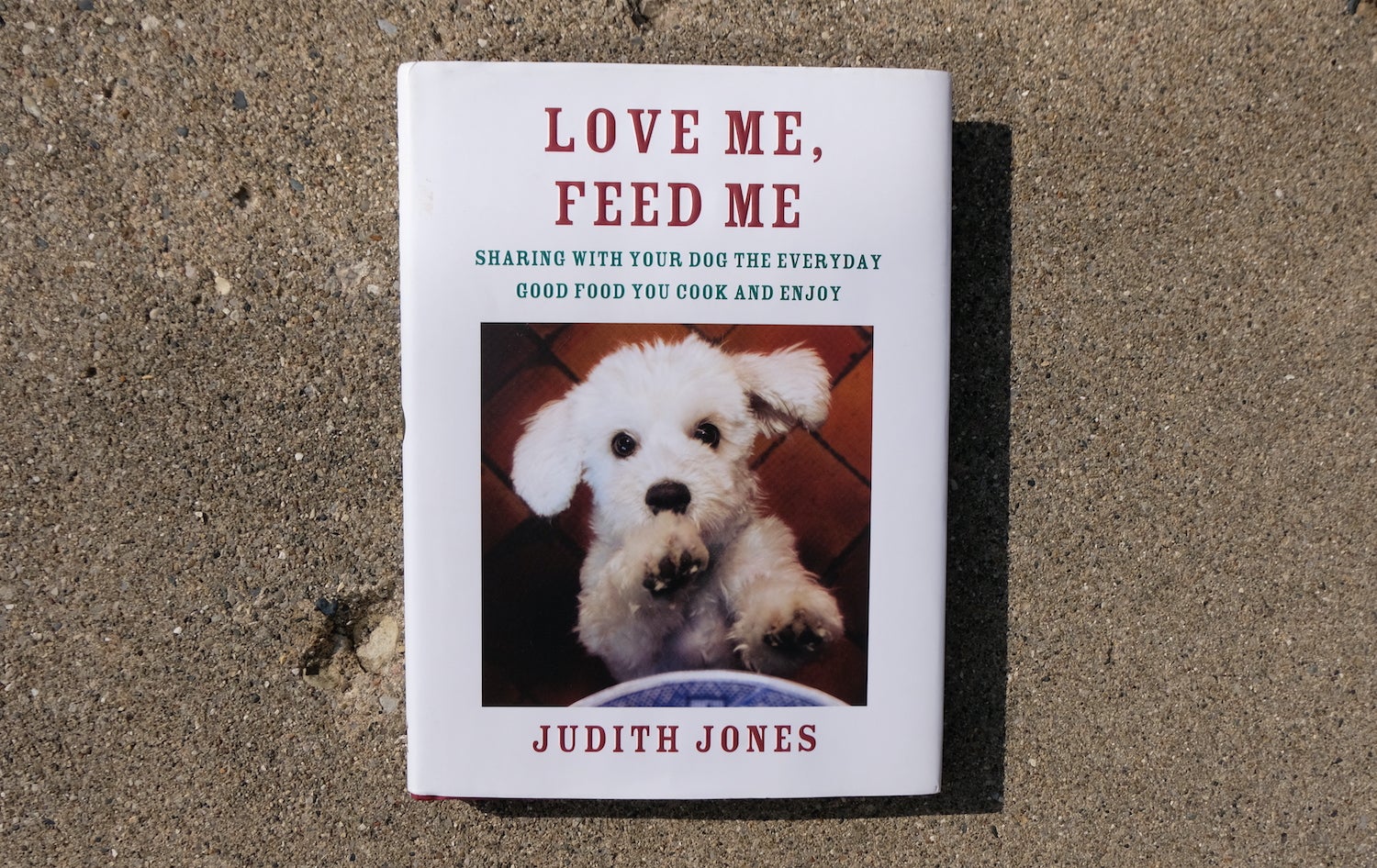 For those who already have a passion for cooking for humans, preparing a dish for a dog who happens to be in the kitchen might come even more naturally. At least it did for the esteemed cookbook editor Judith Jones, who edited Julia Child's and Edna Lewis's cookbooks, among other legends. Jones published a cookbook for humans and their dogs in 2014 (at age 90!) called Love Me, Feed Me: Sharing with Your Dog the Everyday Good Food You Cook and Enjoy.
Before Love Me, Feed Me, Jones had written a cookbook of recipes for one, reflecting the way she adapted her cooking after the loss of her husband, the writer Evan Jones. "Maybe, in spite of her interest in cooking for one, she missed that little bit of daily sharing that comes with cooking and eating with another," her longtime assistant, Ken Schneider, wrote to me.
Mabon, the fluffy white Havanese who stars in the book, had a taste for gorgonzola dolce. Jones also cooked him soba with asparagus and smoked salmon, Madhur Jaffrey's dal, and wild mushroom risotto.
In Love Me, Feed Me, the recipes aren't organized by type of dog or diet, and there are no puns, except for a note about "potlickers"—in this case, letting dogs lick pots cleaner than any dishwasher would. Whatever Jones was making for dinner, she'd adapt to be Mabon-friendly, with the occasional can of dog food as backup. Mabon's portion came out of the pan first, and then she'd add the spices and ingredients that finish them off for the human palate. The result is a book that's diverse in cuisines and, of course, impeccably written and edited, with photos of Julia Child enjoying the company of Jones's dog Madoc, and side notes about Jacques Pépin's dogs' cheese appreciation.
The recipes could have easily run in Gourmet. She resists calling a meat loaf a meat loaf—instead, we have ground turkey "pâté," inspired by slices of pâté de campagne that "we used to get from neighborhood charcuteries all over Paris," she writes in the headnote. Mabon "seemed quite pleased with it."
Mabon, the fluffy white Havanese who stars in the book, had a taste for gorgonzola dolce.
Like Love Me, Feed Me, some of the cookbooks in this genre are monuments to the good boys who inspired them. In 2010, years deep into research for her book Rin Tin Tin, author Susan Orlean switched tones to write a cookbook called Throw Me a Bone in the voice of her dignified spaniel, Cooper Gillespie, who loved cheese and squirrel chasing in equal measure. Orlean doesn't cook much for her dogs anymore, but it was a fun experiment. "Except for the fact that [the recipes] often needed salt for the human palate," she said, "there was nothing that was gross." And she would know. She told me that, as a kid, she and a friend would occasionally eat Milk-Bones as an act of rebellion. "They're very bland," she said.
Newer dog cookbooks have leaned into sincerity, making sure to frame the books as legitimately as possible (though, thankfully, the silliness still seeps in). Since dog cookbook sales tend to spike when there's been a major dog food recall, the ones that hit are books with a wellness focus, for Labradoodles who crave bliss balls. A pet YouTube star has a cookbook for her dog, Paddington, whose tongue is wagging on the cover in anticipation of all the pup-kin spice cupcakes he's about to snarf.
Rick Woodford, a systems manager by day and the self-titled "Dog Food Dude" by night, has a top-selling book (with more than 34,000 copies sold, according to BookScan) that's health-focused (his dog, Frank, is a sardine lover), with a good dose of puns. He told me the "mutt loaf" is definitely the most popular recipe, though I was rooting for the "barkscotti."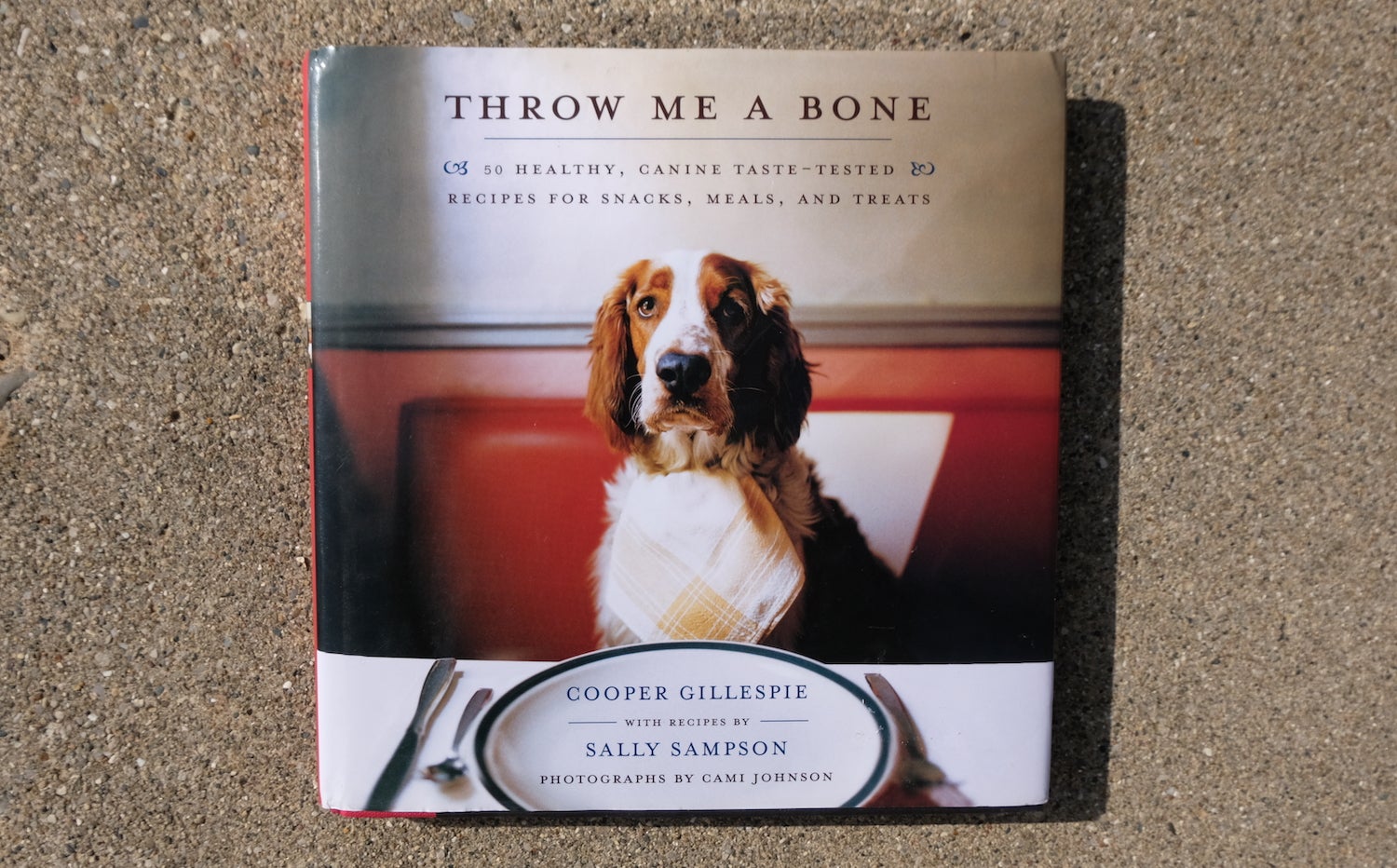 In December, author Lisa Goddard's book, Delicious Dishes for You and Your Dog, will hit shelves. Her book follows in Jones's footsteps (paws . . . oh, never mind), in that the focus is on dishes human and pup can share, inspired by a blueberry oat muffin Goddard would make to take on hikes with her Boston Terrier, Stitch. He enjoyed helping her recipe test, from pizza (she had to feed it to him) to jambalaya. "He didn't have the most discerning taste," she admitted. The only food he'd turn his nose up at was black beans.
After the book was finished, Stitch was diagnosed with a brain tumor, and he recently died at age 15. "The past couple years, he slowed down a little bit," Goddard said. "He really focused a lot of his time on napping in sunbeams."
The can of Purina or Royal Canin's breed-specific kibble will always be there—an easy answer to a timeless question. But cooking for dogs isn't usually a necessity, it's an act of outsize (and undersalted) love. While we're scraping the carne asada into the dog dish, we might start to realize that we have more in common with these furballs than we thought—nutritionally, sure, and emotionally, too. That slobbery tongue and wagging tail will let you know the steak was appreciated. No notes for the chef.