by Amit Malewar: The U.S.-based ebike manufacturing company, Delfast, has announced TOP 3.0i, the industry's smartest e-bike with unrivaled power and record-breaking range…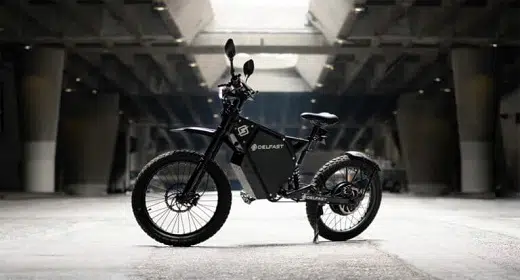 The new all-terrain TOP 3.0i ebike comes with an onboard computer and mobile app for an improved riding experience in urban settings and on rocky trails.
TOP 3.0i is a Class 2 e-bike that builds upon the range, power, and state-of-art technology of the company's award-winning TOP 3.0 model. The "i" suffix that the model carries in its name comes from the smart features it has gained.
This smart ebike offers two distinct power modes – a limited 750-W motor up to a Class 2 maximum top speed of 20 mph (32 km/h) for city riding and 3,000 watts of peak rear-hub motor output with a top speed of 50 mph (80 km/h). The ebike comes with an upgraded 72V 47Ah Li-ion battery that provides a range of up to 200 miles (322 km/h) on a single charge in ideal conditions. Additionally, the brakes have been upgraded to hydraulic disc brakes with a 203mm disc on each wheel.
The onboard computer synchronizes all ebike parts, so the ebike itself functions as a single organism. It controls and monitors the condition and work of the e-bike's parts and sends that information to the Delfast server in real-time using the 4G connection. If an anomaly is detected, the onboard computer can detect the bug and send it directly to Delfast, which enables tech support to quickly address any potential issues. It also features an embedded GPS tracking module that collects all the bike rider's information.
Other features include regenerative dual-piston hydraulic brakes, computer-controlled immobilizer theft protection, LED headlights, Enduro 2.75-19 motorcycle tires, Handlebar Phone Mount, and Front and rear fenders.
"TOP 3.0i is more than an e-bike – it's a smart device," said Daniel Tonkopi, founder and CEO, Delfast, Inc. "Our new onboard computer is the brain of the bicycle – the 'i' in 3.0i stands for intelligence – providing riders with information that results in a safer, smarter and more enjoyable ride."