by John Engel: Florida Gov. Ron DeSantis is receiving praise from solar industry advocates after he vetoed a bill that would have phased down rooftop solar credits and allowed utilities to impose uncapped fees…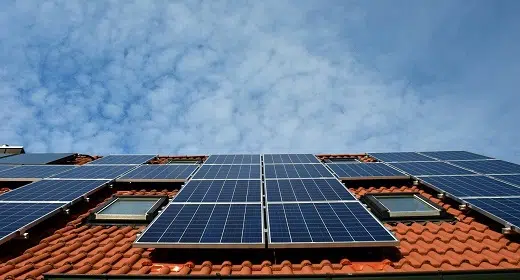 Abigail Ross Hopper, president and CEO of the Solar Energy Industries Association (SEIA), said the industry was "grateful" to the governor for making a decision that preserves the solar market in the Sunshine State.
"SEIA worked tirelessly with our partners to beat back this bill, which would have raised electricity costs for millions of ratepayers during a period of historic inflation," Hopper said in a statement.
In a letter to the secretary of state announcing the veto, DeSantis said that "the state of Florida should not contribute to the financial crunch that our citizens are experiencing" amid nationwide inflation.
The Florida Legislature passed changes to the state's net metering policy that had solar advocates warning of "nightmare" impacts to rooftop solar customers.
House Bill 741 directed the Public Service Commission to revise the state's net metering policy by Jan. 1, 2024.
Under the legislation, the commission would phase down credits for owned or leased systems interconnected in 2024 and 2025 to 75%, to 60% in 2026, and to 50% for systems installed in 2027 and 2028.
Customers who install systems before Jan. 1, 2029 would have been grandfathered into the existing net metering policy for 20 years, an extension from a previous bill that set the deadline at Dec. 31, 2023.
After Jan. 1, 2029, rooftop solar customers would have had to pay the full cost of electric service and "may not be subsidized" by non-solar customers. Energy credits for rooftop solar customers would drop down to the utility's avoided-cost rate.
The bill would have allowed a public utility to petition the commission for "any combination" of fixed fees for rooftop solar generators.
"This bill is a nightmare for anyone who believes in energy freedom and the rights of people to choose the energy that works for them and their families," Will Giese, southeast regional director for the Solar Energy Industries Association said when the bill passed. The legislation was passed by the state Senate on March 7, three days after it cleared the House.
"States that enact bad legislation like this will see much of that business growth disappear, and we're urging Governor DeSantis to veto the bill and maintain Florida's place as a national energy leader," Giese said.
Republican Sen. Jennifer Bradley, author of a companion bill in the Senate, told news outlet WFSU that utilities shouldn't be required to purchase extra energy generated by rooftop solar systems when a utility can buy electricity from a utility-scale solar farm for less.
Bradley called the existing net metering policy "regressive."
More than 11,000 jobs support the solar industry in Florida, according to SEIA. There are just over 107,000 rooftop solar installations in the state, a total that far lags its potential of over 1 million homes.
Based on 2020 data compiled by the Lawrence Berkley National Laboratory, 60% of solar customers in Florida have a household income of $100,000 or less.
Net metering's most popular battle is currently underway in California, the largest solar market in the U.S.
Consulting firm Wood Mackenzie released analysis saying California's newly proposed net metering tariffs would cut the state's residential solar market in half by 2024.
NEM 3.0, named for the third generation of net energy metering policy in California, would reduce credits for rooftop solar customers and add monthly hookup charges of $8 per kW of installed capacity. The charge is intended to capture residential solar adopters' "fair share of costs" to maintain the grid and fund public purpose programs.
The controversial NEM 3.0 proposal is backed by utilities Pacific Gas and Electric, Sothern California Edison, and San Diego Gas and Electric.
The CPUC indefinitely delayed a decision on the proposal in February following an outcry from solar industry advocates, political leaders, and celebrities.