bu John Engel: A $500 million program funded by the bipartisan infrastructure package aims to transform current and form mines into clean energy hubs…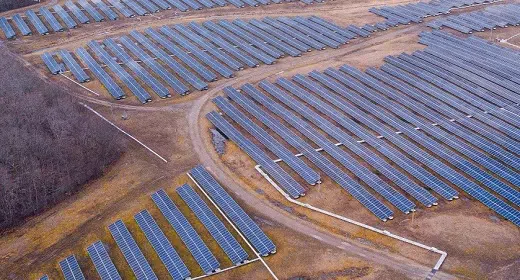 The Dept. of Energy (DOE) issued a Request For Information (RFI) to inform how the program will support clean energy project development.
The program was born out of the Biden administration's Interagency Working Group on Coal and Power Plant Communities, which seeks to deliver federal investment to revitalize hard-hit energy communities.
The clean energy hubs could feature solar photovoltaic systems, microgrids, geothermal energy, direct air capture, fossil-fueled power generation with carbon capture, utilization, and sequestration, energy storage, including pumped storage and compressed air, and advanced nuclear, DOE said.
Two of the clean energy demonstration projects funded under this program must include solar energy and DOE is seeking information from respondents about opportunities to use domestically-manufactured solar for these projects.
DOE is seeking feedback from a wide range of stakeholders, including industry, community organizations, environmental justice organizations labor unions, and state and local governments.
Public input is sought on how to design the program such that it will best encourage private-sector investment in similar projects leading to economic development for underserved communities located near current and former mine land while advancing environmental justice.
The bipartisan infrastructure package also provides a total of $11.3 billion in abandoned mine land grant funding at the Department of the Interior to eligible states and Tribes to help communities eliminate dangerous environmental hazards and pollution caused by past coal mining while creating jobs and providing opportunities to revitalize coal communities.
DOE expects to announce a funding opportunity to solicit project proposals in 2023.
Last year, the Nature Conservancy and Dominion Energy announced that they will develop a utility-scale solar farm on a former surface min in Southwest Virginia.
The parties plan to repurpose 1,200 acres of the former Red Onion surface mine to generate approximately 50 MW of solar energy, enough to power 12,500 homes.
"Repurposing former coal mines for solar is a smart way to enhance the region's economy and bring renewables to Southwest Virginia," Ed Baine, president of Dominion Energy Virginia, said at the time.
The Nature Conservancy previously announced plans for a solar project on formerly-mined lands with Charlottesville, Virginia-based Sun Tribe and Sol Systems. Together, the projects within the Cumberland Forest Project will total 1,700 acres and 120 MW of solar energy.
"Southwest Virginia and the wider Central Appalachian coalfields have an important role to play in the renewable energy economy," said Brad Kreps, director of The Nature Conservancy's Clinch Valley Program. "Some of the region's former mined lands are well suited for solar development and by directing development towards these areas it will help us conserve the region's intact forests for wood products, carbon storage, wildlife habitats, outdoor recreation, and tourism. By collaborating with Dominion Energy and other companies on these initial projects, we hope to develop a model that can be replicated in other coal mining regions across the U.S."
The Virginia Clean Economy Act calls for Dominion Energy Virginia to produce its electricity from 100% carbon-free sources by 2045.