A lesson in caring for the planet that cares for us…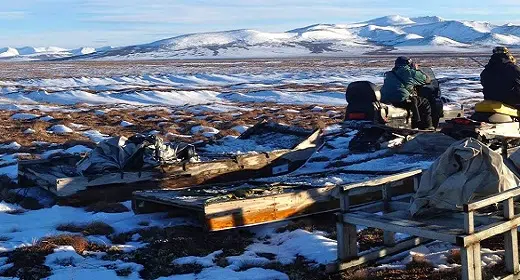 I was raised in southwest Alaska in a Yup'ik community we call Mamterilleq. There are no roads that can take you here. It is isolated from the rest of the world and we depend on what the land and waters provide.
We take care of our environment because the environment takes care of us—this is a common value shared by community members, Indigenous and non-Indigenous alike, of the 56 Yup'ik villages in the Yukon-Kuskokwim Delta.
The word Yup'ik translates to "the real people" in English. In this pocket of the world, we are the stewards of 194 thousand square kilometers of land, an area about the size of Senegal or the U.S. state of Oregon. To some it may seem like an isolated corner of the Earth, but we are feeling the impacts of climate change—primarily caused by choices made far away from us.
Just after I came home from college, my grandparents' 1960s village house had to be relocated a couple miles up from the Qanirtuuq River onto higher land. No easy feat, but one necessary for survival.
Climate change has caused real and drastic alterations to our natural, built and social environments. The erosion digging away at our coastal beaches and river bends is a serious threat to Alaskan communities, and our ways of life. Many of our Alaskan houses, and in some cases entire villages, are actively being relocated or will soon need to relocate due to climate change.
This is a part of the story unfolding in Alaska and the Arctic. All across Alaska are remote communities like the Native Village of Kwinhagak—of which I am a Tribal citizen—with deep ties to the land and traditional way of life, and they are waking up to the realities of what actions must be taken to protect our ways of life. While I am not physically there anymore, my heart is with my community, my family and our way of life. It is because of them and in honor of them that I work in the conservation sector.
"We Come from Perfection"
In my new role at The Nature Conservancy (TNC) I am committed to using my voice to help evolve the definition of what conservation means, within our vast organization and beyond, and to bring real lived experiences into the fold. This means building upon courageous and overdue efforts to create an Indigenous Peoples and Local Communities (IPLC) Program and to push us forward in this critical work. It means elevating the leadership of Indigenous peoples around the world and respecting their worldviews and ways of knowing—and incorporating that knowledge into global conservation work.
An understanding of my Indigenous ancestors and culture bearers has been foundational to my life and work. Time spent with my grandparents, Ham and Katie Cleveland, and other relatives on the land, ice and water instilled in me a value system that connects me to thousands of generations that came before me—a value system that believes our culture and people are sustained by our natural environments, accompanied by a knowledge system that ensures that we remain in balance. And I have been lucky to be connected with countless other Indigenous stewards who have further contributed to my awakening and d
ly, we will hear what Indigenous communities can teach us.
One of the strongest expressions of this I've heard was from a fisheries expert in the Skokomish tribe of Washington state: "We have our own observations and over time we make scientific decisions. That is how we come to know our environments and what is happening to the land, waters, species, and all environmental functions…We are the leadership on this issue and in this watershed. We are consistent, we are the same people, we do not change our minds. We are the experts."
Toward A More Interconnected World
The cumulative power of these Indigenous and place-based stories, lessons, teachings, and wisdom are the foundation that I bring with me to TNC. This can also be a part of our collective foundation—if we are willing to listen and be guided by those who carry on the voice of our Mother Earth.
Our interconnectedness is real. Our path forward will not be linear, but we must hold ourselves, our institutions, and systems accountable to evolve as we open ourselves up to thinking about and conducting our conservation work in more balanced and holistic ways. Because for all people—Indigenous and non-Indigenous alike—the stakes have never been higher.
It is also what gives me strength, vision, and an Indigenous voice in how we conduct and carry out our collective, global conservation work. The Yup'ik truth has many forms of expression, but it is summed up by some as "Yuuyaraq." Consider these words from Harold Napolean:
"Prior to the arrival of Western people, the Yup'ik were alone in their riverine and Bering Sea homeland—they and the spirit beings that made things the way they were. Within this homeland they were free and secure. They were ruled by the customs, traditions, and spiritual beliefs of their people, and shaped by these and their environment: the tundra, the river and the Bering Sea…To the Yup'ik, the land, the rivers, the heavens, the seas, and all that dwelled within them were spirit, and therefore sacred."
Indigenous Ways of Knowing
We take care of our environment because the environment takes care of us—the rest of the world is at last acknowledging this essential value of the Yup'ik and many other Indigenous communities. But the world must also embrace Indigenous knowledge and experience.