by Chelsea Harvey: Heat in France, Spain, Italy and the U.K. is exacerbating drought and wildfires and threatening human health…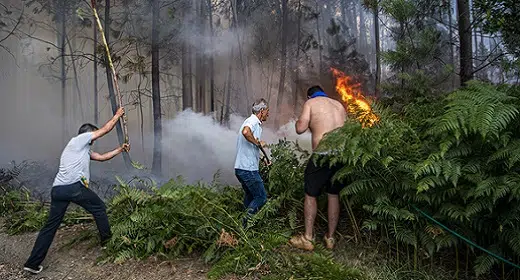 Record-breaking temperatures and vicious wildfires swept through Western Europe and the United Kingdom this weekend, in what may be one of the region's most extreme heat waves on record.
Hundreds of people have already died, and the heat is expected to linger this week in some areas. For the first time ever, the U.K.'s Meteorological Office issued a "red" heat warning — its highest heat alert level, indicating a national emergency — for London, Manchester and other U.K. regions for today and tomorrow
Temperatures could top 104 degrees Fahrenheit, the highest temperature ever recorded in the U..K, according to the Met Office. The previous record, observed in Cambridge in 2019, topped out just shy of 102 F.
France has also issued "red" alerts for its western region, which is also likely to see temperatures topping 104 F, according to the country's national weather service. The country has broken multiple monthly temperature records in the last few days.
This is the second heat wave to sweep through Europe in the past month. Climate change has led to more frequent and worsening heat waves around the world, with Western Europe particularly impacted. The region's heat waves are increasing in frequency about three times faster — and in intensity four times faster — than in the rest of the midlatitudes, according to a recent study.
Last month was Europe's second-warmest June on record, according to the European Union's Copernicus Climate Change Service. In mid-June, extreme temperatures broke local heat records in Spain, Portugal, France, Germany and other countries across the continent.
Some of those same countries were sweltering again this weekend.
Temperatures topped 100 F across much of Spain over the weekend, though it may finally begin to subside this week, according to the Spanish national weather service. Climatologist Max Herrera, who tracks extreme temperatures and record-breaking heat around the world, observed on Twitter that numerous cities across Spain broke monthly temperature records for July heat.
On Friday, for example, Madrid matched its highest all-time temperature record, for any month, at 105.3 F. According to meteorologist Scott Duncan, the Spanish capital also experienced its warmest night on record at just over 79 F.
High nighttime temperatures can be especially dangerous, as the human body relies on cooler nights to recover from daytime heat. When the Met office issued its "red" alert for today's U.K., temperatures, Chief Meteorologist Paul Gunderson warned of "exceptionally warm" nights, particularly in urban areas.
"This is likely to lead to widespread impacts on people and infrastructure," he said. "Therefore, it is important people plan for the heat and consider changing their routines."
The staggering heat is exacerbating other weather and climate-related disasters across Europe. Italy is not only sweltering under extreme heat, it's dealing with one of its worst droughts in decades. Meanwhile, raging wildfires have swept across parts of Portugal, Spain and France in recent days, forcing thousands of people to evacuate.
'Impossible' events become common
Europe isn't the only place in the Northern Hemisphere suffering under extreme heat this summer.
Back-to-back heat waves have roasted parts of the U.S. in the past month, particularly the central and eastern regions of the country. And China has recently sweltered under record-breaking temperatures, issuing rare "red" alerts in cities across the Yangtze River Basin.
In Shanghai, China's most populous city, temperatures last Wednesday matched an all-time local record of 105.6 F, originally set in 2017.
But Europe is particularly at risk because of the splitting of the jet stream, a giant ribbon of fast-flowing air that circles the Northern Hemisphere. The phenomenon known as a "double jet" is happening more often and lasting longer — and it's often linked to long-lasting heat events over Western Europe (Climatewire, July 7).
Scientists are still working to understand why double jets are more becoming more frequent and why they're connected to extreme heat. Some studies suggest that climate change may be altering the atmosphere in ways that are affecting the jet stream's flow over time. That's still an area of active research.
Other jet stream-related perturbations, besides double jets, are also known to trigger persistent heat over Europe.
The latest event is caused by a phenomenon known as a "cut-off low," That's when a low-pressure system gets detached, or cut off, from the rest of the jet stream and spins off on its own. These low-pressure systems can cause severe, long-lasting heat waves to build up and hover in place.
As the climate continues to warm, events once considered rare will become more commonplace.
In the U.K., for instance, a 104 F summer day has low odds of occurring in the present-day climate. The chances are anywhere from around 1 in 100 to 1 in 300 in any given year. But a recent Met Office study suggests that these odds may shrink to 1 in 15 by the end of the century under a "moderate" climate change scenario — the kind of warming the planet is currently on track to experience if world leaders don't quickly step up their climate policies.
"Greenhouse gas emissions, from burning fossil fuels like coal, gas and oil, are making heatwaves hotter, longer-lasting and more frequent," Friederike Otto, a climate scientist at Imperial College London and co-lead of the extreme weather research consortium World Weather Attribution, said in a statement. "Heatwaves that used to be rare are now common; heatwaves that used to be impossible are now happening and killing people."
That's a big concern for places like the U.K. and other parts of Western and northern Europe, which historically have had little experience with such extreme temperatures.
Air conditioning is still uncommon in many British and European households — until recently, it hasn't been viewed as a necessity. Without cooling resources, humans have a significantly elevated risk of medical emergencies or death during extreme heat events. That's especially true for certain vulnerable groups of people, like the elderly, the unhoused and those with preexisting medical conditions.
Infrastructure in places with historically mild climates is also often unprepared for extreme heat. Roads can melt, and train tracks have been known to warp and buckle. U.K. officials urged travelers last week to avoid railways until the heat subsides.
Europe isn't the only place this is happening, Otto pointed out. North America's Pacific Northwest region had a similar experience last summer, when an astonishing heat wave sent temperatures soaring over 110 F, and even 120 F, in some places.
The Pacific Northwest is historically known for its mild climate and relatively cool summers. A study from the World Weather Attribution found that the heat wave was statistically off the charts, even in the current climate — and it would have been virtually impossible without the influence of global warming.
The region was largely unprepared for such an extreme event. Roads buckled and power lines melted. Wildfires sprang up on the landscape. Many households did not have air conditioning, and the event was linked to hundreds of deaths.
Experts warn that the rise of record-breaking heat events highlights the need to adapt to a more extreme world. Extreme heat is the biggest weather-related killer in the U.S., and it's a major weather-related danger worldwide.
Cities around the world — from Los Angeles to Freetown, Sierra Leone — are already beginning to appoint heat officers and develop heat action plans. Seville, Spain, recently became the first city in the world to establish a heat wave naming and ranking system, similar to the naming and ranking of hurricanes (Climatewire, June 22). Athens, Greece, has also recently announced an initiative that will rank heat waves without naming them.
At the same time, scientists warn over and over again, the only way to halt the intensification of extreme heat events over time is to curb climate change itself.
"Heatwaves will keep getting worse until greenhouse gas emissions are halted," Otto said. "The only way to stop heat records being broken time and again is to stop burning fossil fuels as quickly as possible."