I am sure you have heard the catchphrase, 60 is the new 30. This boomer manifesto asserts that we feel and act younger than our chronologic years.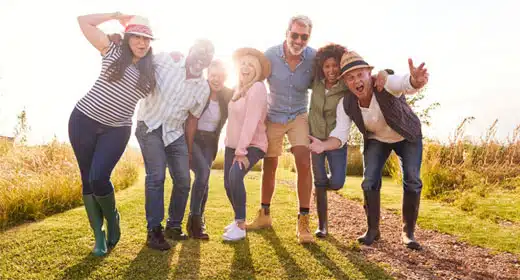 Perhaps as the songs goes, we are the generation that's "gonna live forever and learn how to fly."
And then along came COVID-19 with a wakeup call.
Suddenly boomers became vulnerable people, and the science of the immune system, inflammation and aging itself became fodder for news stories of survival and demise. We began to acknowledge and be more cognizant of our aches and pains…the slight change of gait…and the worry that one day our annual checkup would end in a "diagnosis."
The question was finally asked by us 72 million aging boomers…
Why is one Granny on a ventilator and another practicing her golf swing for when she can get back on the links? Another way to put it, "What is OLD?"
Geroscientists know the answer. Birthdays do not count much for how our aging progresses. Our genetics occupies as little as 20% of the puzzle, lessening as science discovers more "geroprotectors" to ward off the aging process. We know that calorie restriction, walks, aerobic exercise, sleep and relaxation all empower our body's biology for greater longevity—check out my blog on biohacking, the habits you can embrace to make a difference in your aging.
Knowing a bit of geroscience helps you keep an eye on the manner in which you are aging.
Don't worry. To understand how 60 can be the new 30, you need to know only three scientific concepts…no medical degree required.
The first is how we age…the second is why we age…and the third is the unique rate or pace of our individual aging.
#1. How We Age The answer can be seen in this diagram presented by Dr. Nir Barzilai, director of the Institute for Aging Research at Albert Einstein College of Medicine and one of the world's leading geroscientists. You can listen to Dr. Nir in a webcast I moderated on "The Coronavirus Meets Metabesity: The Nexus Between Pandemics and Age-Related Diseases," in which he explains the hallmarks of aging.