Hi, my name is David Welch, founder and CEO of Awaken Global Media. Today, I would like to talk with you about awakening the world through enlightened media.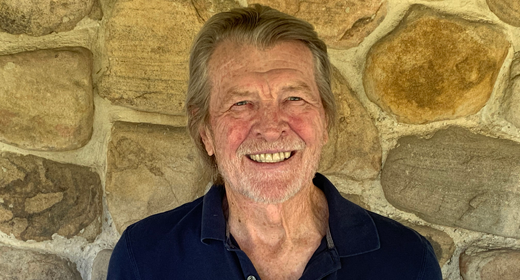 First, let me share with you what I mean by these terms.
Media is the main means of mass communication through publishing, broadcasting, movies, games and the internet. When media is at its best, it's capable of doing many things: It informs and educates, but also entertains us… it makes us laugh, cry, and sometimes it inspires us.
But I'd like to start with the physical level of reality and that thing called the ego. You know, me, mine, my family, my tribe, my country, what's in it for me? This is the finite horizontal path of the past, present, future. We are born in a physical, breathing body and one day we wake up with an over-active mind, buzzing with our to-do list, rerunning yesterday's conversations and pestering us with worries about tomorrow. Because of these worries, we go looking for security: We go to school, get jobs, fall in love, get married and have kids, buy a car and a house… buy a newer car and a bigger house, make money, save it for some day, and then, eventually, we die.
"Enlightenment," at this level, can be defined as "education or awareness that brings change." An example would be… "becoming enlightened about nutrition" and finding yourself throwing out all the junk food in the cabinets and replacing it with healthy food. You might even throw out the Oreo cookies and replace them with rice cakes. Maybe you become a vegetarian or even a vegan. Or, you "awaken" to the fact that global warming is real and so, you find yourself looking for ways to make a difference.
Now, let's get into the spiritual realm. The vertical path. The present moment. "Enlightenment" in the mystic traditions, is often referred to as "awakening." After all, the name "Buddha" means "the awakened one." It goes further than just looking for security. Awakening into this dimension of awareness comes by degrees and culminates with the experience and realization that you are a spiritual being or "soul," as opposed to just a material thing. That's why this process is also called "self-realization."
Awakening in this sense, is an expansion of consciousness. You begin to have experiences of oneness and deep feelings of connection. This expansion often comes with other shifts in the way you see the purpose of life and your place in it… which often leads to a greater need to be of service to the world.
As you continue the process of awakening… and I do believe it is a process… you begin to notice the suffering of others. You become more compassionate… toward those around you, and then toward humanity, as a whole. And then this compassion begins to extend even farther outward. You begin to hear Mother Earth and its creatures calling out… you begin to recognize the very real possibility that we may make this planet un-inhabitable. You are becoming more sensitive, in a good way, to the signals of suffering that arise within and without. You become more attuned to your own psyche and signals of your own suffering, as well.
You now feel a calling to know more and do more. You have a need for enlightened media. And this begins the process towards higher levels of awakening and its manifestation on this planet.
Enlightened media is vital. It is inspiring. It changes minds. It has the potential to change the world. It provides information that can assist people in resolving situations with compassion and understanding, rather than defensiveness and anger.
The U.S. is in a state of extreme political polarity, which has already led to killing and violence. It's important to have an anchor in the storm, otherwise we can become unmoored, emotionally.
The reason positive and inspiring media is needed now more than ever, is to give people the tools to make decisions based not only on reason, but also kindness, respect and assertive positive action. Most of all, we want to have accurate and up to date information on the environment, health, stress reduction, as well as lifestyle… we don't want to just spin the same stories as commercialized media. We want to BE better and DO better.
Enlightened media is concerned with positive, life affirming news and stories that inspire the reader towards personal growth and responsibility. It's not about conspiracy theories, trolling, negativity and division. The polar ice caps are melting; record temperatures, floods and famines are all part of global warming. Obesity is at epidemic proportions; drugs are killing thousands of people; mental depression is rampant; negation of the truth; made up conspiracy theories; prejudice and violence towards minorities… this must all be countered with the factual data.
I began my media career in the film business. I started working for Hal Ashby, the Oscar winning director of such moving films as Coming Home, Harold and Maude, and Bound for Glory. I was not only Hal's personal assistant, I started working on his movies as a production assistant. I worked my way up and was responsible for most of the casting on the critically acclaimed movie, Being There, starring Peter Sellers and Shirley MacLaine.
During this time, I read an amazing book The Way of the Peaceful Warrior, by Dan Millman, and I went about acquiring the movie rights. If I was going to spend a number of years producing a movie, I wanted to make sure it would be about something that would add value to my life and the lives of those who watched it.
Once I had the rights to Peaceful Warrior, I realized I needed to continue my education in becoming a competent and successful film producer, and eventually made my way to Assistant Director, not only on movies, but on over 480 national and international commercials. Finally, the money was in place, and it was time to begin filming.
In my opinion, Peaceful Warrior, starring Nick Nolte and Scott Mechlowicz is a movie that is full of wisdom and adds value to us, both individually and collectively. The film is about the process and experiences of a world class gymnast on his way to the Olympics and his journey to becoming a better, more well-grounded and present person. With the help of his mentor "Socrates," our hero learns that the real truth is not something you get from outside yourself; it's something you get by going within.
Our hero had many realizations on this journey within: Take out the trash… Clear your mind of everything you don't need… doubt, past failures, and even future victories. A warrior acts; only a fool reacts. You'll never be better than anybody, the same way you'll never be any less. The people that are the hardest to love, probably need it the most. And, There are no ordinary moments. To name a few.
With the award-winning film, Peaceful Warrior under my belt, I started working on a sequel, but was brought back down to earth by discovering I had stage 4 throat cancer, which had metastasized into 12 additional tumors in my neck. It was inoperable and I was told that if I began chemo and radiation the next week, I probably had a 40 to 60 percent chance of living past 5 years. Since I was very healthy and hadn't had a cold or the flu in 30 years I was absolutely stunned. There is nothing better to bring you back into the present moment than clearly seeing the possibility of your life ending soon.
I began chemo and radiation the next week, although I relied mostly on Chinese medicine, acupuncture, Rolfing and a daily prayer, yoga, meditation, and Qigong practice. I was already having deep experiences of myself as an infinite, eternal being. I was awakening, so I knew that I was going to be okay. But, my body and my mind were still freaked out, so they said, "well, okay, so you're not going to die, but we're going to die, so what can we do?" My answer to myself was, "well, I think you need to pray." I started with a very simple prayer, "Lord God heal me."
While I'm having chemo for eight hours… "Lord God, heal me, Lord God, heal me," while strapped to the radiation table, "Lord God, heal me"… a third of the way through my treatment, it changed. Not from my intellect, but from my root chakra, from my core. The prayer changed. And it became, "God is, I am. I am, God is." There's only God and me. The doctor is God, the chemo is God, the radiation is God, and me." And then, as I got deeper and deeper into that, what I experienced, what I realized, was that there isn't anything BUT God. So, I'm God too, but I'm a special aspect of God, that is separate from God, so that I can know God, and worship God, be one with God.
Then, two thirds of the way through, I'm strapped to this radiation machine, with this thing spinning around, and I'm praying, "God is, I am. I am, God is. God is, I am HEALED."
It didn't come from my intellect. It just came up in such a way that in that moment, I knew I was healed. And if I hadn't been strapped to the table, I would've jumped up and said, "I'm healed! I'm healed!" And of course, by the time the radiation finished, my ego had popped up again and goes, "Well, what if you're not healed?" I wisely decided to finish the two weeks of chemo and radiation. But, I knew at that moment, that… I was healed. I am now 12 years cancer free.
This experience brought me to the realization that what I really needed, besides working on my own awakening, was to create a resource for all those in the process of awakening. I formed, with my partners, Awaken Global Media.
AWAKEN GLOBAL MEDIA, based in Los Angeles, is the parent company of Awaken.com. Awaken is a web portal and searchable database whose mission is to Awaken The World Through Enlightened Media by engaging its audience with positive, uplifting and useful information related to living an informed, inspired and healthy life.
Awaken's emphasis is sharing the wisdom of the ages through teachers, philosophers, motivational speakers, authors and spiritual leaders, in order to provide its audience with the most comprehensive information available on the web. Awaken has assembled over 19,000 transformative, current and worthwhile articles and videos, which are added to daily. To this end, Awaken is a blend of east and west, science and spirituality, the inner search for meaning and its practical application in daily life.
The goal of Awaken.com is to give our readers the tools and information to wake up this life time and fulfill their destiny. We attempt to give our readers the information, inspiration and tools to empower them to be strong, brave and courageous, to be active role models of human decency.
In my opinion, the world is too patriarchal. It's out of balance, and we in the media, need to help bring it back into harmony. Awaken is committed to having an equal amount of male and female teachers and contributors.
I want to finish by saying I am very optimistic and hopeful that we are on the cusp of a new dawn… that humanity, both individually and collectively, is waking up. This whole planet is waking up and we will come together to solve the challenges that can only be solved globally. Enlightened media has a social responsibility to make sure this happens.
It could be said the you are what you eat. It could also be said that you are the media you consume.
May you always continue to be blessed and loved unconditionally.
Thank you. With love,
David
David Welch: is the founder and CEO of Awaken Global Media and Chief Editor of AWAKEN.com. He is the Producer of the award-winning movie "Peaceful Warrior" and a member of the Directors Guild of America and Screen Actors Guild. David is a master practitioner of Neuro-linguistic programming, a certified Kundalini Yoga instructor and has a continuous, committed and daily yoga, meditation and Qi gong practice.