by Laura Bourland: We're always on the lookout for innovative ways to build more sustainable homes. Hemp wood—"wood" made from hemp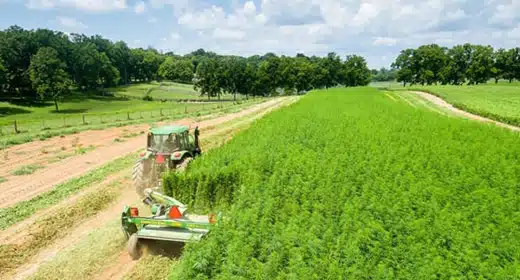 —is a revolutionary new building material created by Greg Wilson and Fibonacci, LLC. It is meant to compete with wood grown from trees, the most pervasive material used in home construction.
Hemp wood is new primarily because it used to be against the law to grow the cannabis plant due to its association with marijuana. It is still an illegal drug at the federal level (and in many states). The 2018 amendment to the Farm Bill changed that by legalizing the agricultural growth of hemp, and it has been growing in popularity and use since then. Hempcrete has already proven successful as a building material, and it's finally time for hemp wood.
The HempWood team has studied, tested, and perfected the hardwood product made from the hemp plant for over a decade. The company was founded in 2018 and began producing products at its Kentucky factory in 2019.
HempWood's mission is "to benefit humankind by removing the devastating effects of deforestation and help the farmers of the world by disrupting the $60+ billion wood industry." Now that's an effort we can get behind!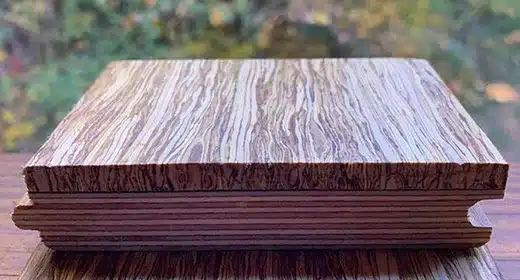 What is Hemp Wood?
Hemp wood is a hardwood that is useful for interior building, furniture, floorings, and consumer products like cutting boards and skateboards.
The wood was developed using the algorithm of an oak tree and reverse-engineering the growth cycle to mimic the hardness, density, and stability of the widely used building material. The Fibonacci team studied the process of creating popular bamboo flooring to create a similar but stronger wood from the hemp plant.
Hemp wood is made from cannabis plants with low THC content. These plants contain a concentration of no more than 0.3 percent THC. They compress hemp pulp fibers and strengthen the product with soy-based glue.
Where is HempWood Made?
HempWood is manufactured at their plant in Murray, Kentucky, where they buy hemp farmed within one hundred miles of the factory. Made entirely in the United States, HempWood is quickly creating new jobs, revolutionizing the wood industry, and reducing the environmental effects and costs of transporting wood products from overseas. They are dedicated to benefiting humanity "by providing a viable wood alternative" and "introducing a new cash crop to the farmers of the world."
What Makes Hemp Wood Sustainable?
Oak has long been a popular wood for building due to its strength, durability, and classic look, but hemp wood is ready to take its place for many reasons, including:
It is a rapidly renewable resource
Hemp sequesters more carbon than trees, and
It is strong and durable.
Rapidly Renewable Resource
Hemp grows 100 times faster than oak trees do. It can be harvested in as little as 120 days planted from seed, making it a quickly renewable building material.
Carbon Sequestration
It also makes a world of difference in absorbing the growing impact of carbon emissions. A hemp plot absorbs four times more carbon in its short life than a treed forest of the same size. By the time it's harvested, a hectare of hemp will have taken in about 22 tons of carbon.
Strength and Durability
These sustainable aspects of wood made out of hemp are undoubtedly impressive. But, it has to do its job—both structurally and aesthetically. So, perhaps the most critical features of hemp wood are its durability and that it looks and feels very similar to oak. Some of hemp wood's superior qualities include:
Hemp wood is scientifically engineered to be 20 percent harder than oak.
It has a density of 50-55 pounds per cubic foot.
It has a hardness of more than 2,000 (on the Jenka scale of 0 to 4,000).
The stability of hemp wood is similar to Brazilian Cherry.
HempWood can be cut, sanded, and stained just as traditional wood can be for building projects like interior facing, furniture, and flooring. However, the company notes that it is essential that you test any woodworking equipment before starting to ensure the speed and blades are appropriate for the new wood.
How Much Does HempWood Cost?
HempWood is priced competitively to similar cuts of black walnut. You can purchase 72″ HempWood boards for between $13 and $40 as of the date of publishing. HempWood also sells carving blocks, cabinets, and kits to make your own table. Prices for table kits range from $175 to $300.
How Should You Finish Hemp Wood?
Hemp wood can be sanded, painted, and stained just like traditional hardwood to fit any interior building style. HempWood recommends using oil-based stains for best results.
If you're interested in using HempWood in your upcoming building project, it's recommended you pre-order samples. This way, you can test your ideal finishes before placing a large order.
Is Hemp Wood Healthy?
Due to its organic roots and soy-based adhesive, hemp wood is naturally non-toxic and doesn't contain VOCs, making it a healthier choice for interior building.
Hemp wood has also been tested to have a decreased likelihood of warping and twisting. Its design is free of any of the knots common in other hardwoods to reduce wood waste.
What Are the Cons of Hemp Wood?
As far as we can tell, the only downside to hemp wood is that it's not widely used yet, and therefore hasn't had time to be thoroughly tested. However, HempWood is currently looking for distributors to widen its reach. This step will undoubtedly expand availability for big building projects, remodels, and new builds. We hope that more companies will also start making products like this in the future!
Hemp Wood is a Sustainable and Welcome Addition to the Building Community
In building and remodeling sustainable homes, homeowners and builders strive to choose better materials. It can be challenging to find products that are durable, healthy, locally grown and harvested (to decrease embodied energy) – and won't break the bank. As a newly invented hardwood product, hemp wood is an excellent addition to the home building and renovation space.