by Robin Meadows:California has been hit by repeated storms fueled by torrents of moisture called atmospheric rivers that will only intensify in a warming climate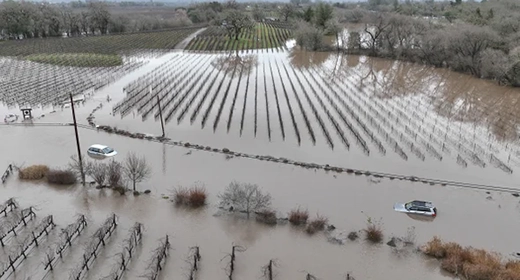 California is taking a beating from what the National Weather Service has called a "seemingly never ending parade" of strong storm systems, which started late last December and are still coming. Called atmospheric rivers, they are long, narrow currents of exceptionally wet air that shoot across the ocean, capable of dumping massive volumes of rain or snow on landfall. Although these storms deliver much of the West's precipitation, they also cause most of the region's flooding, with associated economic damages as high as $1 billion a year.
This winter's spate of storms has killed more than a dozen people in California and has put tens of thousands more under evacuation orders and watches. Rain on December 31, 2022, reached 5.5 inches in downtown San Francisco and flooded all six lanes of Highway 101 in the city of South San Francisco. On January 8 heavy rains and 70-mile-per-hour winds knocked out power for more than 345,000 people in the state's capital of Sacramento.
More atmospheric rivers are predicted in the coming days, raising fears of flash floods across California—and of catastrophic mud and debris flows where recent wildfires have created 21 burn scars around the state. Its governor Gavin Newsom declared a state of emergency on January 4, and the White House issued a presidential emergency declaration for California on January 8.
To learn more about why these storms are hitting California, as well as their potential dangers and benefits, Scientific American spoke with extreme weather expert Katerina Gonzales, who studied atmospheric rivers as a graduate student at Stanford University and is now a postdoctoral associate at the University of Minnesota.
[An edited transcript of the interview follows.]
Weather forecasters didn't expect such a wet winter in California. Why was that the case?
Often we try to use El Niño and La Niña—large climate patterns in the Pacific Ocean—as proxies for the forecast. The simple narrative is that El Niño is wet, and La Niña is dry. This is the third year of La Niña, and expectations were set up by the first two years, when winters were not very wet.
Why didn't the forecast hold up this year?
The simple narrative is not necessarily true. Northern California is on the cusp of the wet-dry pattern. It's kind of a crapshoot; it could go either way. El Niño and La Niña can tip the scales toward wet or dry, depending on what else is going on along the coast.
What else is driving these powerful storms in California? And are they unusual?
All sorts of chaos is happening in the atmosphere, but sometimes it stays in a certain configuration for a while—so the storm track is stuck. The storm track is a wind current, like the jet stream, that carries the river of moisture from west to east. La Niña can nudge the storm track more toward Northern California, and it now favors atmospheric-river landfalls on this part of the coast.
The atmospheric rivers are coming in a row, and they are really strong and really wet. This convergence is the heart of the matter. It's unusual that there are so many storms and that they are super juicy.
Mountains usually wring the water out of atmospheric rivers. But a lot of the moisture from last week's storms in California made it to Minnesota, dropping a foot and a half of snow. There's so much moisture in the system; it's anomalous that there's so much.
What are the impacts of this parade of atmospheric rivers?
The first storms saturated the soil—it's soaked like a sponge, holding all the water it can—and any more will just run off. Rivers, creeks and reservoirs are also fuller, so we can get flooding.
The silver lining is the snowpack. It's January, so it's cold, and it's mostly snowing in the mountains, building up the snowpack. There are feet and feet of new snow. If this was March, it would be warmer, and we'd get rain on snow. That would melt the snowpack, decreasing our stored water and causing flooding.
California is three years into a drought. Is it over?
We're still in drought. The snowpack and reservoirs are good, so for surface storage, we're doing great. But the aquifers are still depleted. The groundwater has to be recharged, and that takes a long time. We can't rely on atmospheric rivers to save us. California has wet and dry extremes—that's our current reality and our future. We should prepare.
How is climate change affecting atmospheric rivers? And how can California prepare?
Atmospheric rivers are becoming more intense with climate change because they're holding more moisture. For a long time, I thought we should focus on more science to improve forecasting. But we need to adapt to the climate change we've already set in motion. We can't forecast our way out of atmospheric rivers that are more gigantic.
We have to make huge investments in green infrastructure, which uses nature to absorb runoff—such as floodplains, parks and rain gardens. Our infrastructure was built for a 20th-century climate that no longer exists. More intense days are coming, and these storms are just a preview.