by Kate Forsyth: The smoothie is a healthy blended drink made of fruits and/or vegetables…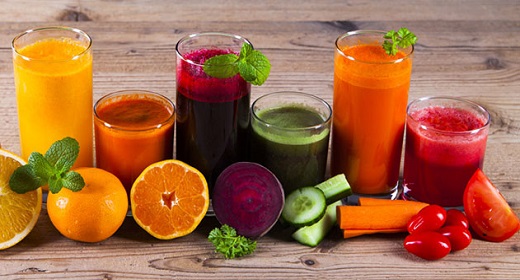 It's been steadily on the rise now in the popularity meter. You see people toting these drinks literally everywhere they go. People even started using them as meal replacements.
And that's no surprise. Smoothies are indeed healthy, what with its components of fresh fruits, vegetables, and other supplements. These provide the smoothie chock-full of essential vitamins, minerals, and other nutrients important and beneficial to the human body.
You can even tweak smoothies to cater to a specific issue. You can make smoothies to target weight loss, smoothies for diabetics, smoothies to treat a hangover, even smoothies to boost your brain.
Here are the top 10 smoothie recipes that can improve brain function.
Banana-Coconut Smoothie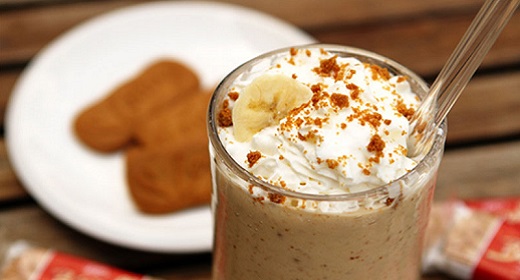 Coconut is a good source of manganese, fiber, and medium-chain triglycerides. These triglycerides are converted into a stable source of fuel for your brain during periods of low blood sugar. They can also help with memory loss.
Ingredients:
1 banana, frozen
1 cup almond milk
2 tablespoons unsweetened coconut
1 scoop protein powder
Procedure:
Place all ingredients in a blender and blend until fully incorporated.
Berry Walnut Smoothie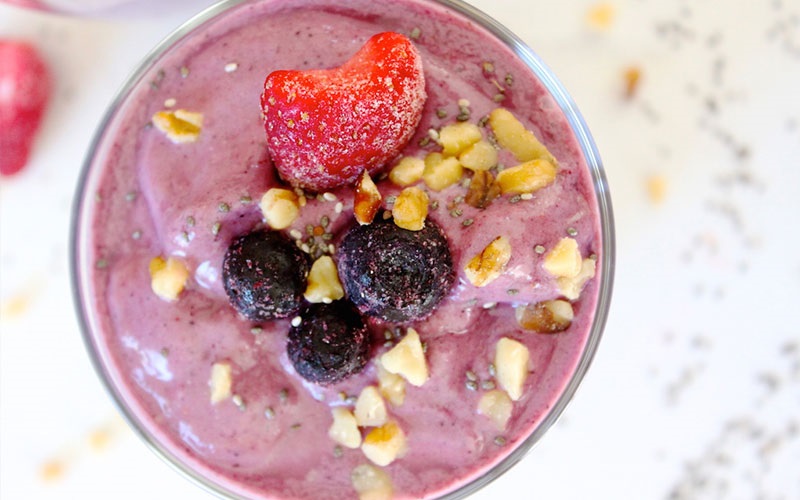 Walnuts are the go-to nuts to improve brain health. They have a high DHA content. DHA protects brain health in newborns, improves cognitive performance in adults, and prevents age-related cognitive decline.
Ingredients:
½ avocado
6 walnuts
½ cup blueberries
½ banana
1 scoop vanilla whey protein powder
½ cup water
Procedure:
Simply combine all ingredients together in a blender and mix completely.
The Brain Booster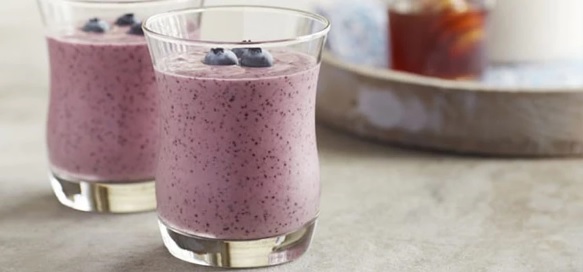 The base of this smoothie is apple juice. It prevents the loss of the neurotransmitter called acetylcholine. This is essential for memory and brain health.
Ingredients:
1 cup organic apple juice
½ cup blueberries, frozen
2 tablespoons goji berries
½ medium banana, frozen
2 tablespoons hemp seeds
1 teaspoon coconut oil
Procedure:
First, place the berries and banana in a blender. Blend until you produce a chunky mixture. Next, add the rest of the ingredients. Continue to blend until a smooth texture is achieved. Finally, serve immediately.
Chocolate Hazelnut Smoothie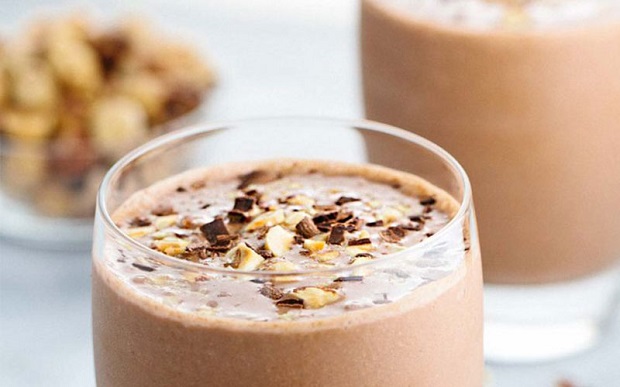 Sounds like a dessert, right? Well, it could be. On top of fulfilling your sweet cravings, it can also help boost your brain health! The caffeine in coffee improves brain functions like reaction time, memory, and focus and concentration.
Ingredients:
¾ cup strong coffee
12 toasted hazelnuts
100g silk tofu
¼ cup nonfat Greek yogurt
1 tablespoon hemp seeds
2 tablespoons extra dark cocoa powder
1 teaspoon hazelnut butter
½ ripe banana
Procedure:
First, brew your coffee the night before you plan to drink this smoothie. Next, toast the hazelnuts. After toasting, leave them in the coffee. Place in the fridge until morning. Come daybreak, take out the coffee and hazelnut mixture and dump in a blender, along with the rest of the ingredients. Next, blend everything until smooth. Last, serve in your favorite glass and enjoy.
Kiwi-Spinach Green Smoothie'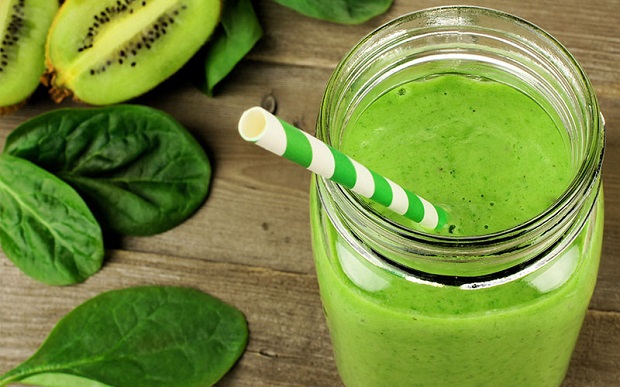 Spinach is a great source of folate. Folate prevents plaque buildup in the brain and helps improve neurotransmitters. In addition, it reduces inflammation that harms brain function. Also, spinach can keep your brain alert as you age.
Ingredients:
1½ cup almond milk
1½ cup baby spinach leaves, fully packed
1 banana, frozen and sliced into chunks
1 ripe kiwi, frozen and cut into chunks
Procedure:
Place the banana and kiwi chunks first and blend until somewhat smooth. Next, add the rest of the ingredients. Continue blending until desired consistency is reached.
Chia-Berry-Pineapple Smoothie
Chia seeds contain a good amount of omega-3 fatty acids. These are necessary for transmitting signals between brain cells.
Ingredients:
½ cup blueberries
½ cup raspberries
2 tablespoons chia seeds
½ small banana, frozen
¼ cup pineapple, diced
½ cup pomegranate juice
1 serving whey protein powder
ice cubes
Procedure:
Combine all the ingredients (except the last two) in a high-speed blender. Mix until smooth. Next, add the protein powder. Continue to blend. Finally, add in the ice cubes gradually until you get the thickness you want.
Avocado-Mango Smoothie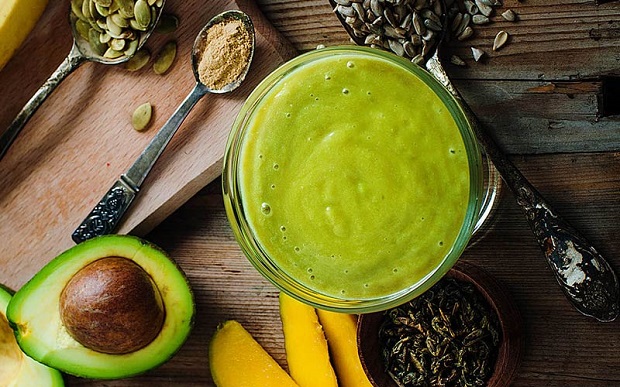 Avocados are rich in vitamin E, which reduces the risk of Alzheimer's disease. This fruit also contains oleic acid, which helps build the white outer insulation of the brain called myelin.
Ingredients:
¼ avocado
½ mango
1 cup fresh spinach
1 cup low-fat vanilla soy milk, chilled
5 teaspoons agave nectar
Procedure:
Simply purée all ingredients together until creamy smooth.
Almond Smoothie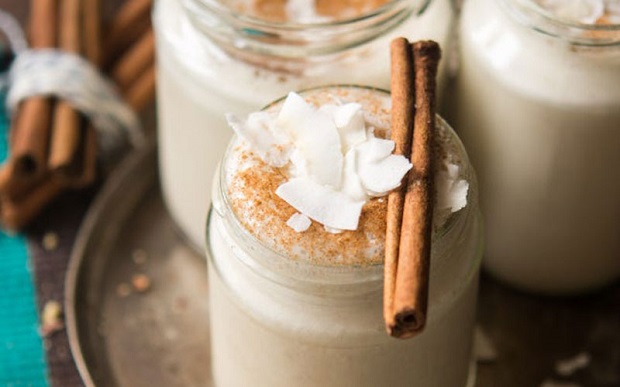 The almond is another nut that can benefit your brain. It is full of protein and dopamine, which gives a boost of  motivation and focus. They are also known to repair brain cells, thus improving cognitive functions, which include memory.
Ingredients:
¾ cup almond milk
¾ tablespoon almond butter
1 small banana, frozen
¾ cup kale, slightly packed and stems removed
⅛ teaspoon cinnamon
⅛ teaspoon nutmeg
⅛ teaspoon ground ginger
Procedure:
Place all ingredients in a blender. Mix everything completely until desired consistency is reached.
Chocolate Cherry Smoothie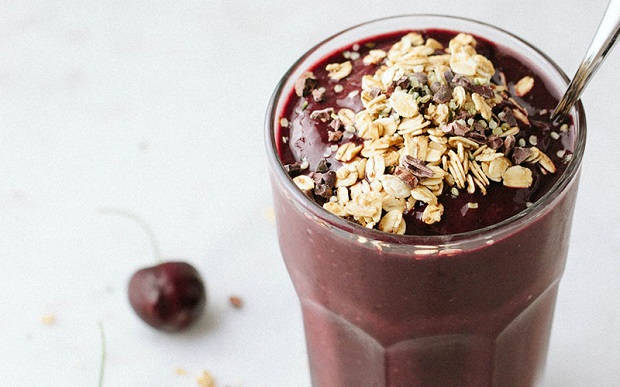 Chocolate, especially dark chocolate, is loaded with antioxidants that fight against free radical particles found in the brain. Chocolate is also known for releasing endorphins, which improve our overall mood.
Ingredients:
1 tablespoon raw cacao powder
1 tablespoon cacao nibs
1 cup dark sweet cherries
1 cup spinach, packed
1 large banana, frozen
1 cup unsweetened almond milk
Procedure:
Place the spinach and almond milk in the blender. Blend until smooth. Next, add the cacao powder, cherries, and banana. Blend again to achieve smoothness. Add in the cacao nibs for last and pulse to combine. Serve immediately.
Pomegranate-Strawberry Smoothie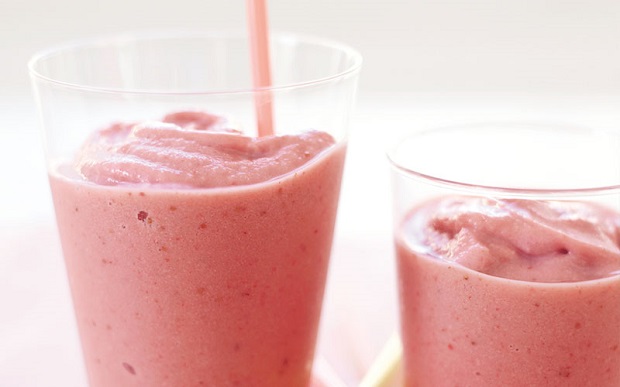 Pomegranate juice, surprisingly, has a number of benefits for the brain. First, it has a high amount of glucose. The brain uses glucose as its main source of energy. Second, this juice also has a high antioxidant content to fight free radicals that can damage the brain cells. Third, drinking pomegranate juice protects you from Alzheimer's disease. And lastly, it can protect infants' brains if drunk by women during pregnancy.
Ingredients:
⅓ cup pomegranate juice
2 teaspoons raw honey
¾ cup unsweetened strawberries, frozen
2 tablespoons fat-free plain yogurt
1 tablespoon flaxseed oil
4 ice cubes
Procedure:
Whisk the pomegranate juice and honey in a small cup until honey is fully dissolved. Next, combine this mixture along with the other ingredients (except the ice cubes) in a blender. Mix until fully incorporated. Gradually add in the ice cubes for desired thickness.
Author Kate B. Forsyth is a writer for Be Healthy Today, who specializes in health and nutrition. Her passion is to help people get an overall transformation of health that lasts a lifetime. In her blog posts, she goes beyond research by providing health-concerned citizens doable and simple tricks to achieve a healthier lifestyle.