by Will Hermes: For the last Fare Thee Well show, the band hits its stride at the presumable end.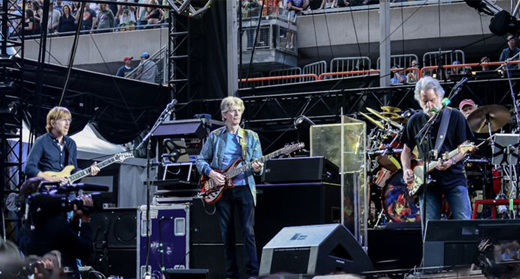 "I have spent my life/Seeking all that's still unsung/Bent my ear to hear the tune," sang Phil Lesh last night, harmonizing with colleagues new and old, on "Attics of My Life," the final song of a fraught, moving, ultimately magnificent five-night, two-state Fare The Well concert series — billed as the final shows that the surviving members of the Grateful Dead will ever perform together. The final concert was also the run's strongest, showcasing a new band hitting its stride precisely as it was set to retire. The new guys — Phish's Trey Anastasio, RatDog's Jeff Chimenti and returning moonlighter Bruce Hornsby — found equal footing and perfect sync with original band members Bob Weir, Phil Lesh, Bill Kreutzman and Mickey Hart. It was clear from the opener, "China Cat Sunflower" into "I Know You Rider," one of the band's most emblematic and potent pairings. When Anastasio and Hornsby, not Weir or Lesh, traded lead vocals on the former, it felt like a torch was passed. And when the 70,000 fans sang "I know you rider/Gonna miss me when I'm gone" during the latter, it was like they were singing those words to each other.
As good as the music was, much of the night's magic was in the connections: meeting fellow fans, finding out where they travelled from, a bit of what their lives are like, how long ago they saw their first Dead show; or showering ushers and security staff with grins, salutations and high-fives, like a bunch of tipsy, T-shirted Jehovah's Witnesses working a neighborhood. I came to this show with a friend who joined me at my first Dead show in 1977, but variously hung and partied with a Santa Monica children's book writer, a Wisconsin college professor, an L.A. vapor-pen manufacturer and an Illinois Spanish teacher. Strangers stopped strangers just to shake their hand, share a joint, dance a jig, hug it out or serenade each other. Friends and lovers sang into each others' mouths and dove into each others' eyes, swimming through flashbacks of who-knows-what.
If there's a lesson in this, it's that music's true value is not so much about the individual players, distinguished and virtuosic as they might be; it's about the beauty, pleasure and love it communicates, and the community it engenders. The relationship Deadheads have with these songs is deeply personal: We've eaten, slept, and breathed this music, bonded and tripped and fucked and fallen in love to it. It seems to carry with it an implicit set of spiritual, ethical and hedonistic values, and it marks the tribe, which extends beyond the Dead's music. Over the course of this weekend's shows, improv-minded acts flooded Chicago. Among them were Jerry Garcia's old confidant and side-project partner David Grisman, who played jazzy bluegrass fusion with his sextet on Sunday afternoon to a reverent mob at the historic Palmer House Hotel ballroom. The town became jam-band ground zero.
But it was all gravy for the final event. Sunday's set list was scattershot, a mix of songs not yet played during the previous shows with the exception of "Drums"/"Space" and the signature "Truckin,'" whose iconic reprise "What a long, strange trip it's been" never felt so earned. There was a powerful "Estimated Prophet," with a guitar rave-up so intense, Bob Weir missed his vocal cue. A leisurely stroll of a jam came out of "Mountains of the Moon," cast more as a jazzy blues than the space chant of the studio recording, with notes looking around and smelling the flowers. Lesser songs ("Built to Last," "Throwing Stones") featured some of the night's most beautiful playing. It proved a Dead truism that when the group of abstractionists is on point, the specific material isn't always important.
For his part, Anastasio — the show's wild card, as the man who had to fill Jerry Garcia's shoes — came across as a musician transformed. He worked grooves more supple than most anything in the repertoire of Phish, his day job, with remarkable restraint, marked by longer sustains and more soulful phrasing, while his signature antsy-ness help embellish and goose along slower songs. Maybe his finest moments were on a majestically thundering "Terrapin Station," where he spun out lines like baroque morse code. It's hard to imagine that his playing won't emerge significantly changed from this experience.
"Terrapin"'s lyrical crescendo — "but the train's put its brakes on and the whistle is screaming" — would be echoed much later in the night's improvisational "Drums"/"Space," with a howling electronic outburst of train whistle and shrieking brake tones, followed eventually by the angular jazz-funk of "Unbroken Chain." Bob Weir delivered a haunting version "Days Between," a darkly handsome obscurity written by poet-lyricist Robert Hunter and Garcia during the guitarist's plagued final days. It moved like a processional, graced by Anastasio's slow-motion melody lines, earning itself a newly privileged place in the band's songbook.
The show ended with Buddy Holly's "Not Fade Away" fading out beneath 70,000 fans chanting the title reprise and clapping out the beat even after the band left the stage — yet another family tradition. Phil Lesh, the Dead's default leader since Garcia's death, came back before the encore to pitch the importance of organ donation (he is most likely alive because of a 1998 liver transplant) and to thank fans for listening.
Two more songs, the last accompanied on the projection screens by a brief photographic history, and it was done. The band repeated the bow and group hug sequence, while fans cheered and brushed away tears. Mickey Hart offered some parting words: "The feeling we have here," he said, "remember it, take it home and do some good with it." And then approximately 70,000 Deadheads floated out of Soldier Field and up through Grant Park, presumably with thoughts of doing just that.
Set 1:
"China Cat Sunflower" > "I Know You Rider"
"Estimated Prophet"
"Built to Last"
"Samson and Delilah"
"Mountains of the Moon" > "Throwing Stones"
Set 2:
"Truckin'"
"Cassidy"
"Althea"
"Terripin Station"
"Drums" > "Space"
"Unbroken Chain"
"Days Between"
"Not Fade Away"
Encores:
"Touch of Grey"
"Attics of My Life"