by (Renewable Energy World): Faced with COVID-19 pandemic and sharp economic contraction,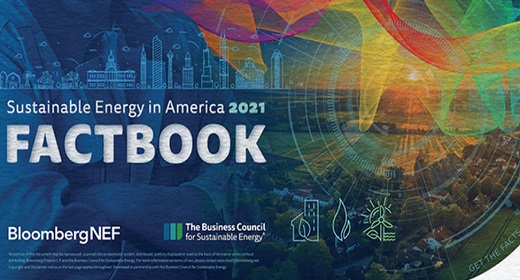 the U.S. clean energy sectors showed strong resilience in 2020 continuing a decade-long growth trend, BloombergNEF (BNEF) and the Business Council for Sustainable Energy (BCSE) find in their annual joint report. The ninth edition of theSustainable Energy in America Factbook tells the story of American energy efficiency, natural gas and renewable energy in a volatile year.
This story is told for the first time with over 130 slides and data visualizations that put 2020 performance in the context of past years, said the organizations.
The economic disruption caused a massive drop in national greenhouse gas emissions. Energy demand for electricity and transportation fell by 3.8% and 14.4%, respectively, supporting the 9% year-on-year decline in harmful greenhouse gas emissions for the United States. This fall in emissions (see Figure 1) is the most significant on record and puts the United States on track to meet its 2025 Paris Agreement commitment, though energy demand and emissions are expected to rebound with widespread vaccinations in 2021.
The impacts of cleaner electricity generation will persist. Figure 2 shows that natural gas and renewable generation continued to expand their share of the resource mix. A record 33.6 GW of wind and solar capacity was added to the grid this year.
"In a year when so much went sideways, it was a blockbuster year for renewable energy build and for the first time, a record 40% of U.S. power consumed generated no CO2 emissions," said Ethan Zindler, BloombergNEF's head of Americas. "Decarbonization of U.S. energy accelerated in 2020 and the benefits will be felt for years to come."
"The continued growth of clean energy in the United States, in spite of the economic downturn and the challenges of the pandemic, demonstrates that the market for these technologies is maturing and the portfolio is highly resilient," said Lisa Jacobson, BCSE President.
"Global supply chain disruptions, workforce protection measures, and policy uncertainty required adaptation across the industry. The strength of these businesses kept the lights on and houses warm in America, and supported communities during an unprecedented crisis, all while we continued to build cleaner resources," she said.
The full 2021 Sustainable Energy in America Factbook is available for download here. Notable clean energy statistics from the pandemic year include:
Power Generation
Renewables' contribution to the power grid set another record, rising 11% year-on-year. Renewable energy generated a fifth of U.S. power in 2020.
Power from all zero-carbon sources (renewables plus nuclear power) set another record, meeting 40% of demand. This was despite a decline in nuclear output.
Natural gas remained the largest source of U.S. power generation at 41%, though its 2019-2020 growth was slower than 2018-19.
Coal-fired power's contribution slipped to 19% from 45% a decade ago on weak demand and competition for lower-carbon power sources. Coal plants continued to retire rapidly.
A record 33.6GW of wind and solar combined was built. Records were also set for each individual technology. Wind enjoyed its strongest year ever with 17.1GW constructed while solar bested its previous 2016 high with 16.5GW completed.
Emissions
Total U.S. emissions sank 9% to end 2020 20% below 2005 levels as result of the pandemic. The U.S. got on track to meet its Paris Agreement goal but 2021 emissions will rebound with economic recovery.
CO2 emissions from road, rail, and aviation fell furthest (-14%) but transportation remains the highest emitting sector. Lower travel rates were responsible for the decline.
Demand
U.S. energy "productivity" (GDP / total energy consumption) rose, but not primarily for positive reasons as economic hardship prompted many consumers to cut back consumption.
Natural gas demand dipped 0.8% year-on-year, the first decline since 2009. Power sector demand and exports rose but industrial, commercial and residential demand all fell.
Corporate and Sub-National Action
Corporate decarbonization commitments grew. 65 companies joined the RE100 initiative to expand renewables use, 59 joined EP100 pledging to improve energy productivity.
But companies signed fewer contracts in 2020 to buy clean power. Corporate power purchase agreements (PPA) for wind/solar slowed to 11.9GW due to pandemic worries.
Renewable thermal energy is expanding. At the close of 2020, 26 states had acted to promote the use of renewable natural gas for thermal heating in homes and businesses.
American clean energy businesses went above and beyond during the pandemic to protect their customers and employees, from fuel cell manufacturers who refurbished ventilators in their facilities, to utilities and technology providers who implemented careful distancing and quarantine measures to maintain service, to and propane companies provided space heating for pop-up COVID-19 testing and evaluation sites. The sectors' performance in a year of unprecedented challenges reflects millions of Americans' ingenuity and dedication.