When you hear the words "psychedelic rock", what comes to mind?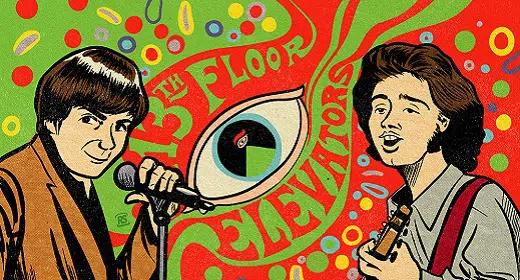 For us, it's 1960s counterculture, Woodstock, and major names like Jimi Hendrix or The Doors. In truth, psychedelic rock bands include many of the artists we regard to be the foundations of classic rock. Even the first psychedelic records have a lasting influence, with each decade following the 1960s ushering a rebirth of the genre. Heavy reverb, a big key presence (particularly electronic organs), Eastern instruments and musical motifs, extensive instrumental periods, and strange lyrics that frequently refer to the use of hallucinogenic substances are all notable aspects.
And the genre is alive and well today thanks to modern artists in the alternative rock scene like Mac DeMarco and Tame Impala, a resurgence in the want of reduced stigma and jailtime surrounding drugs, and an overall attraction to vintage nostalgia. But where did psychedelic rock first get its start? Here are a few artists who were at the forefront of the genre and laid the foundation for an entire musical movement.
THE EMERGENCE OF PSYCHEDELIC ROCK
The Holy Modal Rounders (1964-the 2000s)
The original NYC-based duo of Peter Stampfel and Steve Weber is thought to be the first known group to describe their 1964 version of "Hesitation Blues" as "psychedelic" but they stayed comfortably seated in the American folk genre.
13th Floor Elevators (1965–1969, 1973, 1984, 2015)
Formed in Austin, Texas by vocalist Roky Erickson (who is personally referred to as the "godfather of psychedelic rock"), electric jug player Tommy Hall and guitarist Stacy Sutherland, 13th Floor Elevators are cited to be the first true psychedelic band and are credited with pioneering the genre.
GAINING MOMENTUM
Bob Dylan (1964-Present)
Dylan is perhaps one of the first "mainstream" artists to experiment with cannabis as a musical reference, which can be seen in his "Subterranean Homesick Blues," released in 1965. This is seen as one of the most influential songs for experimental drug references in music.
The Beatles (1960-1970)
After being introduced to cannabis, the Beatles began to experiment with LSD. They used a Sitar to popularize "I Feel Fine," "Norwegian Wood," and featured reversed audio cassettes on their 1966 "Rain." The drug connotations became definite in their song "Tomorrow Never Knows."
THE AMERICAN PSYCHEDELIC MOVEMENT IN FULL SWING
Love (1965–1996, 2002–2005, 2009–2019)
Led by Arthur Lee, Love was known as one of the first racially diverse rock bands in America. Love had a modest relationship with the music charts but found success with their song "7 and 7 Is" (1966) and their album Forever Changes (1967), which is referred to as one of the best albums of the 60s.
The Fugs (1964–1969, 1984–present)
The band was formed in '64 by poets Ed Sanders and Tuli Kupferberg and drummer Ken Weaver, and was eventually joined by Peter Stampfel and Steve Weber of The Holy Modal Rounders in '65.
Spirit (1967–1973, 1974–1979, 1982–1997)
With Randy California at the helm, this LA-based band is best known for the song "I Got a Line on You" and albums Spirit (1968), The Family That Plays Together (1968), Clear (1969), and Twelve Dreams of Dr. Sardonicus (1970).
Pearls Before Swine (1965–1974)
This psychedelic folk band was formed by Tom Rapp in Eau Gallie, Florida, and released nine albums (including One Nation Underground, Balaklava, The Use of Ashes, and Stardancer) before Rapp left to pursue a solo career.