With her April donation to the Vanderbilt Medical Center, the country icon continues to be a wholesome and unstoppable force for good…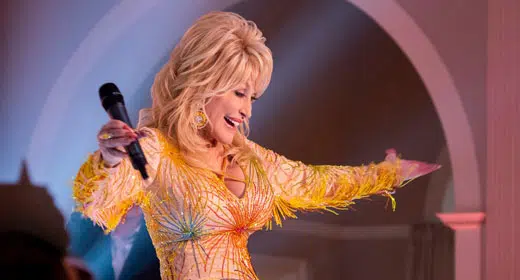 Earlier this week, Moderna Therapeutics announced that their coronavirus vaccine was 94.5 percent effective after a large trial. The Massachusetts-based company became the second major pharmaceutical after Pfizer to report promising results for a potential vaccine to combat COVID-19. While Moderna's vaccine is major news because it could potentially stop the pandemic and put an end to needless suffering and death, it's also a big deal because Dolly Parton is partially responsible.
No, really. In April, the country icon made a $1 million donation to coronavirus vaccine research at 
Vanderbilt Medical Center
. Over the summer, Vanderbilt researchers hosted part of Moderna's clinical trials testing 
1,000 volunteers who took
 the experimental drug. This research was integral to Moderna being able to announce the efficacy of its vaccine, which is more effective than Pfizer's. In their 
official preliminary report
, Moderna even thanked the "Dolly Parton COVID-19 Research Fund (Vanderbilt University Medical Center)." While Parton's donation was generous, Moderna did also receive 
$1 billion from the U.S. government
 for designing and testing the vaccine (as well as an additional $1.5 billion for 100 million doses of it).
Parton's charitable gift should be no surprise. If you listened to the excellent podcast 
Dolly Parton's America
 you'll know that host Jad Abumrad's father Naji Abumrad is a Vanderbilt University surgeon 
who befriended Parton
 after she was in a 2013 car accident. In 2017, she donated $1 million to the 
Vanderbilt University Children's Hospital in Nashville
. These are just two examples of Parton's 
long history of philanthropy
, which include her high school scholarship 
Dollywood Foundation
, her international childhood book gifting organization 
Imagination Library
, a 2016 telethon that raised 
neqarly $9 million
 for victims of Tennessee wildfires, and countless other humanitarian ventures. While Parton didn't cure COVID-19, you can say that she helped researchers make a vaccine and is an unstoppable force for good.
Parton responded to the news on 
Twitter
, writing, "When I donated the money to the Covid fund I just wanted it to do good and evidently, it is! Let's just hope we can find a cure real soon."
Supported by WHO Foundation. VICE World News retains complete editorial autonomy.