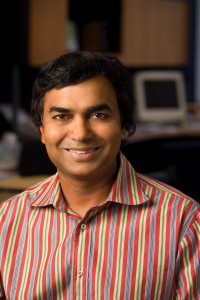 Home Base
Silicon Valley, California, USA
Expertise
Technology Evangelist, Branding
Quote
"Focusing on gratitude shifts my mind and heart away from seeing areas of my life as problematic, worrisome, or lacking and toward acknowledging the abundance, what is working well."
Total Views: 8,428
Gopi Kallayil
Gopi Kallayil is the Chief Evangelist, Brand Marketing at Google. He works with Google's sales teams and customers and helps grow customer brands through digital marketing. In his prior roles he worked as Chief Evangelist for Google+, led the marketing team for the Company's flagship advertising product, AdWords, in the Americas and Asia Pacific, and the marketing team for AdSense, Google's publisher-facing product.
Before joining Google, Gopi was on the management team of two Silicon Valley venture funded startups. While a consultant with McKinsey & Co., he worked on engagements helping the management teams of large corporations improve business performance and maximize revenues. He has also led large Information Technology projects for global corporations in India, China, and the US.
Gopi earned his Bachelors degree in electronics engineering from the National Institute of Technology in India. He received his Masters in Business Administration degrees from the Indian Institute of Management and The Wharton School of Business at the University of Pennsylvania. He is an avid yoga practitioner, triathlete, public speaker, global traveler and Burning Man devotee. He has spoken at TEDx, Renaissance Weekend, The World Peace Festival and Wisdom 2.0. He hosts a TV program on cable and YouTube called Change Makers.
Quotes
"I have chosen to be a practical vegetarian. Part of the reason is that it took time and a shifting of consciousness to really understand the virtues of eating mostly plant-based food."
 "I live joyously and consciously. That is what I do."
"Technology is a powerful tool—but whether you use the tool to be productive or destructive, to live with peace or chaos is up to you."
"The most important technology that every human being has access to is right within us: our body, our mind, our consciousness. On the outside we have the Internet, on the inside we have what I call the inner-net. That's the connection you need to make if you want to live a truly conscious life. "
"Yoga can be practiced all the time, like meditation. Every single moment of every day I try to be mindful, whether I am engaging with a janitor, a chef, an engineer, or a marketing colleague. I do set aside time for specific practices, and for the Yoglers class I teach, but in truth, every moment of every day is my inner work."
"What's essential to realize is that you don't need to withdraw from the outer world in order to create a peaceful space in your inner world."
"There are an estimated 6 billion mobile cellular connections on the planet. Assume for a minute that each one of them is in the hands of a different member of our human family of 7 billion people. Then think about what is now possible: that Velayudhan, walking along the paddy fields, whose father Ponnuchamy ploughed my grandfather's paddies, can punch in 15 digits and—standing next to Valiya Kandum, the big paddy field in front our house—have a conversation with any one of his 6 billion brethren. He can capture an image of the buffalo in front of him and send it racing to cousin Krishnan kutty working in a hotel in Dubai."
"Geography is not an obstacle anymore. Distance is not a hurdle. Nor is language, because free online translation tools can help us translate between language pairs from a choice of 70+ languages. Hindi to Hmong, Gujarati to Greek, Tamil to Turkish. So Velayudhan can type in Tamil and have it sent in Russian to Tatyana from Novosibirsk. This is an unprecedented capability of connection that humanity is experiencing."