by Benjamin Storrow: Drivers tallied 753 billion miles in the first three months of the year, the highest total on record..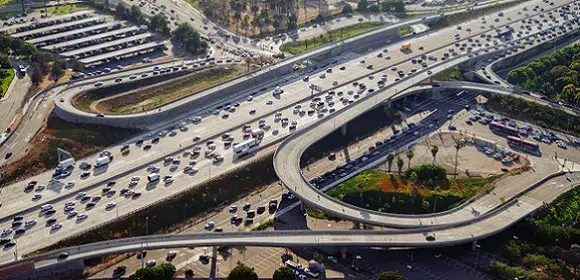 U.S. carbon dioxide emissions rose by 4 percent in the first quarter, as American drivers hit the road in record numbers during the first three months of the year.
U.S. motorists logged 753 billion miles on the road through March, according to the Federal Reserve Bank of St. Louis. That's the highest first-quarter tally since the federal authorities began keeping track in 1970.
The extra miles highlighted the continued recovery from the Covid-19 pandemic and came in the face of a run-up in gasoline and diesel prices. In climate terms, the added miles helped drive the ongoing rally in U.S. carbon dioxide emissions, which rebounded by 6.2 percent in 2021 following a pandemic-induced plunge in 2020.
Carbon Monitor, an academic emissions tracking initiative, estimates U.S. CO2 emissions rose by 52 million tons in the first three months of 2022 compared to the same time last year, bringing total American emissions for the quarter to 1.3 billion tons.
"Just because prices are going up on everything doesn't mean consumers are changing their behavior yet," said John Larsen, a partner at the Rhodium Group, an economic consulting firm that tracks emissions. "Either people are not as price sensitive to gas prices as they were or they haven't hit that wall yet."
Analysts said one of the big questions going forward is whether sustained high prices will lead to changes in consumer behavior, prompting Americans to drive less or switch to other forms of transportation like electric vehicles.
It is too soon to say whether such a change is coming. Americans are buying EVs in record numbers. First-quarter EV sales rose by 76 percent year over year, according to Cox Automotive. The increase was especially notable given a 15 percent slump in overall vehicle sales during the quarter.
EV sales nevertheless represent a small portion of the U.S. auto market. Americans nearly bought as many Ford F-series pickup trucks (140,000) as EVs (173,000). Total first-quarter SUV sales, meanwhile, were almost 1.8 million while truck sales were around 649,000.
Emissions from ground transportation were up by almost 30 million tons, accounting for more than half of the increase in U.S. CO2 output. Yet ground transport is hardly the only sector of the economy where emissions are rising.
Carbon Monitor estimates industrial emissions were up 4 percent, or by 9.6 million tons. Americans are also flying more. U.S. Energy Information Administration figures show that aircraft utilization was up 40 percent in the first quarter. That resulted in an increase in emissions from domestic flights of 8 million tons, an increase of roughly 25 percent compared to the same time last year. International flights were responsible for an additional 4 million tons in CO2.
Whether those sectors continue to grow and push emissions higher is an open question. Russia launched its invasion of Ukraine in late February, meaning the economic fallout from the war has yet to fully register in economic statistics. Energy prices in particular have continued to climb since the war began.
"There is a lot of uncertainty out there about economic growth and the feedback into energy prices," said Daniel Klein, an analyst who tracks energy trends at S&P Global Commodity Insights. "It is so hard to tell right now with all the moving pieces."
One area where emissions did not grow was in the power sector, the traditional engine of American decarbonization efforts. CO2 output there was essentially flat, falling 0.3 percent compared to the first three months of 2021.
The power sector has witnessed a wave of new renewables come online in the last year. Nonhydro renewable generation increased by 22 percent year over year, while coal generation fell by 5 percent, according to EIA. Some of those emission gains were offset by an increase in natural gas generation, which was up 6 percent.
The power sector has consistently delivered the biggest reduction in U.S. emissions over the last decade, with falling coal use accounting for much of the drop in American CO2 output. But the growth in new electricity demand is currently outpacing growth in clean energy supply, moderating the emission reductions, Klein said.
"It's hard to see the trajectory of the transition being altered significantly without breakthroughs in policy or in technology," he said.