by John Engel: California Gov. Gavin Newsom is calling on energy regulators to increase the state's offshore wind target to at least 20 GW by 2045…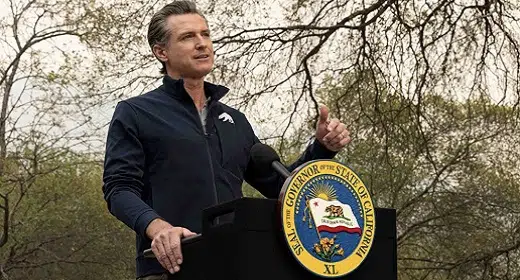 Newsom is asking the California Energy Commission (CEC) to implement the goal as part of the Assembly Bill 525 process. In May, the CEC set a preliminary target of 3 GW of offshore wind by 2030 and 15 GW by 2045.
"California is home to one of the world's best offshore wind resources in the world," Newsom said in a letter to the California Air Resources Board. "The challenges of our time demand bold action today and rigorous and inclusive planning to maximize our potential over the long-term."
Assembly Bill 525 requires the CEC to prepare a strategic plan for developing offshore wind resources. As part of the process, CEC must complete a final strategic plan for offshore wind by June 23, 2023.
Additional reports informing planners on the economic benefits of seaport investments and workforce development, as well as the establishment of a permitting roadmap, are due no later than Dec. 31, 2022.
American Clean Power-California said the CEC is expected to adopt offshore wind planning targets at a meeting scheduled for Aug. 10.
Adam Stern, executive director of Offshore Wind California, applauded Newsom for increasing his goal for offshore wind deployment.
During the RENEWABLE+ Series session on floating offshore wind in April, Stern identified state procurement as one of the most important aspects to rapidly scaling California's offshore wind industry.
In its latest integrated resource plan, the California Public Utilities Commission included, for the first time, offshore wind, although at a modest target of 1.7 GW by 2032. The CPUC said it will evaluate the results of a CAISO study on the transmission needs and costs to interconnect around 8 GW of offshore wind, which will be included in the next IRP cycle.
"The CEC's final goals will send an important signal to the industry and other state and federal agencies that California is committed to moving forward expeditiously to make responsible development of offshore wind power a reality," Stern said in a statement. "The next key steps include the federal lease auction this fall and planning for transmission, port infrastructure, procurement, additional call areas, workforce development, and a sustainable supply chain."
Because of the deep waters along the U.S. Pacific Coast, floating offshore wind technology is needed to unlock California's 200 GW offshore wind development potential, according to an assessment by the National Renewable Energy Laboratory.
The CEC draft goals take into account two federal lease auctions planned for this fall.
The Humboldt WEA contains 132,369 acres of the ocean for potential offshore wind development, which could bring up to 1.6 GW of clean energy to California's grid. The 240,898 acres within the Morro Bay WEA are some 20 miles off San Luis Obispo County, California. The area is expected to bring 3 GW of clean energy to the grid when fully developed.
The respective depths of 900-1,300m and 500-1,100m for the Morro Bay and Humboldt WEAs require floating offshore wind technology.
What will follow the Bureau of Ocean Energy Management's lease auctions is a race to build out the infrastructure needed to help the industry thrive for years to come. Both electric grid constraints and port availability remain challenges for the first two development areas offshore California.