Our Vision & Message To The World: Everything begins with you…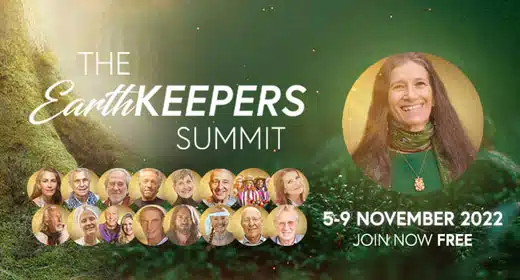 Message from Sandra Ingerman:
I'm so excited to announce that I will be participating in the third annual Earthkeeper's Summit, presented by the Four Winds Society!
Join Now For Free: https://www.digistore24.com/content/463438/40174/sandraingerman
If you've tuned in for the last few years, you might have caught the first two summits – and if you were as inspired as me, you're going to want to
On November 5th, 2022, I'll come together with over 30 other world-renowned speakers, thought leaders, business moguls, healers, scientists, and shamans for five incredible days of video panels, broadcast right into your home, for FREE.
Remembering our Interconnectedness
The spirit behind the Earthkeeper's Summit is remembering our essential interconnectedness with all of life. It begins with us as individuals — we must reconnect deeply to our own essential nature. Once we heal ourselves, we come into balance. This type of "right relationship" is what the ancient shamans called ayni. It begins with us, but it affects the whole universe. From this place of ayni, we can make positive changes that ripple out into our communities, large and small.
The situation in our world today might look grim, with the collapse of systems, climate crisis, wars, inflation, and massive upheaval all around us. Yet it is when humans come together with the intention to share and help each other along that we can remember our goodness, rekindle the flame of hope, and urge each other to take practical steps to affect positive change.
Over the course of this 5 day free online conference, you will get a chance to hear not only my personal story, but also stories from people from all walks of life. You'll get inspired about your own journey and come away with practical tools and tips to help you implement real changes in your life. From meditations, to visualizations, to breathing techniques, you will gain concrete tools to implement change in your life TODAY.
We must all carry this flame in our hearts!
The Earthkeeper's Summit has had incredible success for the past two years, with over 100,000 participants joining from all around the world.
Message from Alberto Villoldo:
The Earthkeeper's Summit 2022 is a joining together of great minds and hearts to bring you a message of hope for the future of our planet and all its inhabitants. The greatest change begins with YOU. Just as the roots of a tree form its foundation so that it may reach the sunlight, you are an essential part of the makeup of the entire cosmos. Once you realize how infinitely powerful and important you are, you can begin to take steps to co-create a better world. And when we collectively realize our power and come together for the healing of the planet, our reach and our depth — like a beautiful grove of trees spanning a mountainside and creating an entire ecosystem— is unparalleled.
In our third annual summit, we are proud to present over 30 thought leaders, healers, scientists, shamans, and business leaders from all over the world who will share their personal stories with you and inspire you to take action and make a positive impact today.
It is now more important than ever that we come into balance with Mother Nature, our fellow plant, animal and human brethren, and with ourselves. The medicine people of the High Andes call this ayni – meaning right relationship. This can look many different ways, but it is all about achieving the correct way of living in reciprocity with our environment. Healing our own personal wounds is a starting point, and once we begin this journey, our work ripples outward and creates positive effects everywhere.
Everything begins with you. The tiniest seed can lead to the tallest tree. You must awaken this seed within yourself first, and begin to realize that you do not stand alone. However insignificant you might feel, you must remember that you are part of something bigger — a web of roots and branches that is intertwined and interconnected. When we return to our roots, our essential nature, we come back into connection with ourselves and earth — and our potential to heal and bring our gifts into the world is limitless.
We offer the Earthkeeper's Summit — a deep dive into shamanic knowledge and ways of living, healing and reconnecting with the earth and our ancestors — as a way to deliver you inspiration, right into the comfort of your home. It is so accessible because it is 100% free, and you can watch the videos anytime from your computer or phone. This is an excellent way to become engaged in ways to make a positive impact in your own life and the lives of those around you.
Click here to Sign up for Free: https://www.digistore24.com/content/463438/40174/sandraingerman