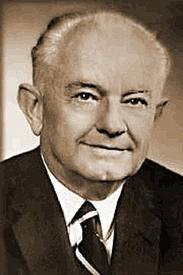 Birth Place
Lincoln, Maine USA
Foundation of Teaching
Religious Science, New Thought, Divine Science, Metaphysics
Example of Teaching
"Life is a mirror and will reflect back to the thinker what he thinks into it."
Total Views: 8,747
Ernest Holmes
Ernest Shurtleff Holmes (January 21, 1887 – April 7, 1960) was an American spiritual writer, teacher, and leader. He was the founder of a Spiritual movement known as Religious Science, a part of the greater New Thought movement, whose spiritual philosophy is known as "The Science of Mind." He was the author of The Science of Mind and numerous other metaphysical books, and the founder of Science of Mind magazine, in continuous publication since 1927. His books remain in print, and the principles he taught as "Science of Mind" have inspired and influenced many generations of metaphysical students and teachers. Holmes had previously studied another New Thought teaching, Divine Science, and was an ordained Divine Science Minister. His influence beyond New Thought can be seen in the self-help movement.
After leading small private meetings throughout the city, in 1916 Ernest Holmes was invited to speak at the Metaphysical Library in Los Angeles. This led him to repeat engagements, and on a nationwide tour. In 1919 he published his first book, The Creative Mind, and after almost a decade of touring Holmes committed to remaining in the L.A. area to complete his major work, The Science of Mind. It was published in 1926.
Dr. Ernest Holmes's work in the Science of Mind is recognized today as one of the leading viewpoints in modern metaphysics and New Thought. Dr. Holmes developed a universal philosophy and tools for spiritual living that profoundly resonate to this day. His work provides us with a personal spiritual path, an understanding of our relationship with the Universe, and a connected and joyful approach to daily living.
Born in Maine, Holmes was largely self-taught, seeking out the writings of Ralph Waldo Emerson, Christian D. Larson, Thomas Troward, and Phineas Quimby. Holmes moved to Southern California in 1914. He founded the Institute of Religious Science, which became United Church of Religious Science in 1953, and is now United Centers for Spiritual Living. Holmes inspired the "positive thinking" of Norman Vincent Peale, Peggy Lee, Cary Grant, Cecil B. DeMille, and countless others without ever intending to create a religion or a following of masses of people.
Ernest published his first book, "Creative Mind," in 1919, followed shortly after by another volume entitled "Creative Mind and Success." He continued his studies, and lectured to growing crowds in California and Eastern cities. Meanwhile, he was writing "The Science of Mind," which was to become the "textbook" of the Religious Science philosophy. First Published in 1922, it was originally copyrighted by his wife in 1926, revised in 1938, and is now in its 45th printing, and has been translated into French, German, and Japanese. At the time the book was published, his many enthusiastic students urged him to set up an incorporated organization. He refused at first, but eventually agreed, and the Institute of Religious Science and the School of Philosophy was incorporated in 1927.
Quotes
"I believe in the incarnation of the Spirit in all, and that we are all incarnations of the One Spirit."
"The intellect is a cold thing and a merely intellectual idea will never stimulate thought in the same manner that a spiritual idea does."
"When prayer removes distrust and doubt and enters the field of mental certainty, it becomes faith; and the universe is built on faith."
"The road to freedom lies not through mysteries or occult performances, but through the intelligent use of natural forces and laws."
"The universal Mind contains all knowledge. It is the potential ultimate of all things. To it, all things are possible."
"I believe in my own soul, my own spirit, and my own destiny; for I understand that the life I live is God."
"Insofar as our prayer is affirmative, it is creative of the desired results."
Read More Quotes >>>