For an industry accustomed to experiencing the highest of highs and the lowest of lows, 2022 tested clean energy's tolerance
maybe more than any other.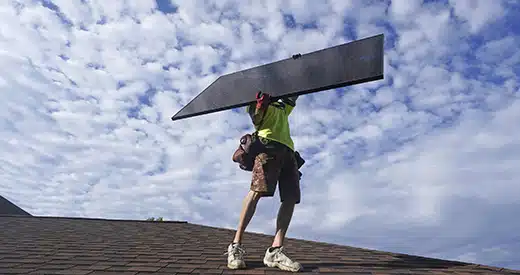 From a transformational legislative victory to a war, persistent supply chain constraints, and trade disputes— 2022 had it all. Unprecedented optimism was matched, or sometimes surpassed, by the urgency of human rights abuses in solar and worsening climate threats.
Here's a look back at the five biggest stories from the year.
1. Russia's invasion of Ukraine accelerates energy transition
Russia's invasion of Ukraine heightened the importance of energy independence and a transition away from fossil fuels, as the Kremlin's bankroll is directly tied to oil and gas profits.
G7 countries have imposed an oil price cap, while the European Union banned Russian seaborne imports of crude oil and oil products, in an attempt to stunt Russia's revenues, which directly fuel Vladimir Putin's war machine. Germany, meanwhile, plans to invest 28 billion euro ($30 billion) through 2026 to expand its solar and wind power generating capacity and reduce its dependence on fossil fuels imported from Russia.
A direct assault on Ukraine's electric power infrastructure began in October as Russia began a systematic shelling of Ukrainian energy infrastructure. International concerns were elevated as battles raged around a Ukrainian nuclear power plant that ranks as Europe's largest. At the same time, unconfirmed reports circulated of attacks on Ukrainian hydropower assets.
Moscow has focused missile and drone attacks on energy facilities and other key infrastructure in an apparent bid to break the will of Ukrainian civilians and force Kyiv to negotiate on Russia's terms. Ukrainian President Volodymyr Zelenskyy has said the bombardments have destroyed half of his country's infrastructure.
Even with no end to the war in sight, Ukraine is working to repair its electricity grid with the help of global partners.
2. U.S. passes Inflation Reduction Act – historic climate law spurs domestic manufacturing
The clean energy industry celebrated a moment on Aug. 7 that would have seemed impossible weeks or months earlier: The Senate passed a budget measure that included the largest investments in clean energy and climate change in U.S. history.
At $369 billion, incentives for clean energy deployment and climate change mitigation made up nearly half of the Inflation Reduction Act. The package was signed into law by President Joe Biden on Aug. 16.
In the months that followed, a U.S. clean energy manufacturing base began to take shape.
Qcells and parent company Hanwha announced plans to increase manufacturing capacity at their Dalton, Georgia, facility from 1.7 GW to more than 3 GW. First Solar plans to invest up to $1 billion in a new 3.5 GW module factory in Alabama, while an additional $185 million will be dedicated to adding nearly 1 GW of new manufacturing capacity to the company's facility in Ohio. Toledo Solar, meanwhile, said it would increase its domestic solar module manufacturing capacity to 2.8 GW by 2027 in response to the Inflation Reduction Act.
---
The Factor This! podcast, recorded live from RE+ in Anaheim, analyzed the impact of the Inflation Reduction Act on domestic solar manufacturing. "The race is on to meet demand with made-in-America solar modules" featured Lightsourcebp Americas CEO Kevin Smith, Cypress Creek Renewables VP of Engineering Luke O'Dea, and Qcells North America Head of Market Strategy and Public Affairs Scott Moskowitz.
---
The Inflation Reduction Act is having an impact overseas, as well.
European leaders and policymakers are now in pursuit of their own clean energy industrial policy in response to the U.S. action.
With support from the European Union, the European Solar PV Industry Alliance (ESIA) launched on Dec. 9, with a goal to reach 30 GW of committed European solar PV manufacturing capacity by 2025 across all value chain segments.
Formation of the alliance came just days after U.S. and European leaders met to discuss the impact of America's climate law, which incentivizes domestic manufacturing across the solar value chain.
Italy's Enel, for example, announced plans to build a 3 GW cell and module plant in the U.S. in response to the Inflation Reduction Act. The company's subsidiary, 3Sun, operates a 200 MW solar manufacturing facility in Italy with plans to expand production capacity there to 3 GW.
The U.S. and Europe agreed to move forward with discussions about how to resolve concerns related to the climate law. While no deal was reached at an early December meeting held in Maryland, the group pledged to form a new Transatlantic Initiative for Sustainable Trade to support shared climate goals.
3. Trade disputes and human rights concerns upend clean energy supply chains
While the U.S. clean energy industry races to take advantage of incentives for domestic manufacturing in the Inflation Reduction Act, it continues to face near-term supply chain constraints linked to trade disputes and human rights concerns.
On Dec. 1, the Department of Commerce issued a preliminary determination in the Auxin Solar tariff case, which alleged that solar modules imported from Southeast Asia were circumventing duties against China. The countries targeted by the investigation — Cambodia, Vietnam, Malaysia, and Thailand — account for 80% of U.S. solar module supply.
Commerce identified the Thailand operations of Canadian Solar and Trina Solar, as well as BYD Cambodia and Vina Solar Vietnam, for violating AD/CVD rules. Other companies also under investigation — New East Solar Cambodia, Hanwha Q CELLS Malaysia, Jinko Solar Malaysia and the Vietnam operations of Boviet Solar — were cleared as part of the investigation.
Word of the investigation brought the industry to a halt earlier in the year. In June, President Joe Biden granted some relief by pausing any new tariffs on modules imported from Southeast Asia for two years. But Commerce signaled that new tariffs could be on the way once the moratorium expires.
---
The Factor This! podcast broke down all angles of the Auxin Solar tariff petition in a four-part series, which included an exclusive interview with Auxin Solar CEO Mamun Rashid. Subscribe today wherever you get your podcasts.
---
On top of the Auxin Solar case, the U.S. solar industry faces a gigawatt-sized supply problem due to forced labor concerns.
Passed by Congress and signed by President Biden in December 2021, the Uyghur Forced Labor Prevention Act (UFLPA) is intended to reinforce U.S. policy to curb the importation of goods made with forced labor.
Credible evidence has circulated since 2020 that ethnic Uyghars living in the Xinjiang region of China are being forced to work in extracting and refining raw materials that go into the production of polysilicon that then is used to produce solar cells and modules.
Customs and Border Protection officials reportedly targeted some 838 entries valued at more than $266.5 million as recently as August. Enforcement of the UFLPA has depressed near-term solar installation forecasts and delayed the impact of the Inflation Reduction Act, according to a recent market report from the Solar Energy Industries Association and Wood Mackenzie.
While it's clear that enforcement of the UFLPA is negatively impacting the U.S. solar market, Paula Mints, a solar market analyst, is quick to point out that what's happening to the Uyghars is far more important.
"If you are essentially a modern slave in China, do you really care that a few modules are being held up in the port? Who is suffering?," Mints said.
4. California NEM 3.0 – rooftop solar's harsh reality check
California regulators voted on Dec. 15 on changes to the state's booming rooftop solar market that they say will more evenly spread the cost of energy and help reduce reliance on fossil fuels in the evening.
The policy, which transitions the state from a net metering to a net-billing structure, incentivizes the co-location of solar panels with batteries. Industry advocates said the decision will slash solar customer compensation by 75%.
California has long led the nation in the adoption of home solar panels. Today, more than 1.5 million California houses have solar panels on the roof. The California Public Utilities Commission decision is expected to have broad implications for the rooftop solar industry.
While advocacy organizations, like Vote Solar, acknowledged that it was time to move on from the net metering era, they fear the proposal adopted by the CPUC doesn't offer a smooth enough glide path for the industry to transition. They also believe the policy doesn't appropriately promote solar adoption in historically disadvantaged communities.
5. U.S. begins to realize offshore wind potential
The U.S. took meaningful steps in 2022 to support its nascent offshore wind industry.
The federal Bureau of Ocean Energy Management (BOEM) held lease auctions for the rights to develop waters off New York, North Carolina, and California. The auctions bring the U.S. within reach of the Biden administration's goal of deploying 30 GW of offshore wind by 2030.
In February, BOEM held the New York Bight auction, which netted a combined total of $4.37 billion from winning developers. The six lease areas off New York and New Jersey are expected to bring online 5.6-7 GW of offshore wind power, enough to power 2 million homes.
New York Bight is an area of ocean off the coasts of New York and New Jersey that was divided into six leases for offshore wind development.
The expected installed capacity for the 488,000 acres within New York Bight is expected to be between 5.6 GW and 7 GW, enough to power 2 million homes. BOEM said capacity could be even higher depending on development plans.
Five of the six winning bidders were from companies with European roots, a nod to the continent's more advanced offshore wind market. Europe's offshore wind capacity totaled 25 GW at the end of 2020, while the U.S. has only two small offshore wind installments in operation — the Block Island Wind Farm off Rhode Island and the Coastal Virginia Offshore Wind test pilot.
German energy giant RWE and British utility National Grid had the most expensive offshore winning bid at $1.1 billion. The pair partnered to form Bight Wind Holdings LLC and won development rights to OCS-A 0539 — the largest area up for grabs in the New York Bight in terms of both acreage and expected installed capacity.
The other winning bids with European partners included EnBW and TotalEnergies, EDP Renewables and ENGIE, and Shell and EDF Renewables. Copenhagen Infrastructure Partners (CIP) won a lease on its own.
A lease auction for the rights to develop offshore wind off the coast of the Carolinas brought in $315 million combined.
The BOEM held the Carolina Long Bay lease auction on May 11. TotalEnergies had the highest bid for OCS-A 0545 at $160 million and Duke Energy is the provisional winner of OCS-A 0546.
The lease areas include 110,091 acres in the Carolina Long Bay area offshore North Carolina and South Carolina. If developed, they could result in at least 1.3 GW of offshore wind energy, enough to power nearly 500,000 homes.
As part of the FSN, BOEM is offering 20% credit to bidders that invest in programs to advance U.S. offshore wind energy workforce development and supply chain development.
A two-day auction to determine who will develop the first-ever offshore wind projects off the coast of California raised a combined total of $757 million from developers.
BOEM auctioned development rights for the five areas— two in the Humboldt Wind Energy Area of Northern California and three in Morro Bay in Southern California— on Dec. 6 and 7.
The two areas up for grabs in Northern California received the auction's two highest bids.
Copenhagen Infrastructure Partners, through the subsidiary California North Floating LLC, secured the rights to develop 69,031 acres for an auction high $173.8 million. RWE had the next highest winning bid at $157.7 million for 63,338 acres.
Equinor, Invenergy, and a joint venture between ENGIE and EDP won the rights to develop areas in Morro Bay for $130 million, $145.3 million, and $150.3 million, respectively.
The total development area offered in the auction covers 373,268 acres with the potential to produce over 4.6 GW of offshore wind energy and power 1.5 million homes, BOEM said.
California could feasibly and responsibly develop as much as 3 GW of offshore wind by 2030, 10-15 GW by 2045, and 20 GW by 2050, according to proposed targets from the state's energy planning agency.
The California State Assembly directed the California Energy Commission to evaluate the maximum capacity of offshore wind development and establish planning goals for 2030 and 2045.