by Jack Smart: Feeling down? Lackluster? Uninspired? You need a pick-me-up from some of Hollywood's most talented movie stars.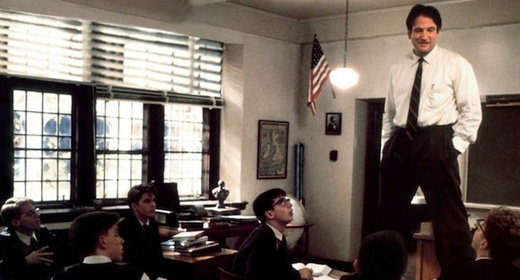 Here are 10 stirring speeches from films that double as both examples of superbly committed acting and rip-roaring energizers!
Charles S. Dutton, "Rudy"
Who doesn't love a '90s sports drama about an underdog overcoming the longest of odds? Just when all hope seems lost for Sean Astin's Daniel "Rudy" Ruettiger, Fortune arrives to banish regret and bring him back to his senses. As portrayed by Charles S. Dutton, it's a powerhouse performance condensed into two minutes of spectacular screen time.
Sandra Bullock, "The Blind Side"
Speaking of inspirational sports dramas, it doesn't get much better than 2009's "The Blind Side," based on NFL offensive lineman Michael Oher and his adoptive mother Leigh Anne Tuohy. In a scene that probably clinched her Oscar win, Sandra Bullock interrupts football practice to give Big Mike a family-oriented pep talk. Not only does she demonstrate more football know-how than her bleached hair and tight skirt might suggest, she brusquely sets Big Mike on the path to greatness.
Kurt Russell, "Miracle"
When it comes to motivational sports monologues, though, no one delivers quite like Kurt Russell in "Miracle." Based on the 1980 U.S. Olympic hockey team's triumph over the Russians, it's easy to imagine how the Americans won gold thanks to Russell's rousing speech as Coach Herb Brooks. It's such an iconic speech, it's gone viral in the hands of a particularly inspired youngster.
Keira Knightley, "Pirates of the Caribbean: At World's End"
Elizabeth, Keira Knightley's character in the "Pirates of the Caribbean" movies, goes from corseted innocent to towering pirate, and by the third installment has been elected Pirate King. Just before the film's awe-inspiring climax, Knightley delivers a goosebump-inducing speech for the ages. "You will listen to me. LISTEN!" she begins, her hair flying fabulously in the breeze as she issues the commandment to her bedraggled sailors.
Robin Williams, "Patch Adams"
Is there any more inspirational actor than Robin Williams? He brings immense dignity to the title role in "Patch Adams," giving an impassioned speech about the quality of life.
Robin Williams, "Dead Poet's Society"
But his "seize the day" monologue in "Dead Poet's Society" is the stuff of a cinematic legend. Williams' Mr. Keating puts fire in his students' hearts, demonstrating the innate joy of teaching. In both these classic films and his Oscar-winning "Good Will Hunting," Williams proves his bona fides as both a comedic and dramatic actor.
Will Smith, "The Pursuit of Happyness"
In a speech directed to his actual son, Will Smith's Chris Gardner implores little Christopher Jr. to never give up hope. "Don't ever let somebody tell you you can't do something," he says, plucking our heartstrings with his simple, understated delivery. Smith earned his second Academy Award nomination for "The Pursuit of Happyness," vividly bringing the real-life Gardner's story to life.
Melissa McCarthy, "Bridesmaids"
Melissa McCarthy received an Academy Award nomination for playing the tempestuous Megan in Kristen Wiig's instant-classic comedy "Bridesmaids." In this scene, Megan arrives to slap some sense into Wiig's Annie. "You're an asshole, Annie. You're an asshole. I'm life. Life bothering you?" Sometimes when you're down, you need Melissa McCarthy to poke, wrestle, and bite you in the ass for a bit.
Samuel L. Jackson, "Pulp Fiction"
In one of the best "retorts" in the history of film, Samuel L. Jackson delivers a thunderously powerful speech as Jules Winnfield in Quentin Tarantino's classic "Pulp Fiction." It's not inspirational per se, although Jackson carries himself with such astonishing righteousness, it's hard not to cheer as he quotes the Bible, bringing justice to his foolish enemies. "English, motherfucker, do you speak it??" It's also hard to understand how he didn't win an Oscar for this role.
Samuel L. Jackson, "Deep Blue Sea"
Last but certainly not least, Jackson also provides one of cinema's most remarkable monologues in the shark horror film "Deep Blue Sea." It's remarkable not only because of Jackson's formidable presence as he commands his crewmates to keep it together, but because…well, you'll see.