by Justin Faerman: Finnish Artist and Photographer Christoffer Relander's We Are Nature series blurs the line between the natural world and the human form…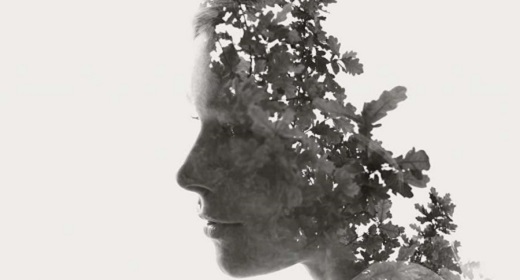 to such a degree that it is impossible to tell where one ends and the other begins. In doing so, he has not only produced a set of stunning visual images, but also a reminder of the very real universal truth that indeed everything is connected at the deepest of levels.
His work is the result of equal parts passion, love, curiosity and experimentation interacting with the wonder and stunning natural beauty of the southern Finnish countryside, where he was born and raised. After studying graphic design and visual art in Porvoo, he began his mandatory military service, where he began to explore the similarities between drawing and photography, quickly becoming 'obsessed' (in his own words) with the new medium.
"Every individual has their own interpretation of what they see in my work."
Not one to back down from a challenge, Christoffer began experimenting with in-camera photography techniques, shying away from the norm of heavy image post-processing with powerful computer software. And the results were stunning. In 2012, Relander released his We Are Nature series to the public, which received wide international critical acclaim.
Relander's work is produced through a technique known as double exposure, where two juxtaposing images are superimposed over each other with stunning effect. To put it in simple terms, the resulting photograph is a composite of the two original images.
"When I'm working on the series I mainly think of shapes and emotions that I want to capture," Christoffer says of his process. "I begin with taking the portrait image and I focus on visualizing how the shapes will overlay and blend together with the nature image."
When asked about the message behind his work, Christoffer is quick to state: "I think every individual has their own interpretation of what they see in my work, and I think it's good to keep my personal thoughts behind it for myself. I don't want my work to be about me or the models, I want it to be about the viewer."
Visit his website to learn more:
christofferrelander.com