by Katie Toussaint: I was weirded out but optimistic when I first stepped into the Zen Den at the new Modern Acupuncture location at Blakeney…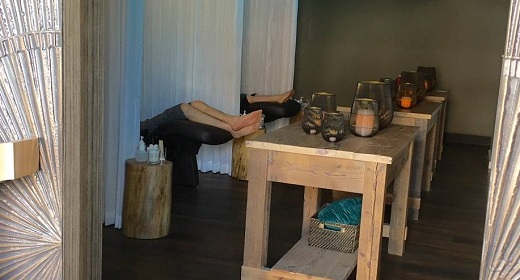 Six dramatically reclined massage chairs were separated by white, flowy curtains and three pairs of strangers' feet were sticking up in the air in a bent-knee position.
The location opened Monday and is offering free first visits through Oct. 24.
I was there for my knee. I tweaked my right knee months ago while practicing lotus pose in yoga class and felt pain and limited mobility. I hoped this might help.
I filled out a new patient form indicating that, yes, I understand that acupuncture may cause minor bruising but that the "thinnest needles" available are used here to "provide the most comfortable treatment with virtually no pain."
…Virtually?
From the new patient video I learned that acupuncture, a holistic health approach traditional to Chinese medicine, is the insertion of needles into the skin with the intention to stimulate blood flow and the body's natural healing response.
The depth of the needle varies. A stress response at the beginning is normal.
It's used to for cosmetic treatments like erasing fine lines, or health issues like chronic pain, stress, allergies, knee pain — that's me, so I'll stop there. When you emerge, you are supposed to experience mental clarity and some relief from your symptoms, which may soon return. The expectation is that regular treatment will follow, with the number of prescribed return visits based on your personal needs.
I walked over to my assigned chair and squished down into it. The flute-filled zen music floating through the space was calming, the side table of sterile needles and cotton balls and alcohol, not so much.
Neither was the row of screens above me displaying a montage of dewy sticks and fall leaves and puffy purple flowers that reminded me of something you'd find in "The Lorax."
The acupuncturist drifted over to me and started whispering. He had me recline fully — spine parallel to the floor, bent legs angled in the air with my feet sticking up — and rotate my right knee a bit to explore my problem area. He started by tapping some needles into my skin, next to my shin under my left knee — a slight pressure sensation and tiny pops of pinpricks. He said he opted for my left knee because the inflammation was in my right knee.
I explored some more while he watched, pulling my right shin toward my chest and finding that same knee resistance, but less painful.
More pops of pinpricks, this time in my right arm, under my right elbow. Smiling when I asked, the acupuncturist said he chose my right arm because it wasn't my left. (My followup readings tell me this is all based on an understanding of energy pathways in the body. I can roll with that.)
I pulled my right shin toward my chest and rotated my knee. I suddenly found no resistance, no pain. This whole process had taken maybe two minutes.
"So, now what?" I asked.
I was instructed to lie back for 20 minutes in my puffy chair. I also said yes to three more needles: One in my forehead between my eyes and one in each ear (in the cartilage) to "open my spirit gate."
I waited. I closed my eyes. I breathed deeply. I breathed more deeply.
And I drifted into oblivion where I cared about absolutely nothing. Not the soft whispers between the acupuncturist and the neighboring patient, not the three other pairs of legs sticking up in the air around me. Not my phone, not the weird puffy Lorax flowers on the screen.
I was a blob. Who cared about nothing.
The acupuncturist brushed my left foot to bring me back from outer space and gently removed the needles. (But can't I just stay?) He recommended one treatment per week for three weeks to alleviate my symptoms, then two treatments per month to maintain my results.
I'll think about it.
Insurance companies may or may not cover acupuncture (it depends on the company) and treatment here was $59 for a walk-in, with package pricing available.
I left, feeling like a zen jellyfish, with a complimentary cup of Calm Buddha Blend Tea and the question: Was this healing, or just an expensive nap?
I got home. Sat on the floor. Gently pulled my legs into lotus position. I felt a little bit of stiffness, but I felt no pain.
It's hard not to hope this could heal me.